WEST
---
MUSIC - US West - FEATURED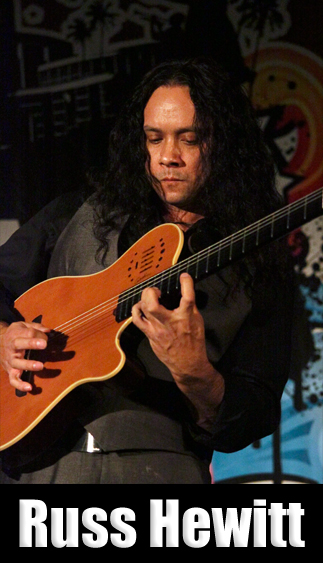 Russ Hewitt - Guitarist, songwriter -

Russ has been playing guitar since he was eleven. He said he used to do whatever his older brother would do, so when his brother began playing guitar, he picked it up as well. When he was 14, his brother gave up playing and sold him his equipment, and it was at that point he seriously pursued his love of music. Russ said he spent his "formative years learning rock and heavy metal through guitar tabs, videos" and anything he could "get his hands on." A lot of his favorite rock players from that time were also into classical guitar, which introduced him to the style. This eventually lead him to pursue and receive a degree in Classical Performance from the University of North Texas. Russ explains his style of play is "not true flamenco, jazz, Latin jazz, Cuban or Brazilian, but a fusion of styles, sometimes combined together simultaneously. Russ has released three of his own CD's Bajo el Sol (2008), Alma Vieja (2011) and Cielo Nocturno (2016). Singles released: Palma de Mallorca (2021), Cubalia Café (2021), Sunset Samba (2021), Amor Perdido (2021) and Chasing Horizons (2022). Russ is working on a few projects, which will be released in the near future. Links: SoundCloud, Facebook, Website and DC Bebop page.
---
MUSIC - US West -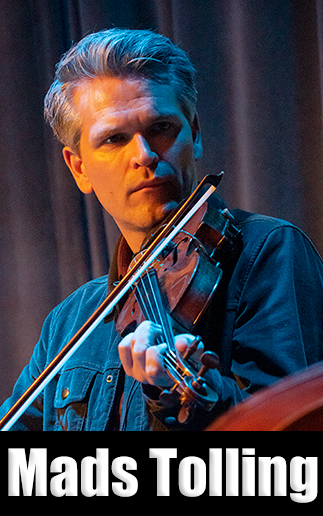 Mads Tolling, Violinist, Violist and Composer - Mads was born and raised in Copenhagen, Denmark. At the age of 20 he came to the United States to "pursue jazz studies". He attended the Berklee College of Music in Boston, Massachusetts where he graduated summa cum laude from the Berklee College of Music in 2003. While at Berklee, Mads was recommended to join Stanley Clarke's band by renowned jazz violinist Jean-Luc Ponty. "Since then, he has performed more than 100 concerts with Clarke worldwide, including the Newport Jazz Festival and the Hollywood Bowl." Mads is a member of the Grammy Award-Winning "Turtle Island Quartet". Mads "has received Denmark's Sankt Annae's Award for Musical Excellence as well as grants from Queen Margaret, the Sonning Foundation and the Berklee Elvin Jones Award. He has performed with Paquito d'Rivera, Kenny Barron, Joe Lovano, Stefon Harris, The Assad Brothers and Leo Kottke." He is an accomplished composer with three recordings of original material, one features the well-known pianist JoAnne Brackeen. Another with vibraphonist Dave Samuels and the third on RMB singer Teena Marie's recording "La Dona". He has contributed numerous arrangements and compositions to the Turtle Island Quartet's repertoire. Mads is viewed as "a thriving force in the educational aspects of jazz and improvisation. He has been active as a Yamaha clinician and has been involved in workshops, coachings and master classes throughout Canada and the U.S." Links: website, Facebook, Wikipedia, Discography and DC Bebop page.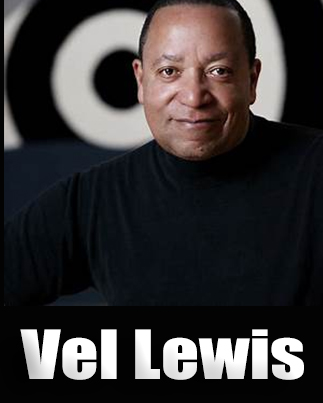 Vel Lewis - Multi-instrumentalist -

Vel plays primarily, the Hammond organ; but also piano, synthesizer keyboards, drums, and electric bass guitar. He started out as a vocalist, his first instrument was the flute, but the organ captured his heart after learning to play it. While in high school, he performed on a televised jazz program playing organ. In the late 1960's, into the early 1970's, Vel performed with a number of gospel groups. In the early 1970's, Vel performed and traveled with "The Delfonics." and co-wrote and sang the opening lead vocal on a song released in 1974 on the Warner Bros. Reprise label entitled "Tell Me Why" by The Life Group, also known as "Life". In 1990, he co-produced songs with Tom Borton on Borton's albums "Dancing With Tigers" and "The Lost World", released on the Mesa/Bluemoon Records label. In the late 1990's, he composed music for Los Angeles Post Music, a production music library founded by Tom Borton. LA Post Music's tracks appear on popular TV shows "Sex And The City", "Friends", "Mad About You", and "The Fresh Prince Of Bel Air". Between the years 2003 through 2005, he performed on a World Tour with legendary singer Dionne Warwick. In 2005, he released his first solo debut album "All Wound Up" under the stage name of Shady Grady. He composed eight of the ten songs and co-wrote the remaining two songs contained in this album. His single entitled "Song For My Love" from his EP "Colors of Soul", a highly charged Jazz and Soul EP that is superbly produced by Vel, combined with the Midas touch of chart-topping producer Greg Manning, landed on the Groove Jazz Music.com "Top 100" chart in 2014 with over 1,600 spins and 375,000 streams. His single, "Houston Strong" which he dedicated to all the Harvey survivors, landed on the 61st Annual Grammy Awards ballot for consideration, making it his third song on a Grammy ballot. Vel Lewis is also President and Founder of F2F Music Foundation, a 501 (c)(3) nonprofit, educational and performing arts organization, located in Fort Bend County. Links: Website, F2F Music Foundation, Facebook, Twitter, Reverbnation, Instagram, Bandcamp, All About Jazz, YouTube, SoundCloud and DC Bebop page
---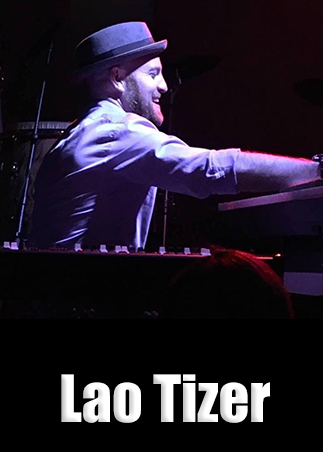 Lao Tizer, Keyboardist, Composer - Lao is a "Best New Jazz Artist" nominee; a Yamaha-endorsed pianist and keyboardist. "TIZER" has performed at premier venues all over the United States and events worldwide. Lao has performed along side artists like, "Isaac Hayes, Boney James, Zappa Plays Zappa, Wayne Shorter, George Benson, The Commodores, The Rippingtons, Bruce Hornsby, Jethro Tull, and Spyro Gyra", and the list goes on. Lao's attraction to music was realized in his early childhood. He was drawn to the piano his parents bought for his sister, when he heard heard her playing. From age five to age nine, Lao "tinkered" with the piano until his parents "gave in" and allowed him to begin formal training. Once he bagan lessons, his natural talent for improvisation and composition blossomed. Lao self-produced and released his first three solo keyboard recordings while in high school. In 1997 he relocated to Los Angeles to pursue his musical calling, where he met guitarist Chieli Minucci, who was a strong influence and advisor. In 2001 Lao released his first CD titled "Golden Soul". In 2006 he recorded his second CD, "Diversify". In 2008, Lao created "TIZER", featuring "Chieli Minucci and international violin virtuoso Karen Briggs". In that same year, he produced his third album "Passages". Since the release of "Passages", TIZER has performed concerts on tour in Asian and African. In 2010, Lao released his fourth album "Tizer Live". "Downbeat," released in 2012, the first studio album by TIZER, a collection of 12 brand-new originals. Lao's latest project is titled "Songs from the Swinghouse Combo," released in 2018. TIZER can been seen and heard at concerts, festivals and in clubs all over the world. Check his calendar for a venue near you. Link: Facebook, Reverbnation, Website and DC Bebop page.
---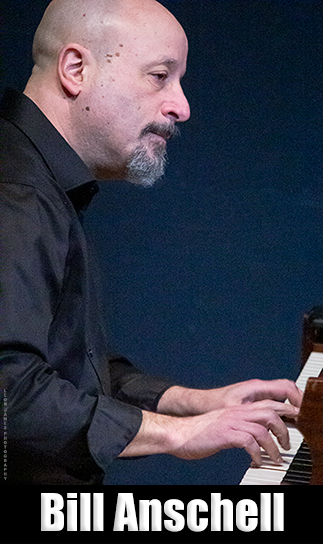 Bill Anschell - Jazz composer, pianist, writer, humorist - Pianist Bill Anschell has performed in premiere venues throughout the U.S. and abroad, both leading his trio and as pianist/musical director for vocalist Nnenna Freelon. His concert credits include eight European tours with Freelon and seven South American tours with his trio, including concerts in many of the leading international jazz festivals. Bill was the creator, producer and theme music composer for JazzSouth, a syndicated radio program broadcast from 1990 - 2002 on more than 200 stations around the world. In 1998 his CD, a different note all together, was selected by UPI (United Press International) as one of the year's "10 Best" jazz releases. That CD and his two follow-up releases When Cooler Heads Prevail (2001) and More to the Ear than Meets the Eye (2006) both enjoyed critical acclaim and lengthy stays on the national jazz radio charts. His 2009 duo CD of spontaneous improvisations with saxophonist Brent Jensen was described by Cadence as "startlingly beautiful, surprising, and powerful…a transforming experience." Bill is also highly regarded as a composer; his original pieces have been placed more than 70 times in network and cable programs including NBC's The West Wing, HBO's acclaimed series The Wire, and Paramount Network's Yellowstone. Anschell, a Seattle native, returned to the Emerald City in 2002 after a long residency in Atlanta, Georgia. He received Earshot's Golden Ear Award as the "Northwest Jazz Instrumentalist of the Year" in 2005, 2010 and 2011; his trio was named "Northwest Acoustic Jazz Ensemble of the Year" in 2006; his Figments CD was named "Northwest Jazz Recording of the Year" in 2011, and in 2016 he was inducted into the Seattle Jazz Hall of Fame." Links: Website, Facebook, OriginArts, YouTube, Wikipedia, Discography and DC Bebop page.
---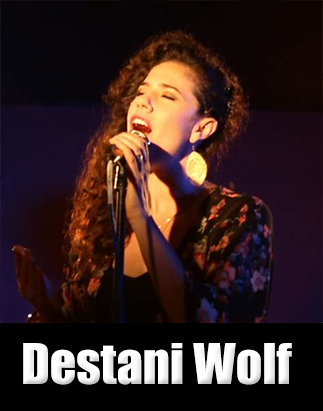 Destani Wolf - Singer, songwriter - Destani has been singing since the age of two, when she sang along to songs her parents played on their stereo. Her love of music and performing shaped her journey through life and has taking her to many countries to share her talents. She is an awarding winning singer / songwriter. Some of her songs have been featured in several films. Destani's solo and group performance career continues to grow. "Destani Wolf offers impeccable vocal prowess as a conduit for spiritual awakening on her latest EP 'PEEK AWAY'. Drawing on nuances of Blues explored as part of her musical foundation, this collection of six (6) brand new songs finds the Berkeley raised songstress arriving at an evolved take on her signature soul-step. Take one listen to her emotionally powerful and melodic vocals, through songs laden with orchestral-strings such as on "Nothing but the Best" or "Peek Away", there's no mistaking the SOUL in her DNA. On 'PEEK AWAY', soaring soundscapes underlay the interwoven retro-futurism of nu soul and 70s funk on "Why Should I Stay" and "Uprising (Do-it!)", making her 6-pack solid. Including a true dedication of love "Your Love for me" which won The 2015 Independent Music (Pop Vox) Award in the love category. 'PEEK AWAY' EP gives the listener a chance at hope, an outlet to cope and a positive window into beginning to be healed." Links: Website, Reverbnation, Facebook, Sonicbids, YouTube, SoundCloud, Bandcamp, LastFM, Jango and DC Bebop page.
---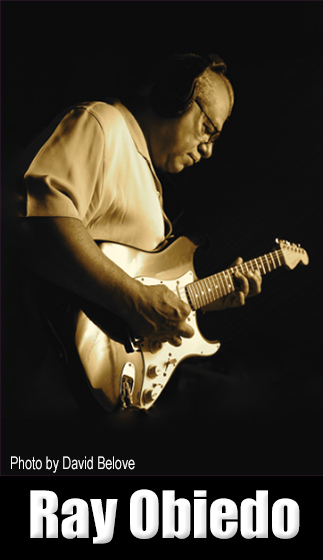 Ray Obiedo, Guitarist, Bandleader, Producer and Engineer. -

Ray is orginally from the San Francisco area, and grew up in East Bay. While music was a persistent influence in his early years, he "didn't begin seriously studying guitar until his last year in high school." Ray became "focused on mastering his instrument and learning the craft of songwriting throughout the 70's and 80's". He began "performing with many of the jazz community's most celebrated stars including legendary jazz organist Johnny "Hammond" Smith, trombonist Julian Priester, Azteca featuring Pete & Sheila Escovedo, Fourplays' Harvey Mason. He toured the world in 1978-79 Herbie Hancock. As a bandleader, he "lead such popular local bands as the fusion ensemble 'Kick' and the funk-rock group 'Rhythmus 21' which showcased many of the Bay Area's leading singers." "As a session player, Ray has worked with artists as diverse as Lou Rawls, George Duke, Brenda Russell, Herbie Hancock, Sheila E & the E Train, Freda Payne, The Whispers, The Delfonics as well as solo albums by jazz trumpeter Eddie Henderson, former Yellowjackets' saxophonist Marc Russo, Meters drummer Zigaboo Modeliste and is highlighted on Grover Washington Jr's last hit cover of the classic single 'Soulful Strut'. "Ray has contributed source music to major motion pictures "Internal Affairs" starring Richard Gere and "A Shock to the System" starring Michael Caine." As a music producer / engineer, he has produced his own album projects and has produced and or engineered a variety of major and independently released CD's. Ray launched his solo recording career on the Windham Hill Jazz label, recording and releasing five contemporary jazz albums; "Perfect Crime" (1990), "Iguana" (1991), "Sticks & Stones" (1993), "Zulaya" (1995) , "Sweet Summer Days" (1997), His next release was "Modern World" (1999) featuring Pete Escovedo, Michael Spro and a number of San Francisco based musicians. More recently, Ray has released "There Goes That" (2015), "Latin Jazz Project Vol. 1" (2016) , and "Carousel" (2019) on the Rythmus Records label. For all of Ray's musical projects, he enlists some of the music industries top musicians and longtime co-horts for the performances." Links: Website, Last FM, Facebook, Youtube, Discography, Wikipedia and DC Bebop page
---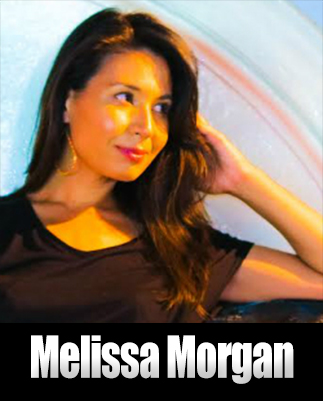 Singer Melissa Morgan - Born in New York City, she grew up in Teaneck, New Jersey. Her first musical instrument was the piano, which she began practicing at age four. Her singing began while in high school with local choirs and performing with a few select classical vocal groups across the U.S. and other venues abroad. Inspired by the classic recordings by Billie Holiday, Dinah Washington, Nancy Wilson and Sarah Vaughn, Melissa pursued her love of Jazz through studies of music. She attended the SUNY Purchase Conservatory of Music and graduated from the Purchase in 2002 with a B.A. in music. She has since performed as a regular at several of New York's top jazz venues; Cleopatra's Needle, Flute, G Bar, Smalls, Smoke and St. Nick's Pub to name a few. She was featured in performances with Jon Faddis and the Dizzy Gillespie Alumni All-Stars at the Blue Note in New York in 2001. Melissa competed and became a semi-finalist in the 2004 Thelonious Monk International Jazz Competition in Washington D.C., "the most prestigious jazz competition in the world. Melissa moved to Los Angeles, California where she pursued a recording career for a number of years. She has now moved to the Bay Area, where she continues to perfect her art, and can be heard performing in numerous venues. Links: Facebook, SoundCloud, YouTube, and DC Bebop page.
---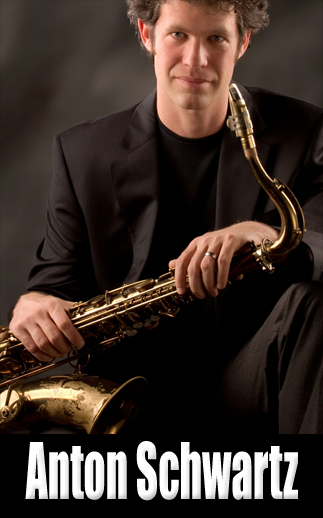 Anton Schwartz - Saxophonist, composer, record producer, educator -

Anton was born and raised in New York City. "He attended the The Dalton School, during which time he studied jazz privately with Warne Marsh and Eddie Daniels" He studied advanced mathematics during high school at New York University and Columbia University, moving on to earn his Bachelor's, Phi Beta Kappa, in Mathematics and Philosophy at Harvard University and was in the Doctoral program in Computer Science at Stanford University where he pursued research in artificial Intelligence, specializing in reinforcement learning. While gifted with a scientific mind, Anton found the call of music to have a greater pull. After receiving his Master of Science degree, he left the world of science to become a full-time musician, Anton can be found performing at many venues throughout the U.S., but notably appears periodically at Yoshi's, performs at the San Francisco Jazz Festival, and performed with the Boston Pops Orchestra at Boston Symphony Hall (2014). He is "a faculty member of the California Jazz Conservatory in Berkeley, California, has taught frequently at The Stanford Jazz Workshop, and has been Artist-In-Residence at Harvard University and The Brubeck Institute." During his musical career, "he has released five CDs as a leader, on his own Antonjazz label." Links: Reverbnation, Wikipedia, Facebook, Website and DC Bebop page
---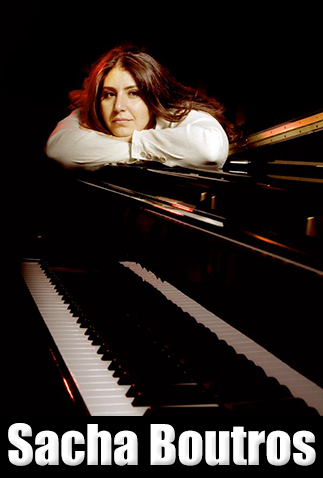 Pianist, singer. songwriter, Sacha Boutros - A native of San Diego, California, Sacha is trained in classical music and Bel Canto opera, and has a four octave range. She sings pop, jazz, and Latin jazz and speaks and sings fluently in several languages. Her bio says, Sacha's "passion for music resides in her writing and singing of Jazz". Notably, Sacha was introduced by Frankie Laine (at his 90th birthday party) as his "Ingénue". "She's also opened for and performed with Patti Austin, James Moody, Red Holloway, Karrin Allyson, Julio Iglesias, Marvin Hamlisch, Chubby Checker,Ann Hampton Callaway, Patti Page, Kay Starr, and so many others." Sacha was introduced on Red Holloway's "Something Old Something New" album recorded in 2008 and released in 2009. She released her first CD, "Simply Sasha" in 2008 on CD Baby. The album was "— a mix of standards and originals touching on jazz, Latin jazz, bossa nova, swing, and pop, and sung in five languages (English, Spanish, Italian, Portuguese, and French) —" The CD featured original songs and several classic and contemporary jazz standards. It "was nominated for two Los Angeles Music Awards as" Best Latin Vocal" for her original song, "Amor Imposible," and "Best Vocal," and hit number seven on the Japan music charts." "Sacha Live in Hawaii" was released in 2011. It was recorded during a visit to Hawaii at the Waikiki Hawaii Public Radio Atherton Studio. In 2013, she released "Sacha: NY After Dark," which features "Terell Stafford on trumpet and flugelhorn, a rhythm section of Peter Washington (bass) and Lewis Nash (drums), guitarist Peter Sprague, and pianist John Di Marino, along with percussionist Tommy Aros." Sacha records, writes and performs jazz in local and national venues. Links: Website, Reverbnation, Facebook, Sonicbids YouTube and DC Bebop page.
---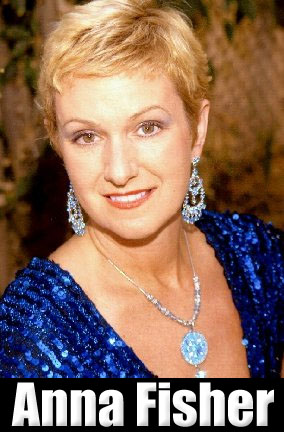 Anna Fisher - Oboe and English horn, singer, composer, arranger, teacher and producer. Originally from Concord, Massachusetts, it has been written that Anna began learning music from birth. Her father was a child prodigy pianist and MIT Physicist. Her gravitation to music was a natural transition, as was her career as an educator - her mother was a teacher. Anna has "always had a love for the classics" and has studied with legendary classical musicians - Leonard Bernstein, Isaac Stern and Seiji Ozawa during her musical career. She has studied music her entire life in her quest to be the best at what she does. Anna's musical repertoire is extensive. In addition to the classics, she plays Jazz, Reggae, R&B, Pop, Latin and Hip Hop. Anna has released her third CD titled "Focus". Leroy Downs "The Jazz Cat" of KKJZ pens Anna's liner notes for the CD and says her music "visits the familiar as well as new and exciting ways to make that familiarity shape and mold into sounds that soothe from different perspectives". She also has two earlier CDs available on CD Baby, "Renaissance In Formation" and "Yin Yang". Links: Reverbnation, website, and DC Bebop page.
---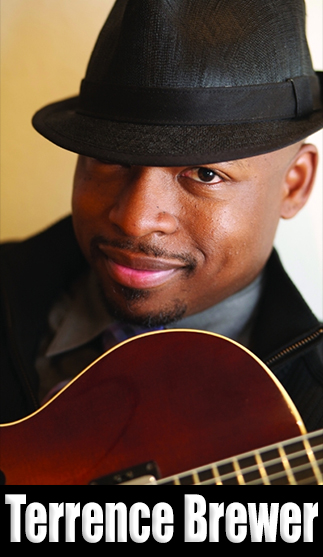 Jazz Guitarist, Composer, Arranger, and Musical Director, Terrence Brewer. Originally from Oklahoma, Terrence grew up in Pittsburg, California where his love of music started with the saxophone and clarinet and later evolved to the guitar. In college he heard and fell in love with the sounds of Jazz on the guitar. Terrence lives in Alameda, California and is a mainstay of the the Bay Area Jazz scene where he performs regularly at a number of restaurants and jazz venues. Terrence guitar style has been compared to Grant Green, but it is noted that he has evolved his own unique sound. Over the years, Terrence has performed with legendary artists such as Michael McDonald (the Doobie Brothers), Mary Wilson (of The Supremes), Pete Escovedo, Babatunde Lea, Kim Nalley, Dave Ellis, Calvin Keyes, Bruce Forman, Scott Amendola, Tuck and Patti, Khalil Shaheed, Ed Kelly, Max Perkoff, Ranzel Merritt, Herb Gibson, Rhonda Benin, and many others. He has studied with musical greats such as Charlie Hunter, Duck Baker, and Mark Levine. Terrence has released three CDs, the latest being "QuintEssential: The Calling" Volume Three on his "Strong Brew Music" label. Notably, "QuintEssential" has spent 10 weeks on the Top 50 national jazz radio chart, peaking at #17. In 2011, Terrence released "Setting The Standard, Volume One", "the first collection of standards with "new arrangements and fresh interpretations of standards from the past." In 2014, Terrence released "Mi Historia" and "MOSAIC." In 2015, he released "Setting the Standard: Friends of Mine" and in 2016, "Setting the Standard, Vol. 4." All released on his "Strong Brew Music" label. Links: Website, Facebook, YouTube, Sonicbids and DC Bebop page.
---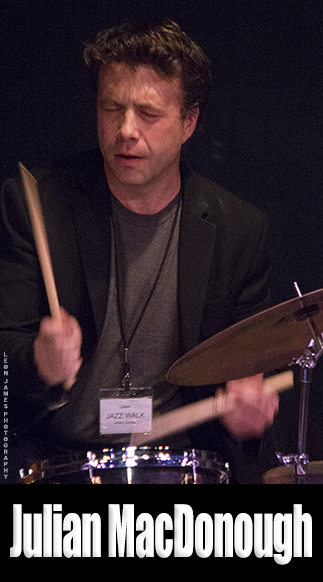 Julian MacDonough - drummer, bandleader and educator - Julian MacDonough is an award winning drummer and educator residing in Bellingham Washington. For a number of years, he performed regularly with his own trio consisting of pianist Miles Black and bassist Michael Glynn, various bands with saxophonist and promoter Cory Weeds, a modern trio with saxophonist Josh Cook and bassist Michael Glynn as well as the swing era bands of Solomon Douglas. He loves and enjoys performing all styles of jazz from traditional, to swing, be bop, and modern. His love of great rock, funk and americana music in addition to jazz has helped make him an in demand studio drummer, having appeared on over 70 recordings. Julian has had the honor and privilege of performing and touring with Harold Mabern, Jimmy Heath, Peter Bernstein, Larry Willis, Seamus Blake, Geoffry Keezer, Jon-Erik Kellso, Grant Stewart, Eric Alexander, David Hazeltine, Joey DeFrancesco, Vincent Herring, Steve Davis, Josh Bruneau, George Cables, Gary Smulyan, Julian Preister, Aaron Parks, Terell Stafford and many many others." website bio. Links: website, Facebook, YouTube, Discography and DC Bebop page.
---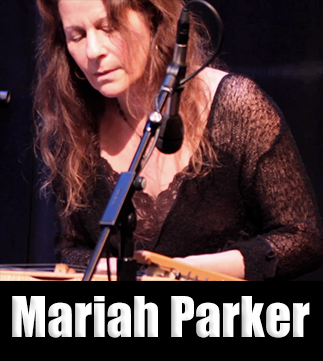 Mariah Parker, composer and multi-instrumentalist. - From Southern California, a music graduate of UC Santa Cruz. Mariah's music is described as blending "the driving rhythmic syncopations of Latin jazz with the entrancing, asymmetrical meters of East India." With the release of her first CD "Sangria", Mariah touches on the musical sounds of many cultures, drawing special inspiration from Brazil, Cuba, Spain and India. Her first instrument was the piano, but she "fell in love with the sound of the Santur" when she "heard it drifting across the UCSC campus one day", and since has pursued the mastery of it. Mariah has studied and worked with numberous musicians and educators towards crafting here unique musical presence. While at UC Santa Cruz she worked with with ethnomusicologist Fred Lieberman and Mickey Hart on the "Planet Drum" project. She studied with jazz great Art Land and Latin jazz pianist Rebeca Mauléon. In addition to her own group, Mariah can be seen performing with with the world music group Ancient Future. In 2009, Mariah released her debut live concert CD titled 'Sangria." In 2016, she and the Indo Latin Jazz Ensemble recorded Live in Concert, which is scheduled for public release in January 2017. Links: Website, Facebook, Reverbnation and DC Bebop page.
---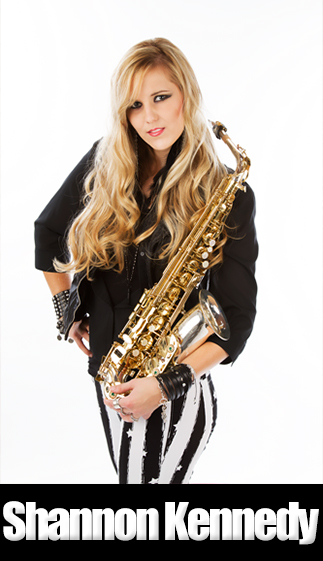 Shannon Kennedy - Saxophonist, Singer & Songwriter - Shannon is a multi-instrumentalist and singer, playing soprano, alto, tenor and baritone saxes, as well as flute, clarinet, guitar and keyboards. She has been performing professionally since age 14, releasing her first album, "Angel Eyes," in 2005, and her second "Steppin Up," in 2007, on which she arranged and wrote all the songs with the exception of "In A Sentimental Mood," a Duke Ellington cover. On "Steppin Out," she was joined by Special guests, guitarist Peter White and saxophonist Kirk Whalum. During her career, She has also released - "Never My Love", and "Almost That Time of Year" a Christmas album (2008). "L'Automne" (2010), "L'Hiver" (2011), "Behind Your Eyes", "L'ete" and "Le Printemps" in 2012. In 2013, she released an "Open Beta" EP with guitarist U-NAM under the name NUVO DEUX. Shannon has released numerous single tracks from her albums. Links: Website, Teen Jazz, Facebook, Bandcamp, ReverbNation, Airplay, YouTube and DC Bebop page.
---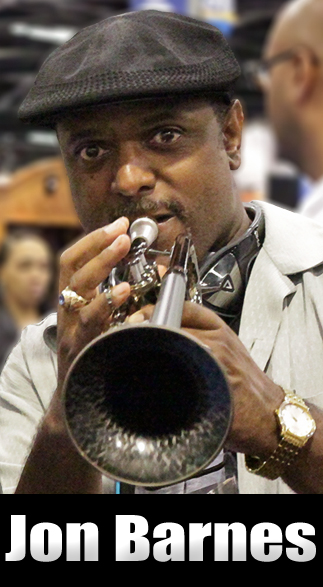 Jon Barnes, Trumpeter, pianist, multi-instrumentalist, writer, composer, producer and educator. - Jon, is originally from Baltimore, Maryland, is a multi-instrumentalist. His favored instruments are trumpet and piano, but "he plays all and teaches all instruments." He is multi-talented. Jon is a writer, composer, producer, educator and a businessman. Jon began studying trumpet in church and elementary school. His desire to teach was created by the music taught by of his mentors. Over the years, Jon has recorded, toured and produced many projects with well known performers, both past and present. Among them are, Gerald McCaulley, Billy Preston, Gerald Albright, The Temptations, The Four Tops, Smokey Robinson, Tom Scott, Chris Botti, Gary Bias, Brenda Russell, Little Anthony and the Imperials, to name a few. He has been featured on the West Coast Allstars CD and DVD, and he created his own music curriculum, "KidsMusicCorner.com," which allows children to learn about music while simulating the playground experience. "Jon, like Miles Davis enjoys sharing the stage with talented people who are inspiring, honest, and hard working. He enjoys spending time with his family in jam sessions and teaching music to his grandkids. Jon believes ' a family that plays together will stay together'." Links: Facebook, ReverbNation and DC Bebop page.
---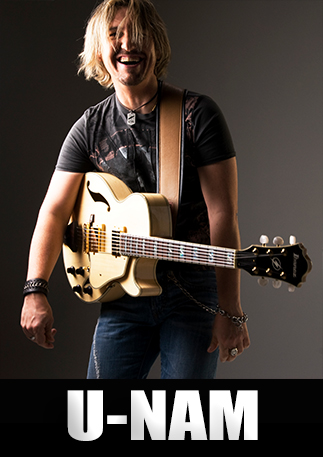 U-NAM, Jazz Guitarist and producer - U-NAM is originally from Paris, France. He began playing the guitar when he was 12. He studied at the CIM, in Paris, which is the first and the largest school of jazz in Europe. He has recorded six of his own CD's, and released several hit singles, while contributing to albums by major musicians over the years. During his career, he has produced, performed and/or recorded with "Barry White, Billy Paul, Kool & The Gang, Honeyz, Eric Benet, Dave Koz, Jonathan Butler, Najee, Rahsaan Patterson, Maysa Leak, George Duke, Marcus Miller, Patrice Rushen, Dennis Chambers, Stokley Williams, Jeff Lorber, Phil Perry, The Last Poets, Marva King, Myron, Ronnie Foster, Ricky Lawson, Michael White, Alex Al, Melvin Lee Davis, Paulinho DaCosta, Luis Fonsi, Organiz', MC Solaar, Diams, Donia, Houcine, Ophelie Winter," just to name a few. In 2012, U-NAM released the " Weekend in LA (Tribute to George Benson) album, which spawned hits like " Shiver", featuring Paul Jackson JR and Tim "TiO" Owens,and " Love X Love" from the same album. Both tracks ranked high on the music charts. In 2013, U-NAM and Rahsaan Patterson collaborate on the single " Eve," and expect new projects from U-NAM. Check his schedule for performances at festivals and venues near you. Links: Website, Facebook, ReverbNation, YouTube and DC Bebop page.
---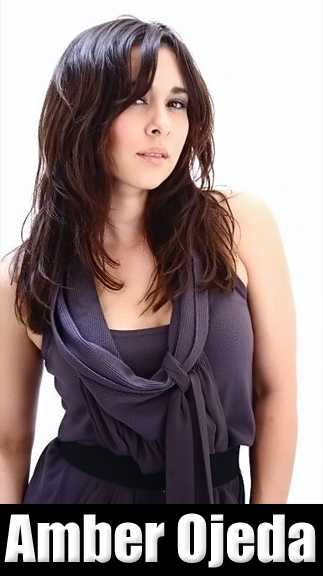 Amber Ojeda - singer- songwriter and actress. Amber says she was mainly influenced by the great old school jazz artists like: Ella Fitzgerald, Sarah Vaughn, Dinah Washington and Billy Holiday. She likes to combine "old style" jazz with an updated hip/hop beat giving it an "up-to-date" groove while incorporating her own style. Her music is played on over 100 radio stations and pod casts worldwide. Amber can also be heard on "Dress My Nest" on the Style Network, her song "All I Need" is the theme song for the feature film "All That I Need". She has a song on the soundtrack for the feature film "Prayer before Murder". Some of her acting credits have included a recurring role on "Veronica Mars", promo's for "Starz TV", a guest appearance on "Dress My Nest", the host for the "National School Program for MADD", host for "Jitter fingers". which is an online community for teen girls as well as many TV commercials and Feature Film roles. In 2010, An exclusive distribution agreement was reached between SWEET SOUL RECORDS and Amber Ojeda, represented by California-based A&R Management, which will pave the way for Japan-wide physical distribution of Amber's debut album, " Here I Am." Links: Website, Facebook, Reverbnation YouTube and DC Bebop page.
---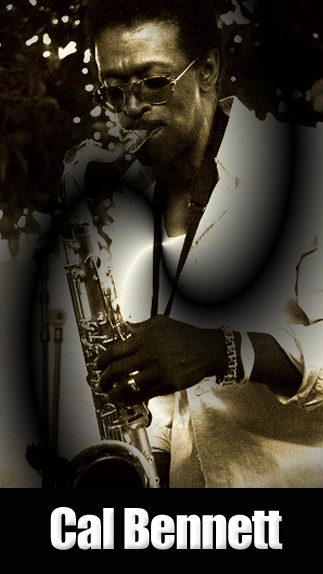 Cal Bennett, Saxophonist, writer, producer and artist representative. Saxophonist Cal Bennett was almost 20 when he soloed on Isaac Hayes' Academy Award-winning "Shaft" LP in 1971. He has recorded nine of his own albums and been featured on numerous others. Over the years he has performed and/or recorded with Isaac Hayes, Toni Braxton, Ice Cube, Stevie Wonder, Angie Stone, Bobby Lyle, Carl Anderson, The Agape International Choir, Ben Vereen, New Birth, Rob Mullins, Siedah Garrett, Niki Harris, Tito Jackson, Jay King from Club Nouveau, Greg Wright, Jack Ashford and the Funk Bros. and George Clinton, just to name a few." Cal released his first album in 1996, titled "A Stolen Moment", it topped at number 11 on the Billboard Jazz Contemporary Chart. He was musical director and performed with Toni Braxton, when she debuted on The Tonight Show with Jay Leno. He has performed at the Playboy Jazz Festival, on The Tonight Show as the featured soloist for music taken from the movie "Tsotsi." He was the featured jazz artist in the Starbucks' print campaign, "Hear Music," as well as performing in commercials for Time Warner, AT&T, H&M Clothes, Johns Hopkins Medicine and Panasonic Japan. During his career, Cal has written and produced music for the soundtrack of several films. He has served as an artist representative and performer on The Los Angeles County Arts Commission since 2001. Musically, he has two albums, "Life's Beach" (2011) and "Chill Grooves" (2012). Links: Website, Facebook, Reverbnation, YouTube and DC Bebop
---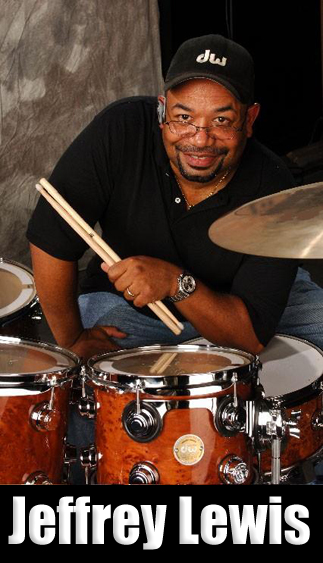 Drummer,vocalist, songwriter and producer Jeffrey Lewis is originally from Philadelphia, Pennsylvania (the Soul and R&B capital of the world), but now resides in California. Jeffrey's family was in the music business when he was growing up so the sounds of music have been a part of him during his entire life. He began playing violin at the age of 6 (not his choice). He later heard and saw drummer Gerry Brown performing with his brother (keyboardist Velbert Lewis) during a TV performance and Jeffrey found his musical calling, his love for the drums. Over the years, Jeffrey has perfected his skills and has performed with an extensive list of music industry greats - Dionne Warwick, Smokey Robinson, Sheena Easton, James Ingram, Peabo Bryson, Gloria Estefan, The Spinners, Deniece Williams, Stevie Wonder, Gladys Knight, Olivia Newton John, Joe Sample, Ronnie & Hubert Laws & Family and many others. Jeffrey has been touring with Dionne Warwick's Band for several years (amid rave reviews) while writing and producing music for a number of top smooth jazz artists. Links: Reverbnation and DC Bebop Page.
---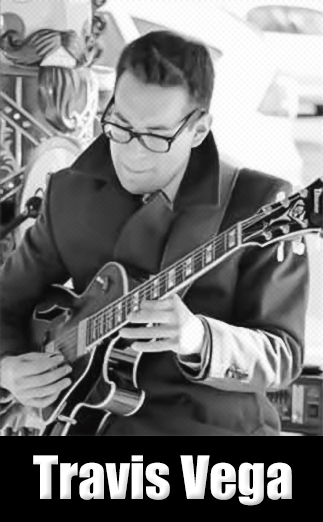 Guitarist, producer, songwriter and composer Travis Vega from Lodi, California. Travis began learning to play his grandfather's guitar "by ear" at age 11. While learning, he "would read and play the licks" in the guitar magazines. He and a friend would "comp a lot from CD's and radio". In his junior year in high school he joined the jazz band and was also taking lessons from a local guitarist, Mike Simone who, he said "taught him a lot" during his high school years. After graduating, Travis said he "headed to Hollywood to study formally at the Musicians Institute". He can be seen and heard performing at venues and festivals in California and Nevada. Travis has released, "Through the Valley" in 2004, "Just Let It Flow" in 2007, "Smooth Urban Night" in 2008. In 2010, he released 11 tracks on his all-instrumental CD titled "U" on which he plays a custom-made flamenco-sounding Gibson guitar. Links: SoundClick, Website and DC Bebop page.
---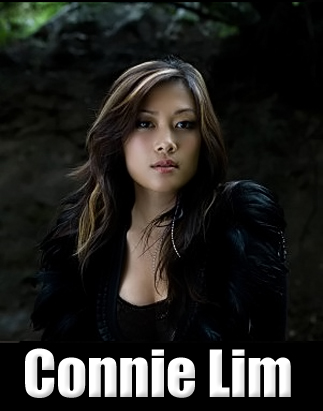 Connie Lim - Singer, songwriter -

Connie discovered her gift for music early in life when she lived in Palos Verdes, California. She began writing music when she was 8 years old, and the siren call of music pursued her over the years and into college, at which point she decided to pursue music as a career goal. She recorded her first EP, "Shifting," in 2007 to an existing and growing following among Bay Area music listeners. Eventually, her path led her to Los Angeles, where she performed in many venues and attracted more listeners to her style of music. She says she found inspiration from the music of other musicians like "Imogen Heap, Feist, and Natalie Merchant." After the release of "Shifting" Connie performed in L.A. area venues and honed her style of Pop, Blues and Electronica. In 2010, she completed here second EP "The Hunted" to good reviews. She launched a video "Sugar," which was a track from the EP and attracted the attention of several media publications. She received favorable reviews from Hits Magazine, NBC-LA, KSCI-TV, KPCRadio.com, MTV Iggy, and Entertainment Today Online for her music. Since arriving in the L.A. area, Connie has shared her music in many venues. She has shared the stage with artists such as Goapele, David Choi, and Colby O'Donis. Links: Reverbnation, Facebook, Website and DC Bebop page.
---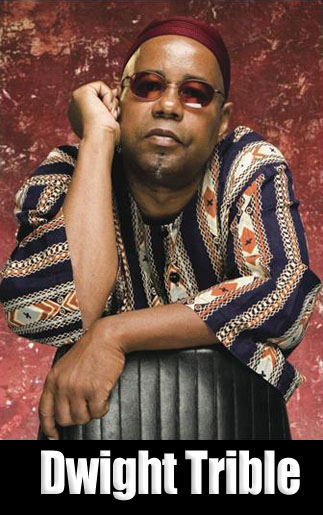 Dwight Trible - Singer -

Dwight has devoted his life to the pursuit of his musical dreams. He is described as "a singer who combines the best of vocal virtuosity with musicianship and improvisational skills." He performs with his own group, the Dwight Trible Ensemble, is the vocalist with the Pharaoh Sanders Quartet and the vocal director for the Horace Tapscott Pan Afrikan Peoples' Arkestra. "Dwight has worked with such notables as Oscar Brown jr., Charles Lloyd, Billy Childs, Kenny Burrell, Kenny Garrett, Steve Turre, Harold Land, Harry Belafonte, Della Reese and Norman Conners, John Beasley, Patrice Rushen, Babatunde Lea, Ernie Watts, Kahlil El Zabar, as well as contemporary soul artist like LA Reid and DJ Rogers. Dwight's collaborations with Horace Tapscott, Billy Higgins, Kamau Daaood" to name a few. Dwight has been called a jazz "Holy Man" and "a high priest of voice." He has been compared to famous jazz vocalists like Leon Thomas and Billy Eckstine, but he strives to "cultivate his own sound." Links: Reverbnation, Facebook, Website and DC Bebop page.
---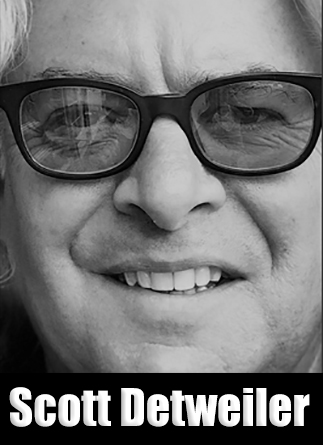 Scott Detweiler - Guitarist, Singer & Composer. Scott is an award-winning artist who was born and raised in New Orleans. Now based in Woodland Hills, he performs regularly in the Los Angeles area with his N.O. Jazz Funksemble, solo, and as cantor at Our Lady of Grace Church in Encino. He has performed Asia, Europe and South America. Scott is a prolific lyricist and composer of jazz standards, blues, opera, chamber music, ballets, sacred, etc, in the grand tradition of American composers such as Bernstein, Marsalis and Gershwin. He also has a large catalog of music composed for acoustic guitar. In L.A. he studied with Henri Mancini, Pulitzer Prize winning composer Dr. Albert Harris and lyricist K.A. Parker. Scott is a writer of hundreds of songs not only for his own releases, but also for other artists, including funk band sensation, Orgone. He has released over 20 (twenty) albums under his own name, including his recent "Magnificat In Blue", a blues/jazz based oratorio based on a bible story. Detweiler is the recipient of The Congressional Certificate of Recognition, has been honored by Billboard Music Awards, The Nashville City Song Festival, Utah Composer's Guild and served as a juror for the Gohar & Ovanes Andriassian Classical Guitar Competition & Festival at California State University Los Angeles. He is also a sought-after consultant by leading international musical instrument and music product manufacturers and is an endorsing artist for AMI Guitars, Peerless Guitars, Conti Guitars and Olympia Strings. For more information see www.detweilermusic.com. Links: Website, DC Bebop page and DC Bebop CD page.
---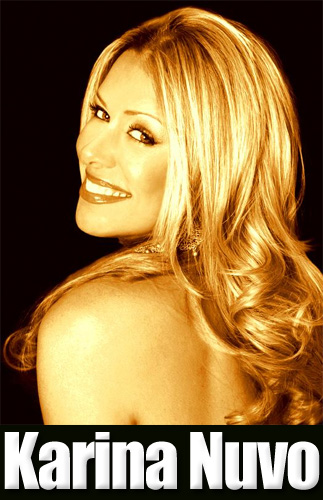 Karina Nuvo, singer, writer and producer, is a first generation Cuban-American from Miami, Florida. When she was growing up she would "lip-sync shows" to her family. She also "lip-synced" songs while in high school, but says she did not really become "aware of her voice" until she was 19 years old. She never took voice lessons or sang live until that time. She considers herself to be a "late bloomer" with her musical career, but also says "better late than never". Karina says she feels "quite blessed" to have shared the stage with Celia Cruz, Tom Scott, Ray Parker Jr., Jeff Kashiwa, Johnny Britt of Impromp 2, Paul Shafer and Dan Siegal. She also says "I have a band that I am quite lucky to have perform with me on stage and on the NUVOSOUL CD. They are some the top musicians out there that work with other Amazing superstars of all genres. Hopefully I can continue this wonderful trend". Karina's music is described as being "a sultry combination of Soul-Jazz and Latin" Notably, she co-wrote, co-produced and sang the songs in both English and Spanish "to create a unique sound, "NUVOSOUL" released in July of 2008. Links: Reverbnation, Facebook, DC Bebop page.
---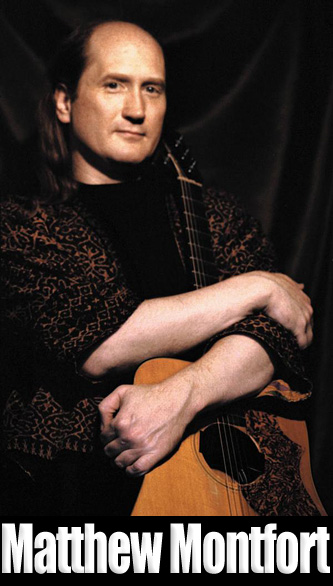 Matthew Montfort - Multi-instrumentalist: scalloped fretboard guitar, Godin Glissentar (11 string fretless guitar), electric guitar, flamenco guitar, sitar, charango, mandolin, gamelan and composer. Matthew holds a B.A. in World Music and Composition and an M.A. in Arts and Media Technology from Antioch University and has studied with the master musicians of many world music traditions. He is on the faculty of Blue Bear School of Music in San Francisco, where he teaches all styles of guitar as well as rhythm classes based on his book "Ancient Traditions--Future Possibilities: Rhythmic Training Through the Traditions of Africa, Bali and India." He is the leader of the world fusion music ensemble "Ancient Future" and a pioneer of the scalloped fretboard guitar (an instrument combining qualities of the South Indian vina and the steel string guitar). Looking towards the future Matthew says "I want to record new music live in concert for release on DVD and CD. There is a new program we are now unveiling: the Archive of Future Ancient Recordings. The concept of the Archive of Future Ancient Recordings is to involve fans of world fusion music in supporting the production of an archive of live and studio recordings that will be available to subscribers as they are created." Links: Reverbnation, Website, Ancient Future "Planet Passion" CD, "Seven Serenades CD", DCB Ancient Future and DC Bebop page.
---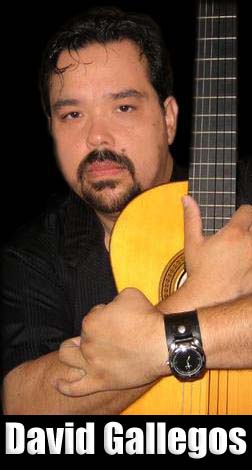 Guitarist David Gallegos has played since picking up an old guitar at the age of 13. He has been playing rock and metal for the greater portion of his career, but David began listening to and writing music with a softer, more emotional touch and in 2003, he began working on his first full-length Latin new age CD. David took his experiences from working with many bands and decided to write, record, design, and release his solo CD completely on his own "Mis Recuerdos", was self-released at the end of 2004. With the CD completed, David moved from San Antonio to Dallas to begin showcasing his music. In Dallas, David met guitarist Sammy Echeverry, bassist Rick Read and drummer/percussionist Ross Young, and they began playing together as the "Power of Omens" band. 2009 culminated in the release of David's most recent project, "Mi Rosa Blanca", which he says was "inspired by love and passion". The CD "combines traditional flamenco rhythms with serene new age melodies to create an ambient soundscape with a Latin flare". Link: Reverbnation, Website, and YouTube.
---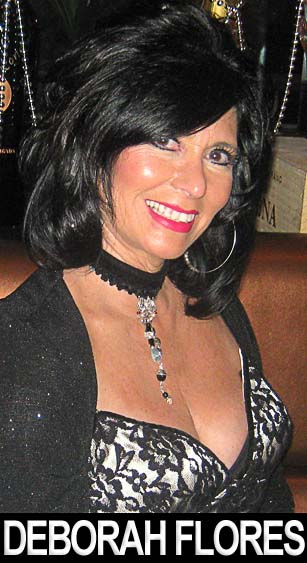 Singer, Songwriter and Band Leader, Deborah Flores - Originally from San Francisco, California, Deborah grew up surrounded by music - by the sounds of Jazz, Soul, R&B, Gospel and Pop music. She says her "father sang and her mother was possessed of natural rhythm", and these musical talents were passed on to her brothers as well as herself. She said her brothers were seasoned performers with the Mason and Kahn Studios in San Francisco when she was growing up. Like her brothers, Deborah was also groomed to be a performer. She sang in high school, earning awards and then sang on tours around the world. She has shared the stage with country music greats Red Merrill and Buck Owens. She was hired by Bill Medley of the Righteous Brothers as a background singer. She found herself in the presence of high-profile performers such as Dizzy Gillespie, B.B. King, Glen Campbell, and the king himself, Elvis, to name a few. Through hard work and dedication Deborah honed her skills and eventually formed her own bands, the latest of which is the Deborah Flores Band. Deborah and her band can be heard performing at various venues in the L.A. area. Deborah released her first CD "Step Aside" (2008) on Amazon. Link: Reverbnation, Website and DC Bebop
---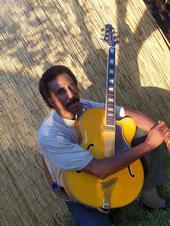 Guitarist, keyboardist, singer, songwriter, music producer, Felix "Flex" Carter from Montgomery, Alabama. For Felix, "Music is the Key to Life". He grew up in music and continues to create, grow and evolve with it. For the last seven years, he has been playing and singing in small clubs throughout the Bay Area. Over the years, Felix has created and developed his own style of music. In his words, "it's kinda like a Jazzy Hop, Latin, Reggae feel type of flavor". Felix and Pianist Joe Felez released their single, "Bori Love" in July 2015. Links: Facebook