MUSIC - Destani Wolf - singer-songwriter
---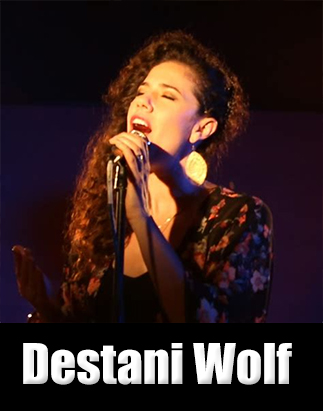 Destani has been singing since the age of two, when she sang along to songs her parents played on their stereo. Her love of music and performing shaped her journey through life and has taking her to many countries to share her talents. She is an awarding winning singer/songwriter. Some of her songs have been featured in several films. Destani's solo and group performance career continues to grow.

"Destani Wolf offers impeccable vocal prowess as a conduit for spiritual awakening on her latest EP 'PEEK AWAY'. Drawing on nuances of Blues explored as part of her musical foundation, this collection of six (6) brand new songs finds the Berkeley raised songstress arriving at an evolved take on her signature soul-step.

Take one listen to her emotionally powerful and melodic vocals, through songs laden with orchestral-strings such as on "Nothing but the Best" or "Peek Away", there's no mistaking the SOUL in her DNA. On 'PEEK AWAY', soaring soundscapes underlay the interwoven retro-futurism of nu soul and 70s funk on "Why Should I Stay" and "Uprising (Do-it!)", making her 6-pack solid. Including a true dedication of love "Your Love for me" which won The 2015 Independent Music (Pop Vox) Award in the love category. 'PEEK AWAY' EP gives the listener a chance at hope, an outlet to cope and a positive window into beginning to be healed."
---
Destani on SoundCloud
---
BIO excerpt:
" Whether opening for Alice Smith or Laura Mvula at San Francisco's 'The Independent', performing live with the likes of UK's Alice Russell on 'Jimmy Kimmel Live!' or gracing the stage with shows in New York ('Lincoln Center', 'Joe's Pub'), San Francisco Bay ('Yoshi's, 'Bimbos', 'SFJazz Center', 'Stern Grove Festival') and Los Angeles ('LACMA', 'Sonos Studio', 'UCLA Jazz Reggae Fest', 'KCRW MBE'), Destani, who also writes songs and sings in Spanish, has recordings on two Grammy-nominated Latin Jazz LPs (John Santos 'S.F.BAY' and Jose Rizo's 'MONGORAMA'). She recently contributed vocals for the songs "Crossroads" and "Live like a Warrior" by Matisyahu while working with producer Kool Kojak (Nicki Minaj, Flo Rida, Ke$ha), and has also lent her voice to other projects with Artists such as Miguel Atwood-Ferguson, Seu Jorge, Crown City Rockers, Zap Mama, Quantic, SoVosó (Bobby McFerrinoffshoot), and The Pharcyde. You can also hear her voice & compositions on TV and Films like Disney's 'The Descendants', Kevin Hart's 'Laugh at my Pain', SYTYCD and more. Her solo debut LP 'AGAIN and AGAIN' ('06) – though a bit more contemporary sounding than this 'PEAK AWAY' EP, still remains an underground classic of edgy soul."
---
INTERVIEWS:
CAFE A.M.P.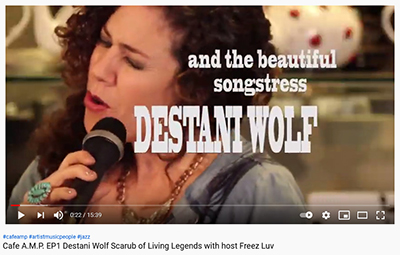 CAFÉ A.M.P. - Artist Music People – is a pop up cafe featuring emerging/veteran artists' performances and real talk. w/ Scarub and Bobby Easton. Cafe AMP Hosted by Freez Luv
---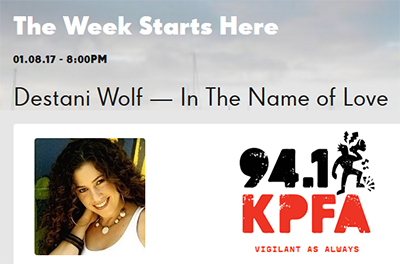 Singer/Songwriter/Recording Artist Destani Wolf, describes the unique unfoldment of her musical career.

---
QUOTES
OKAY PLAYER PREMIERE
July 23, 2014
"Destani Wolf gifts us with some soulful new frequencies, as we have the pleasure of premiering her latest offering "Uprising (Do It!)" off the upcoming Peek Away EP. What we have here is a powerful call to arms, played against some Godfather-esque sonics, complete with that funky church organ treatment and Catfish Collins guitar work, giving young Wolf the space to spread that triumphant vox of her's all over this thing. "Uprising (Do It)" comes as a quick follow-up to last month's impressive drop "Nothing But The Best," which featured the mighty Miguel Atwood-Ferguson adding some tender string arrangements. Wolf's Peek Away EP is already shaping up to be an impressive one and you won't have to wait too long to get the full script, as the album lands on digital shelves August 19th and can preordered via iTunes today. You can listen to Miss Wolf's strapping funk treatment "Uprising (Do It!) and peep the lyric video down below, just be sure to keep your ear to the ground, fam. We've got a hunch that you'll be hearing plenty more from the young soulstress in the years to come."


~ OKAY PLAYER

.
---
OKAY PLAYER REVIEW:
July 15, 2014
"Destani Wolf drops a soulmatic cut on us with "Nothing But The Best" featuring the maestro Miguel Atwood-Ferguson off her upcoming Peek Away EP. It's a formidable offering, tapping into the heartbreak funk of masterpieces like Marvin/Leon Ware's I Want You for a refreshing update on the blues tradition. And nothing will pull at the strings of your heart like MAF's stapled luscious string arrangements, punctuating the track with strings of his own. The L.A. soulstress' Peek Away EP has yet to be given a release date, but be sure to check back for the latest. In the meantime, get acquainted with the powerful blues treatments of Destani Wolf with her Miguel Atwood Ferguson- assisted single "Nothing But The Best" below."


~ Oz

.
---
San Francisco Bay Guardian
October 31st, 2001
"OH girl! Destani Wolf is an incredible vocalist, a singer with a supple, throaty alto who's equally at home harmonizing, (with acclaimed a cappella group SoVoSo, an offshoot of Bobby Mcferrin's Voicestra) or soaring solo"


~ Sylvia Chan

.
---
ARTICLES & PRESS:
Independent Music Awards - February 24, 2016

IMA Nominate Destani Wolf's song "Your Love for Me" and she wins.

" Powerhouse soul vocalist Destani Wolf of Berkeley California based in Los Angeles was named by Music Resource Group (MRG) as a Nominee of The 14th Independent Music Awards (The IMAs), the influential awards program for independent artists and releases. Independent Music Awards nominations in more than 80 Album, Song, EP, Music Producer, Music Video and Design categories were announced for self-released and independent label artists from Australia, Belgium, Brazil, China, Croatia, Czech Republic, Canada, Colombia, England, Finland, France, Germany, Iceland, India, Israel, Japan, Latvia, Mali, Norway, Peru, Portugal, Russia, Scotland, South Africa, South Korea, Spain, Taiwan, United States and Tibet."
---
EAST BAY EXPRESS - October 24, 2007 - Fresh is the Word
"That night, the festival took things a step further during a fete at the Shattuck Down Low. Local artists threw down renditions of the classic hip-hop songs which inspired them, backed by house band AguaLibre. Ise Lyfe performed Gil Scott-Heron and Eazy-E songs, while the Attik tackled Outkast, Pabon murdered a KRS-One medley, and Papa Zumbi (of Zion-I) revised Grandmaster Flash and the Furious Five's "The Message." Afterward, Fabel and some local B-boys traded footwork outside the venue, while AguaLibre did a full set, with vocalists Destani Wolf and Pabon bringing down the ceiling."
---
SFGATE - January 14, 2007 - Hip-hop takes the stage
"Agualibre could easily be considered Bayonics' East Bay counterpart. Formerly known as O-maya, the group is also a Latin-tinged big band with a fusion-friendly sound that incorporates rap and reggae influences along with traditional arrangements and choruses. "Agualibre is the result of cultures mixing together," says singer Destani Wolf. "The reality is the world is getting smaller. You have people from mixed backgrounds from all over the world."

The band is still putting finishing touches on its debut album, but Aqualibre quickly has become a fan favorite, playing before rapturous crowds at local venues, including October's Latin Jazz Festival at Yerba Buena Gardens. Onstage, says Wolf, "we're all about having a good time. The result usually goes across the board. You see people of all ages dancing.""
---
VIDEOS:
My Heart is Breaking by Destani Wolf
---
Primavera Destani Wolf : The Banda Brothers
---
Destani Wolf - Love Me Gently
---
Destani Wolf - "Nothing but the Best (Feat. Miguel Atwood-Ferguson)" [Official Music Video]
---
Headnodic - "Zaya" (feat. Destani Wolf)
---
Back to the Top - Back to the Music page