MUSIC - Anton Schwartz - Saxophonist, composer, record producer, educator
---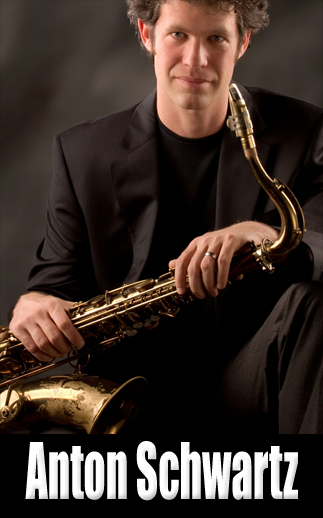 Anton was born and raised in New York City. "He attended the The Dalton School, during which time he studied jazz privately with Warne Marsh and Eddie Daniels" He studied advanced mathematics during high school at New York University and Columbia University, moving on to earn his Bachelor's, Phi Beta Kappa, in Mathematics and Philosophy at Harvard University and was in the Doctoral program in Computer Science at Stanford University where he pursued research in artificial Intelligence, specializing in reinforcement learning. While gifted with a scientific mind, Anton found the call of music to have a greater pull. After receiving his Master of Science degree, he left the world of science to become a full-time musician, Anton can be found performing at many venues throughout the U.S., but notably appears periodically at Yoshi's, performs at the San Francisco Jazz Festival, and performed with the Boston Pops Orchestra at Boston Symphony Hall (2014). He is "a faculty member of the California Jazz Conservatory in Berkeley, California, has taught frequently at The Stanford Jazz Workshop, and has been Artist-In-Residence at Harvard University and The Brubeck Institute." During his musical career, "he has released five CDs as a leader, on his own Antonjazz label." ~ Source: Wikipedia
---
INTERVIEWS
Anton Schwartz interviewed by Henry Tenenbaum (2009)
---
Jazz Improv Magazine — Spring, 2007 (excerpt)
"AS: The first sax players I checked out were Charlie Parker and Charlie Rouse. I had borrowed a tenor sax from my school and wanted to hear what great saxophone playing sounded like, and they were my first taste. I developed a curiosity for it immediately, and a great love only a bit later. Probably the most important record for me was an odd and wonderful CD called Apogee that paired Pete Christlieb with Warne Marsh, produced by, of all people, Donald Fagen and Walter Becker of Steeley Dan..." ~ Jazz Improv Interview
---
REVIEWS:
Jazz in Pacifica with acclaimed saxophonist Anton Schwartz and his party of five - Flash Mob (2014)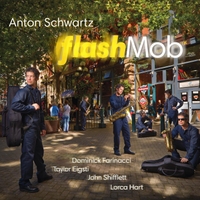 " Out of the twelve tracks on "Flash Mob," Schwartz composed ten of them. He explained the vibe of some of those tunes. "'Flash Mob' is bold and fast, lots of attitude," Schwartz said. "'Alleybird' is lazy, swampy blues, 'Panguar Ban' is a quirky New Orleans groove with Celtic harmony, 'Dawn Song' I'd describe as a stirring ballad, and 'The Contender' is hard-swinging, à la Art Blakey & the Jazz Messengers." "What unites them is the strong sense of melody," Schwartz went on to say. "I like to write the kind of music I'd want to listen to — music that grabs a listener and that grooves, regardless of whether the music fits squarely in the classical jazz tradition or pushes it in new directions."
~ Jean Bartlett - MercuryNews.com
---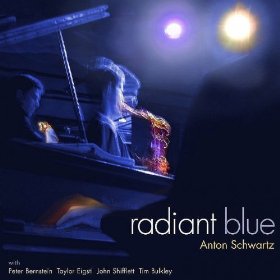 "For a guy who has the blues, San Francisco-based tenor saxophonist Anton Schwartz sure seems happy. While the ten tracks on Radiant Blue are purported to be based on the twelve-measure blues form (I think there's a couple of sixteens in there), there is barely a blush of sadness to this decidedly upbeat release. But once you're a few measures into "Phantom Dance," you can forget about the overarching theme and just enjoy the ride. had to know heading into this project that he had a winner. "

~ Ken Hohman - AllAboutJazz.com
---
VIDEOS:
Anton Schwartz - "Pangur Ban" [live]
---
Anton Schwartz / Ed Cherry / Wil Blades / Jerome Jennings - Phantom Dance (HD)
---
"Myra" featuring Sara Lazarus & Anton Schwartz
---
Back to the Top - Back to the Music page