MUSIC: Featured Musician & Playlist*
Lena Seikaly - Arno Haas - Bill McGee -
Julian MacDonough - CDs - Mariah Parker - Jeff Hamilton Trio
MUSIC DC Scene
Vocalist Lena Seikaly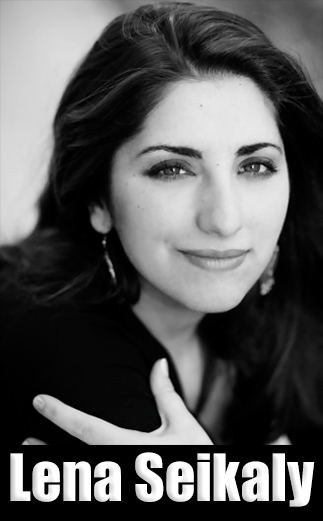 Lena is a native of Falls Church, Virginia. She is the regular singer for several traditional jazz, swing dance, straight-ahead, Latin jazz and fusion groups in the D.C. area, and has appeared at numerous national and international festivals and venues. Her sound is immediately reminiscent of the great jazz vocalists mixed with the interpretive ingenuity of bebop and modern jazz, while peppering influence from her Arabic heritage. She has had the pleasure of working and studying with some of the world's top names in jazz, as well as classical voice (she is a classically trained mezzo-soprano) and Arabic music. Lena released her first solo album, "Written in the Stars", a collection of standards and original compositions in 2009, "Lovely Changes" in 2011 and "Looking Back" in 2013. Lena can be found entertaining in numerous venues and music festivals in the DC area. Links: Website, Reverbnation, Facebook and DC Bebop page.
---
MUSIC INTERNATIONAL
Saxophonist Arno Haas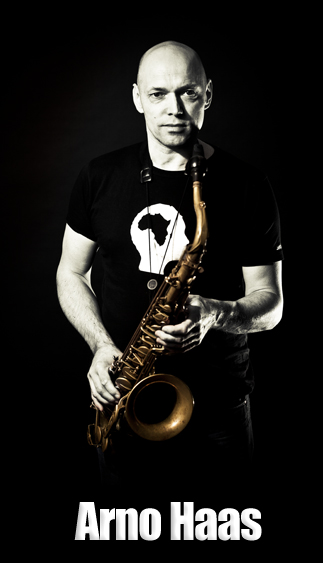 Arno was born in the Black Forest region of Germany. While growing up he nurtured a musical curiosity, which became a life commitment to the pursuit of music. In pursuit of his interest, he joined his schools music club, where he participated in various band projects. This gave rise to thoughts of becoming a "professional musician." He received real life experience with being a musician while serving a year in the Air Force Music Corps/Karlsruhe. He says, "this experience was one reason for my decision to become a professional musician." He studied and graduated from the Swiss Jazz School at Bern (Switzerland). While in school, he met "the master of the Blues, Sidney "Guitar Crusher" Selby, and was chosen to perform with the Cadillac Blues Band from Fribourg for 10 year tour. "During his musical career, Arno has played with "various bands and musicians such as Franco Ambrosetti, Peter Herbolzheimer in Jazz, or with the (ex-Rolling Stone) Mick Taylor, Paul Kuhn, with the Duke Ellington Orchestra, Joo Kraus, Ack van Rooyen, Nikolas Simion, Peter Herbolzheimer, Tom Novy, Nubya, Göla, Sandra Studer, Maya Brunner, Polo Hofer, Lokua Kanza, Henri Dikongué, Wolfgang Haffner, James Moody, Thomas Stabenow and many others. Since 2009 he has been a member of the Stuttgart Jazz Orchestra. The collaboration with Wolfgang Dauner and Helen Schneider started through this Orchestra." He released his first album, " Magic Hands," in 2013 to good reviews. Arno's latest CD released October 22, 2015 is titled, " Back to You," featuring 7-times Grammy winner Al Jarreau on the track titled "Lucky Chance," and singer Evelyn Kallansee from the Dutch band Tristan featured on "When Love Is Real". Arno performs in many venues in Europe and worldwide. Follow him through his links: Facebook, Website and DC Bebop page.
---
MUSIC US East
Bill McGee - Trumpeter, songwriter, arranger, producer, educator, musical mentor and quintessential musician.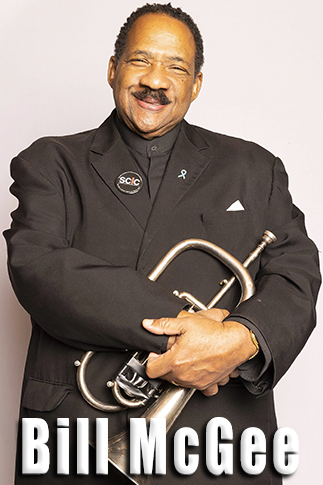 Bill McGee - Trumpeter, songwriter, arranger, producer, educator, musical mentor and quintessential musician. Originally from Richmond, Virginia, Bill comes from a family of musicians. His grandfather was a former educator and became a top selling gospel music recording artist and pioneer. Bill became an educator and he is noted as being a top trumpet man in the music industry for well over thirty years. His musical credits are numerous. Bill performed with Evelyn "Champagne" King. He worked as a member of the New York based studio horn section "Chops". His group recorded all of the Sugar Hill Records rap classics (before samplers took over). He played lead trumpet on many of the original rap records by "Grand Master Flash, The Sugar Hill Gang, The West Street Mob and Sequence (Angie Stone) He also played lead trumpet on albums by The O'Jays "Out In The Real World," Leon Huff "The Right Stuff," Patti Labelle, The Stylistics, and McFadden and Whitehead. Bill performed as a musician with Lou Rawls and Ray, Goodman, and Brown (The Moments.) After many years of recording behind the scenes for others, Bill decided to begin recording his own CD's. On these CD's you'll find what he calls the 804 Jazz All Stars, and in Bill's words, "essentially the best musicians and singers that Virginia has to offer". Many of whom have their own outstanding professional discographies and track records. Links: Website, REVERBNATION, SmoothJazz.de, Last.FM, YouTube Discography and DC Bebop.
---
MUSIC US West
Julian MacDonough - drummer, bandleader and educator
- Julian "is an award winning drummer and educator residing in Bellingham Washington. Besides being a full time musician, Julian is also the artistic director of the Whatcom Jazz Music Arts Center located in Bellingham. He performs regularly with his own trio consisting of pianist Miles Black and bassist Michael Glynn, various bands with saxophonist and promoter Cory Weeds, a modern trio with saxophonist Josh Cook and bassist Michael Glynn as well as the swing era bands of Solomon Douglas. He loves and enjoys performing all styles of jazz from traditional, to swing, be bop, and modern. His love of great rock, funk and americana music in addition to jazz has helped make him an in demand studio drummer, having appeared on over 70 recordings. Besides performing over 200 times a year, Julian keeps busy with his love of teaching, instructing not only drums, but jazz combos as part of the Whatcom Jazz Music Arts Center's high school combo programs. He has had the honor and privilege of performing and touring with Harold Mabern, Jimmy Heath, Peter Bernstein, Larry Willis, Seamus Blake, Geoffry Keezer, Jon-Erik Kellso, Grant Stewart, Eric Alexander, David Hazeltine, Joey DeFrancesco, Vincent Herring, Steve Davis, Josh Bruneau, George Cables, Gary Smulyan, Julian Preister, Aaron Parks and many many others." website bio. Links: website, WJMAC.org, Facebook, WJMAC Facebook, YouTube, Discography and DC Bebop page.
---
MUSIC CD ARCHIVE: ONECD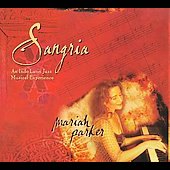 Mariah Parker - Sangria (2009) "This is the impressive solo CD debut of a pianist-composer known primarily for her performances with the longtime Marin world music group Ancient Future. Parker, who worked with Mickey Hart on his "Planet Drum" project when she was completing her music degree at UC Santa Cruz, describes her style on this eight-track instrumental album as Indo Latin jazz. And just as the Spanish drink sangria is a blend of wine and brandy and other flavors, "Sangria" is a fusion of Indian classical music with Latin sounds and Middle Eastern rhythms. Parker has studied with Latin jazz pianist Rebeca Mauléon, developing a sensuous, sensitive style that she brings to an East/West jazz fusion that has been explored in some form or another by some of the greats in jazz, including Buddy Rich, Yusef Lateef, John Coltrane and John McLaughlin. " Website, Facebook, Reverbnation and DC Bebop page.
---
MUSIC CD ARCHIVE: DOUBLECD

Jeff Hamilton Trio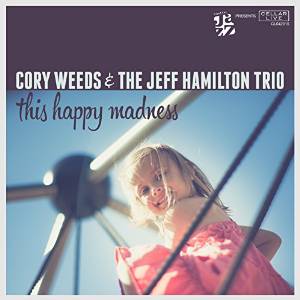 Cory Weeds & The Jeff Hamilton Trio - This Happy Madness (2015) If imitation is the sincerest form of flattery, then this session by Canadian tenor man Cory Weeds and The Jeff Hamilton Trio quite nicely bookends The Jeff Hamilton Trio's recent outing with tenor saxophonist Scott Hamilton. While Weeds modestly admits that he is no Scott Hamilton, he is nevertheless, a saxophonist of accomplishment with an enthusiastic style. In this release, to use a sports analogy, he certainly plays up to the level of the competition. This iteration of The Jeff Hamilton Trio has been together for over 10 years, and the empathetic relationship among the members is abundantly evident, as they are intensely considerate partners. Weeds is the beneficiary of this symbiosis as he has never sounded better." ~ Pierre Giroux - Audiophile Audition, Website, Wikipedia, YouTube Discography
---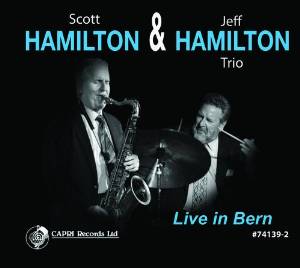 Scott Hamilton & Jeff Hamilton Trio - Live In Bern "Saxophone master Scott Hamilton and drum maestro Jeff Hamilton have over four decades of experience each in the world of mainstream, swinging, jazz. Despite those many years on the scene Live In Bern is their first release together. It's been a long wait, but it's been worth it. Before the important discussion—about the music—a word about the band and the album title. This isn't an album by the "Scott Hamilton & Jeff Hamilton Trio"—to be accurate, it's Scott Hamilton with the Jeff Hamilton Trio."

~ BRUCE LINDSAY - AllAboutJazz.com