MUSIC: FEATURED MUSICIAN & PLAYLIST*
Larry Mitchell - Ray Obiedo - Xandra Corpora -
Drew Davidsen - Kytami -
CDs - Sharon Robinson - Sara Tavares
---
MUSIC US East
Larry Mitchell - solo artist, sideman, songwriter and music producer

Larry Mitchell - solo artist, sideman, songwriter and music producer. Larry is a "self-taught" guitarist, and one article says he "started playing guitar at age 9, after his Mom threw his drumset out the window." Her action paired Larry with the guitar. His mastery of the guitar won him the New York City "Limelight guitar solo contest (Twice!), in both 1986 and 1987. Larry's expertise garnered recognition, garnered recognition, from which he was chosen to tour with Spanish/Italian artist Miguel Bose in 1989. Larry released his first (self-titled) "Larry Mitchell" CD in 1990 on the Grude BMG label. He was a feature guitarist in 1991 on Ric Ocasek's "Fire Ball Zone" Cd and can be seen performing on the "Rockaway" music video from the album. In 1999 Larry was awarded the San Diego Music Awards "Best Pop Jazz artist". He has numerous endorsements, with the most notable being Ibanez Guitars, D'Addario Strings, and DiMarzio Pickups. Since the release of his debut CD, "Larry Mitchell" (1990), he has released several other guitar instrumental albums over the years. Mind Body Soul (1993), Escape (1995), Temptation (1996), Insatiable (1999), Sonic Temple (2008), Rhythm of Life (2013) and The Traveler (2016). Links: Website, Facebook, Reverbnation, NAMM Show, Discography, YouTube and DC Bebop page.
---
MUSIC US West
Ray Obiedo, Guitarist, Bandleader, Producer and Engineer
Ray is orginally from the San Francisco area, and grew up in East Bay. While music was a persistent influence in his early years, he "didn't begin seriously studying guitar until his last year in high school." Ray became "focused on mastering his instrument and learning the craft of songwriting throughout the 70's and 80's". He began "performing with many of the jazz community's most celebrated stars including legendary jazz organist Johnny "Hammond" Smith, trombonist Julian Priester, Azteca featuring Pete & Sheila Escovedo, Fourplays' Harvey Mason. He toured the world in 1978-79 Herbie Hancock. As a bandleader, he "lead such popular local bands as the fusion ensemble 'Kick' and the funk-rock group 'Rhythmus 21' which showcased many of the Bay Area's leading singers." "As a session player, Ray has worked with artists as diverse as Lou Rawls, George Duke, Brenda Russell, Herbie Hancock, Sheila E & the E Train, Freda Payne, The Whispers, The Delfonics as well as solo albums by jazz trumpeter Eddie Henderson, former Yellowjackets' saxophonist Marc Russo, Meters drummer Zigaboo Modeliste and is highlighted on Grover Washington Jr's last hit cover of the classic single 'Soulful Strut'. "Ray has contributed source music to major motion pictures "Internal Affairs" starring Richard Gere and "A Shock to the System" starring Michael Caine." As a music producer/engineer, he has produced his own album projects and has produced and or engineered a variety of major and independently released CD's. Ray launched his solo recording career on the Windham Hill Jazz label, recording and releasing five contemporary jazz albums; "Perfect Crime" (1990), "Iguana" (1991), "Sticks & Stones" (1993), "Zulaya" (1995) and "Sweet Summer Days" (1997). In 2015, Ray released "There Goes That." In 2016, Ray released is eighth album, "Latin Jazz Project Vol. 1" on Rhythmus Records which "is a collection of Latin Jazz standards, including three of Obiedo's original compositions. Obiedo enlisted some of the music industries top musicians and longtime co-horts for the project." Links: Website, Last FM, Facebook, Youtube, Discography, Wikipedia and DC Bebop page
---
MUSIC BANDS
Xandra Corpora - guitarist, vocalist, bandleader, songwriter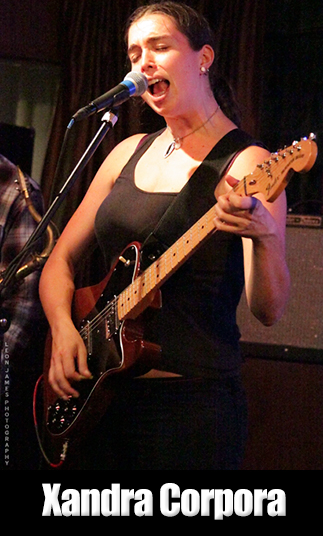 Xandra was born and raised in California, grewing up in the Owens Valley. Xandra's memory of music involve riding with her father "into town with "BB King's Greatest Hits" playing on the tape deck. Or Ella Fitzgerald. Or John Lee Hooker. Or Mozart." Her mother "fancied Simon & Garfunkel and Madonna." Her early music experiences influenced the development of her musical tastes, which she says are "all over the map in terms of love and influence." A late bloomer, she began playing guitar around "21 or so," singing and touring with a few bands. Then she stopped and reassesed what she wanted to do and seeking change and the adventure of a different existence, Xandra moved to Japan. Based in Nagoya-shi, Aichi, Japan, the band members are Xandra Corpora - vocals & guitar, Lesley Bartlett - bass, and Adam Demby - drums. The Xandra Corpora Band "has beome one of Nagoya's most loved acts. Songwriter and guitarist Xandra corpora, having established herself firmly in the music scene of San Francisco, moved to Japan to 'experience life outide of America.' It was here that she found herself back into music..." excerpt from NAGMAG (2016). In June of 2016, XCB won the Hard Rock Cafe's "Hard Rock Rising" competition in Osaka. The bands latest CD, Soul Fires (2016) is available on iTunes. Links: Website, Reverbnation, Facebook, Calendar, Band and her DC Bebop page.
---
MUSIC DC Scene
Drew Davidsen is a multi-talented composer/guitarist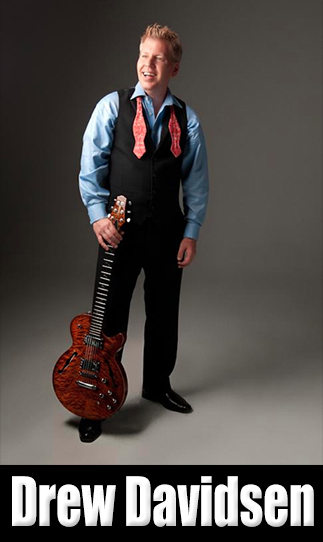 Drew is a classically trained cellist who studied at the Peabody Conservatory, but he was drawn from the classics by his ever growing interest in rock and jazz. He plays several instruments, but while in the Navy, he returned to the guitar, and that became his instrument of choice. During his career, Drew has been part of nearly 30 high profile projects. He has received high praise for his musical talents from his playing of urban jazz to his gospel music. Drew was named one of the "Ten Hottest New Guitarists" in Guitar Player Magazine's influential Reader's Poll. In 2008, Drew self-produced his first solo album, "This Journey". On the heels of the release of "This Journey", he wrote, recorded and released two preview tracks online. "Astro" and "Bounce", which were both well received, the tracks feature Dan Needham on drums, Gary Lunn on bass and pianist Jay Rowe. In 2009, Drew released " Around Again", which has attracted a lot of attention and good reviews. " We3Stringz" CD was released in 2010, " Spin Cycle" in 2011 and "True Drew" in 2013. 2016, Drew wrote and produced this new single composition, "East Moon," with producer/drummer Cedric Givens. Drew can be seen and heard at venues around the U.S. and numerous festivals.
Links: Reverbnation, Facebook, Website, and DC Bebop page.
---
MUSIC INTERNATIONAL
Kytami - Violinistextremist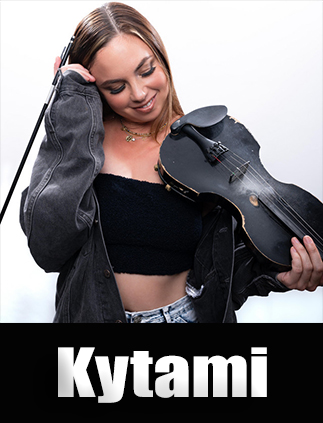 "Kytami is arguably, Canada's most diverse and engaging fiddle player, she is an unbelievably energetic performer." Kytami's range and styles span from classical, punk, metal, hip-hop, Reggae, Celtic and any "fiddle styles" in between. Her skill and energy have moved audiences to stand up and embrace her music. From Canada to Europe, to the Near to the Far East, crowds groove to her sometimes melodious, sometimes strident, always energizing and engaging musical styles. She has recorded with established artists in diverse musical genres. From reggae, hip hop, drum and bass, to punk and metal. She has performed with Third Eye Tribe, Blackie LeBlanc, the Kytami Revolution, the indie pirate-rock group, Lownote and delhi2dublin. Kytami is featured on a number of Delhi2Dublin CDs. More recently, can be seen and heard on tour with PHONIK OPS in Canada and the U.S. Links: Website, Reverbnation, YouTube, SoundCloud, Kytami on Facebook and DC Bebop page.
---
MUSIC CD ARCHIVE: ONECD

Sharon Robinson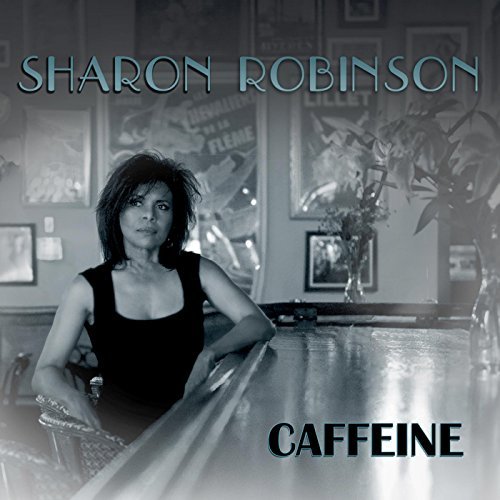 Sharon Robinson - Caffeine (2015) "Several years in the making, Robinson released her second outing Caffeine, a beautiful soul album full of smooth grooves and melodies. Blessed with a great voice—husky yet smooth, distinctive, beautiful and wise, she imbues her songs with a deeply resonant soulfulness. Caffeine is an album that demands attention because it offers so much. It's a meticulously crafted release that explores diverse settings from upbeat songs to shimmering sentimental nocturnal ballads." ~ Leicester Bangs, Facebook, YouTube and Website
---
MUSIC CD ARCHIVE: DOUBLECD

Sara Tavares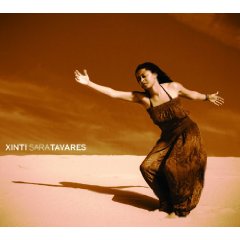 Sara Tavares - XINTI (2009) "During the early years of the emergence of world music, the rootsy, old-national traditions were the first to grow into the mainstream light. In recent years, though, artists who hybridize traditions have moved to the forefront of the genre. A good example is Sara Tavares, who is of Cape Verdean ancestry but was raised in Portugal, the daughter of immigrants who left the rocky islands for greener economic pastures. Though her early influences were found on the American soul shelf, she has since moved to a sound that has more in common with modern Africa. Her third album, "Xinti," which means "Feel It," showcases her maturation as an artist. "Xinti" ("ZHIN-tee") finds a rare balance in her music: upbeat but gentle, soulful but sweet. Tavares uses her velvety voice creatively, departing from the basic lyrics of these songs to scat alternate melodic lines that push, pull and punctuate the percolating polyrhythms underneath. Tavares sings in Portuguese and Cape Verdean creole on an album of songs that she wrote, produced and arranged. In addition to playing guitars, she often accompanies herself on vocals, overdubbing layers of her honeyed rasp to great billowing effect." ~ Marty Lipp - New Jersey Star-Ledger Contributor, Discography, Website, and Facebook page.
---
Sara Tavares - Balance (2006) "Sara Tavares really cuts right to it in Balance, her debut album. There's no nervous first-timer stuff here, it's truly a beautiful, fun and refreshing album. Tavares proves herself both as a songwriter and a vocalist, and has shown early that in the long-term, she is a force to be reckoned with. Balance skips neatly between sexy jazz ballads ("Dam Bo"), upbeat Afro-pop ("Poka Terra") and even smooth reggae ("Planeta Sukri") without missing a beat. Tavares is a wise and clever poet, and her inter-lingual wordplay resembles that of Manu Chao. The album is breezily warm and eminently listenable." ~ Megan Romer - About.com Guide
---
MUSIC CD ARCHIVES:
DOUBLECD - SINGLES - ONECD