MUSIC: FEATURED MUSICIAN & PLAYLIST*
Matt Cusson - Ray Obiedo -
Mariah Parker's Indo Latin Jazz Ensemble -
Janine Gilbert-Carter - Cecile Corbel - ;
CDs - Carmen Lundy - Roy Hargrove
---
MUSIC US East
Matt Cusson, Singer, Songwriter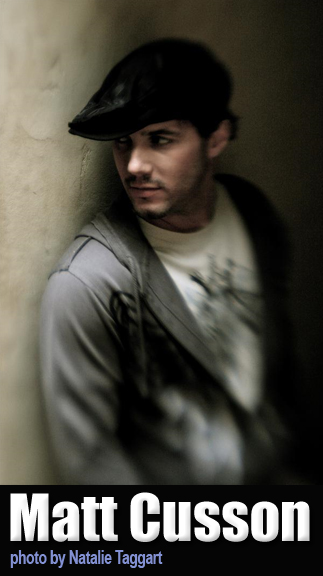 Matt'sentire life has been influenced by music. His bio says he started singing at the age of 2 and was performing publicly at age 11. In 1999, he took part in the "Amateur Night at the Apollo" competition in New York City and won. He won that award three times. Matt attended the Berklee College of Music, where in 2000, he met Brian McKnight, after Brian heard him perform. Brian was so impressed with Matt, he flew him to Los Angeles to begin a music collaboration. Since meeting Brian, Matt has performed with a host of well known music headliners such as James Taylor, Norah Jones, Jessica Simpson, Babyface, Christina Aguilera and many more. In 2008, Matt released his debut CD, self-titled, "Matt Cusson". In November 2010, the Spectra Jazz label released the maxi single "One of Those Nights" by Matt. The song is an "autobiographical jazz ballad (unanimously voted as the winner of the 2008 "John Lennon Songwriting Contest") and 2009 "Maxell Song of the Year", has been re-mixed and re-mastered to include orchestral embellishments, provided by composer/arranger Bill Meyers." " Matt is a three-time "Amateur Night at The Apollo" winner, and has a long list of television shows that he has made appearances on, including "The Tonight Show with Jay Leno", "The View", "Rachael Ray Show, "Live with Kelly and Michael", "Live with Regis and Kelly", "The Brian McKnight Show", "Christmas in Rockefeller Center", and "Millionaire Matchmaker". He was also a regular as the "one man band" and also a musical guest on VH1's, "Big Morning Buzz Live" with Nick Lachey, where he co-wrote and arranged several bumps and songs for the show. He was a featured performer on the international "Michael Jackson - Man In The Mirror" tour in 2010. Matt's current single, "Leaving L.A." is receiving rave reviews and being played all over the world. His 2012 Christmas EP, "It's Christmas Time", is a regular play on Sirius XM Radio and numerous radio stations during the holiday season. His sophomore album, "Only Human", is now available on iTunes, Amazon and everywhere else you buy/stream music online." Links: Website Facebook, Reverbnation, Twitter, SoundCloud and DC Bebop page.
---
MUSIC US West
Ray Obiedo, Guitarist, Bandleader, Producer and Engineer
Ray is orginally from the San Francisco area, and grew up in East Bay. While music was a persistent influence in his early years, he "didn't begin seriously studying guitar until his last year in high school." Ray became "focused on mastering his instrument and learning the craft of songwriting throughout the 70's and 80's". He began "performing with many of the jazz community's most celebrated stars including legendary jazz organist Johnny "Hammond" Smith, trombonist Julian Priester, Azteca featuring Pete & Sheila Escovedo, Fourplays' Harvey Mason. He toured the world in 1978-79 Herbie Hancock. As a bandleader, he "lead such popular local bands as the fusion ensemble 'Kick' and the funk-rock group 'Rhythmus 21' which showcased many of the Bay Area's leading singers." "As a session player, Ray has worked with artists as diverse as Lou Rawls, George Duke, Brenda Russell, Herbie Hancock, Sheila E & the E Train, Freda Payne, The Whispers, The Delfonics as well as solo albums by jazz trumpeter Eddie Henderson, former Yellowjackets' saxophonist Marc Russo, Meters drummer Zigaboo Modeliste and is highlighted on Grover Washington Jr's last hit cover of the classic single 'Soulful Strut'. "Ray has contributed source music to major motion pictures "Internal Affairs" starring Richard Gere and "A Shock to the System" starring Michael Caine." As a music producer / engineer, he has produced his own album projects and has produced and or engineered a variety of major and independently released CD's. Ray launched his solo recording career on the Windham Hill Jazz label, recording and releasing five contemporary jazz albums; "Perfect Crime" (1990), "Iguana" (1991), "Sticks & Stones" (1993), "Zulaya" (1995) , "Sweet Summer Days" (1997), His next release was "Modern World" (1999) featuring Pete Escovedo, Michael Spro and a number of San Francisco based musicians. More recently, Ray has released "There Goes That" (2015), "Latin Jazz Project Vol. 1" (2016) , and "Carousel" (2019) on the Rythmus Records label. For all of Ray's musical projects, he enlists some of the music industries top musicians and longtime co-horts for the performances." Links: Website, Last FM, Facebook, Youtube, Discography, Wikipedia and DC Bebop page.
---
MUSIC BANDS
Mariah Parker's Indo Latin Jazz Ensemble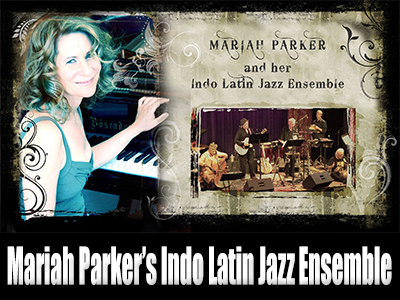 "Parker and friends blend the rhythmic syncopations of Latin jazz music with the entrancing, asymmetrical meters of East Indian rhythms resulting in first-class world music. Intriguing melodies that draw musical inspiration from the tempos of Brazil, Cuba, India and Spain make for an uplifting serene yet passionate musical journey into an ideal world." - LATIN BEAT MAGAZINE" A gifted composer and a visionary band leader, Mariah has gathered together a remarkable ensemble including Paul McCandless (Grammy award-winning woodwind virtuoso with the group Oregon), Matthew Montfort (pioneering guitarist with Ancient Future), Ian Dogole (global percussion), Brian Rice (Latin percussion), and Kash Killion (bass, cello). Mariah will be releasing a new recording January, 2017, "Indo Latin Jazz: Live in Concert," a recording project taken from concerts at Yoshi's, Freight & Salvage, the Throckmorton Theatre, and TRI Studios over a seven year period. Of this upcoming release, Paul Liberatore of the Marin Independent Journal says "Like all the best jazz bands, this group is as disciplined as it is innovative, stopping on a dime when the composition calls for it and soaring into gorgeous landscapes of free association the next moment that are as pleasing as they are adventurous. This is sophisticated stuff, an album of global fusion performed by a group with character, charisma and the confidence that comes across when world-class musicians at the top of their games come together and create magic in the here here and now of a live performance. Links: Website, Reverbnation Facebook and Mariah Parker - DC Bebop page.
---
MUSIC DC Scene
Janine Gilbert-Carter - Vocalist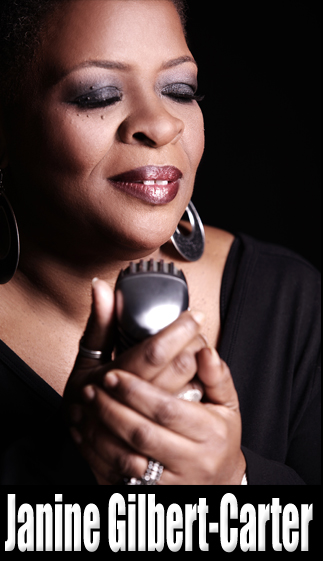 Music, in all its forms, has been a part of Janine's life from the beginning. She was introduced to gospel, Jazz and blues at a very early age by her parents and grandmother. Her "musical journey" began in the church as a member of the choir in Aliquippa, PA. From her singing there, opportunities to sing expanded with "solo performances as a member of the Bach Choir of PA, which performed for some of Braodway's most exciting musicals," and she continued to pursue music as a life goal. Janine moved to the Washington DC area in 1988. In the summer of 1996, She launched her career with a performance at the New Genesis Baptist Church. Since then she has performed as a soloist or with groups in the DC area. She has shared the stage with notable artists such as Tramaine Hawkins, Oleta Adams, Regina Bell, Ann Nesby and Donnie McClurkin and Sweet Honey in the Rock for WPAS's Annual Gospel concert held at the Kennedy Center in Washington, DC." She has performed at many DC jazz venues over the years. During her jazz performances, "she has shared the stage with area-wide jazz musicians like pianist Aaron Grave, Vince Smith, Eric Byrd, Chris Grasso and Ron Elliston; bassist Wes Biles, James King, Saxophonist Paul Carr and percussionist Nasar Abady, Jeff Neal and the late Ricky Loza and Mike Smith." Janine's style has earned her recognition through the awards received at numerous competitions. Her discography on CD Baby: "Good Spoke To Me" (2003), "In the Moment" (2003), "A Song For You" (2006), In A Silent Tear (2009), "At Last" (2013), "The Classic Sounds of Christma" (2017) and "My Foolish Heart" (2018). Janine can be seen at Laporta's Restaurant in Old Town Alexandria, VA every Thursday night, and at venues in the wider DC area, and abroad when she is touring. Links: Website, Reverbnation, Facebook Sonicbids, YouTube, and Discography, DC Bebop page.
---
MUSIC INTERNATIONAL
Cecile Corbel, Celtic harpist, composer and singer.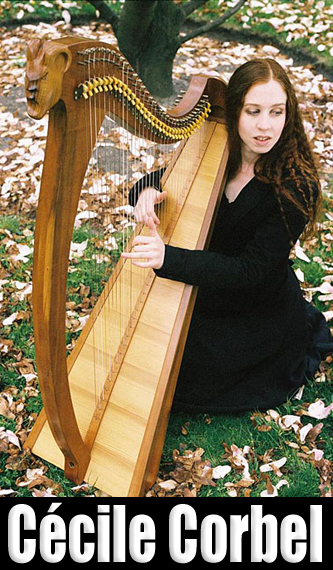 Cécile was born in Brittany, the Celtic region in the north-west of France. While growing up, Cécile traveled all over Brittany with her parents, who were puppeteers. She learned to play the guitar, but in her teens discovered the Celtic harp. At the age of 18 Cécile went to Paris to study to become an archeologist. Instead, she found herself performing at concerts, pubs and cafes and eventually she self-produced her first album "Harpe celtique & Chants du monde" and was then noticed and approached by Keltia Musique, which is Sinead O'Connor and Loreena McKennitt's label. Cécile released "Kari-gurashi"(2010), "Songbook Vol. 3" (2011), Song Book Vol. 4 (2013), La Fiancee (2014) and Vagabonde (2016). From a review in Musical Discoveries, "Corbel's unique harp technique and her appealing young voice, sometimes compared to Kate Bush's, reveal a world encompassing ancient poems, original compositions, Celtic tunes and Mediterranean melodies. It is said that Cécile Corbel takes you for a trip out of a time. Following the path of prestigious musicians such as Alan Stivell, the young Breton composer and singer now performs her Celtic and world music with her musicians in France and all over the world." Links: Website, Facebook, YouTube, Albums and DC Bebop page.
---
MUSIC CD ARCHIVE: ONECD

Carmen Lundy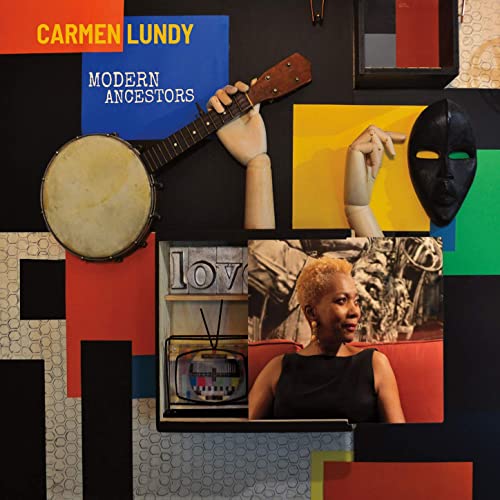 Carmen Lundy - Modern Ancestors (2019) "(November 11, 2019) There are few artists whose name garners respect from fans, critics and fellow artists like Carmen Lundy. Her thoughtful, often breathtaking ability to cross genres with her music is the stuff of legend, and she displays that gift again on her newest album, Modern Ancestors, a collection of tunes that honor the jazz greats of the past. The album,featuring 10 self-penned and arranged tracks and a stellar band consisting of Julius Rodriguez on piano, brother Curtis Lundy on acoustic upright bass, Kenny Davis on electric and acoustic bass, Mayra Casales on percussion, Terreon Gully and Kassa Overall on drums, and Andrew Renfroe on guitar, is a personal statement of both reverence for the past and application to the present." ~ SoulTracks.com, CD Wikipedia and Facebook.
---
MUSIC CD ARCHIVE: DOUBLECD

Roy Hargrove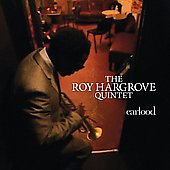 Roy Hargrove - Earfood (2008) " Roy Hargrove makes no bones about his desire to play jazz for lots of paying customers. And why not? We all want jazz to be heard by a large audience. But how does one attract that audience without resorting to pop music and merely slapping the jazz label on it? Who are the role models? For Hargrove, the most pertinent examples are the early-'60s hard-bop records by Art Blakey and the Jazz Messengers when fellow trumpeter Freddie Hubbard was in the band and the early-'70s jazz-funk records Hubbard made for producer Creed Taylor. Both bodies of work feature top jazz musicians playing heady theme-and-variation improvisations, but they also feature strong, steady grooves and catchy melodic themes. That's the blend Hargrove is going for on his new album Earfood." ~ Geoffrey Himes - JazzTimes, CD Discography, Wikipedia, Verve Music page.
---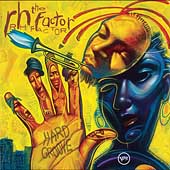 Roy Hargrove presents the RH Factor - Hard Groove (2003) "Having previously immersed his trumpet in two 'new soul' collaborations in 2000""D'Angelo's Grammy Award-winning Voodoo album and subsequent tour, plus songstress Erykah Badu's Mama's Gun album""Roy Hargrove dives headfirst into the soul pool. RH Factor blends a core band of two saxophonists, three keyboard players, two bassists and drummers, and two guitarists (including legendary soul session ace Cornell Dupree) with the best and brightest from the soul and R&B 'new schools' including D'Angelo, Badu, Meshell Ndegeocello, Steve Coleman, Karl Denson, Marc Cary, and two hip-hop MCs: Common and Q-Tip. 'I just wanted to open a door that would allow the musicians involved in jazz and the musicians involved in the R&B / hip-hop mainstream to form some music that would have no limit,' Hargrove explains. 'It's like a merging of those two worlds.' " - Chris M. Slawecki - All About Jazz
---
MUSIC CD ARCHIVES:
DOUBLECD - SINGLES - ONECD