MUSIC: Featured Musician & Playlist*
Andrea Celeste - Mark Rapp - Terrence Brewer -
Janine Gilbert-Carter - CDs - Bill McGee - Al Di Meola
MUSIC INTERNATIONAL
Andrea Celeste - Singer, songwriter, lyricist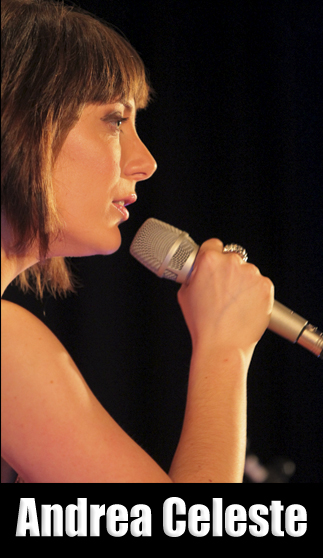 Andrea was born in Pontedera, Italy. She began studying classical singing and piano at an early age, and performed publicly for the first time when she was 11 years old. She received invitations to perform with "national and international Gospel projects and singers. In 2002 Andrea won a scholarship for the International Gospel Seminar in Castelbrando where she shared the stage with Mario Biondi and Cheryl Porter." In July 2007, Andrea started work on her fist solo album, "My Reflection", which was released in 2008. Upon its release, "My Reflection" achieved critical acclaim around the world. Her work "has been compared to such artists as Anita Baker, Diana Krall and Eva Cassidy." The entire CD was re-released for distribution in Taiwan, China, Hong Kong and Macao, and in June 2009 "My Reflection" was also published in Korea by the Label Enbluu (WorkSpace). In 2009 Andrea released "Enter Eyes" with the internationally acclaimed jazz pianist Andrea Pozza. In May of 2012, she released "Something Amazing," with the following coments, "we blended the amazing World percussions of Marco Fadda with the Jazz-Gospel touch of the greatest Dado Moroni and the groovy yet smooth bass lines of Lucas Bellotti ... The result is simply a sound that's unique and I'm crazy about it! My new original songs are the synthesis of the last three years spent touring, singing, recording and always searching for something… My emotions and feelings are free and I am ready to release them…" Andrea released "Something Amazing" (album) and "Born to Be Alive" (single) in 2012 and "Se Stasera Sono Qui" in 2013. Links: SoundCloud, Website, Facebook, Reverbnation and DC Bebop.
---
MUSIC US East
Mark Rapp - Trumpeter, composer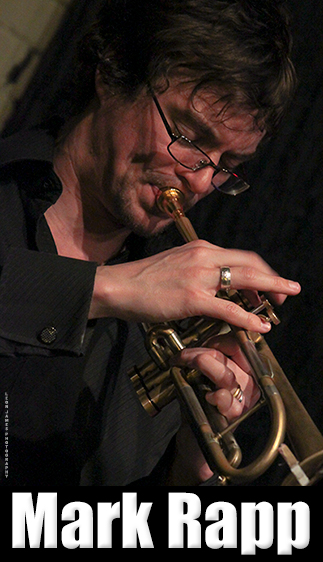 Mark is originally from South Carolina, he began playing trumpet in the sixth grade. He is a graduate of Winthrop University in South Carolina. He received his Masters in Jazz from the University of New Orleans. Mark moved to New York to cast his fate to the musical winds there. It was difficult times in the beginning, but his music carried him through. He has performed with many top artists over the years including "Rockers like Darius Rucker, Hootie & The Blowfish, Edwin McCain and Sister Hazel." From the jazz side, He has worked with Walter Blanding Jr., Don Braden, Gerald Clayton, Wess Anderson, Wycliffe Gordon, Seamus Blake, John Ellis, Wynton Marsalis, Branford Marsalis and Rodney Green, to name a few. Mark is seen as being a "new breed of young trumpeters... The resultant music they create melds and brings together the radio music of their youth with the history of their horn to find fresh ways to approach and fashion a style of playing." Mark is seen to be "one of the best examples of the direction being taken by this new breed". Mark and Don Braden (Braden-Rapp) have released their new CD: The Music of Billy Strayhorn titled "The Strayhorn Project" recorded with Gerald Clayton and Sachal Vasandani. In 2011, Mark released "Good Eats" to good reviews: "In crafting a tribute to Donaldson, trumpeter Mark Rapp honors this diversity and organic amalgam of music by touching on various styles, as he works his way through Donaldson's catalog." Mark Rapp and Derek Lee Bronston are the two halves of TSP (The Song Project) performing "unique arrangements of popular songs by bands as diverse as Radiohead, AC/DC and Tears for Fears, as well as original compositions. Links: MySpace, The Song Project, website, Braden-Rapp, Mark Rapp store, DC Bebop.
---
MUSIC US West
Terrence Brewer - jazz guitarist, composer, arranger and musical director
Originally from Oklahoma, Terrence grew up in Pittsburg, California where his love of music started with the saxophone and clarinet and later evolved to the guitar. In college he heard and fell in love with the sounds of Jazz on the guitar. Terrence lives in Alameda, California and is a mainstay of the Bay Area Jazz scene where he performs regularly at a number of restaurants and jazz venues. Terrence guitar style has been compared to Grant Green, but it is noted that he has evolved his own unique sound. Over the years, Terrence has performed with legendary artists such as Michael McDonald (the Doobie Brothers), Mary Wilson (of The Supremes), Pete Escovedo, Babatunde Lea, Kim Nalley, Dave Ellis, Calvin Keyes, Bruce Forman, Scott Amendola, Tuck and Patti, Khalil Shaheed, Ed Kelly, Max Perkoff, Ranzel Merritt, Herb Gibson, Rhonda Benin, and many others. He has studied with musical greats such as Charlie Hunter, Duck Baker, and Mark Levine. Terrence has released three CDs, the latest being "QuintEssential: The Calling" Volume Three on his "Strong Brew Music" label. Notably, "QuintEssential" has spent 10 weeks on the Top 50 national jazz radio chart, peaking at #17. In 2011, Terrence released "Setting The Standard, Volume One", "the first collection of standards with "new arrangements and fresh interpretations of standards from the past." In 2014, Terrence released "Mi Historia" and "MOSAIC." In 2015, he released "Setting the Standard: Friends of Mine" and in 2016, "Setting the Standard, Vol. 4." All released on his "Strong Brew Music" label. Links: Website, Facebook, YouTube, Sonicbids and DC Bebop page.
---
MUSIC DC Scene
Janine Gilbert-Carter - Vocalist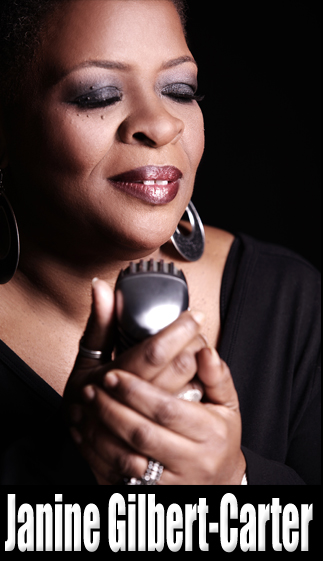 Music, in all its forms, has been a part of Janine's life from the beginning. She was introduced to gospel, Jazz and blues at a very early age by her parents and grandmother. Her "musical journey" began in the church as a member of the choir in Aliquippa, PA. From her singing there, opportunities to sing expanded with "solo performances as a member of the Bach Choir of PA, which performed for some of Braodway's most exciting musicals," and she continued to pursue music as a life goal. Janine moved to the Washington DC area in 1988. In the summer of 1996, She launched her career with a performance at the New Genesis Baptist Church. Since then she has performed as a soloist or with groups in the DC area. She has shared the stage with notable artists such as Tramaine Hawkins, Oleta Adams, Regina Bell, Ann Nesby and Donnie McClurkin and Sweet Honey in the Rock for WPAS's Annual Gospel concert held at the Kennedy Center in Washington, DC." She has performed at many DC jazz venues over the years. During her jazz performances, "she has shared the stage with area-wide jazz musicians like pianist Aaron Grave, Vince Smith, Eric Byrd, Chris Grasso and Ron Elliston; bassist Wes Biles, James King, Saxophonist Paul Carr and percussionist Nasar Abady, Jeff Neal and the late Ricky Loza and Mike Smith." Janine's style has earned her recognition through the awards received at numerous competitions. Her discography on CD Baby: "Good Spoke To Me" (2003), "In the Moment" (2003), "A Song For You" (2006), In A Silent Tear (2009), and "At Last" (2013). Janine can be seen at Laporta's Restaurant in Old Town Alexandria, VA every Thursday night, and at venues in the wider DC area, and abroad when she is touring. Links: Website, Reverbnation, Facebook Sonicbids, YouTube, and Discography, DC Bebop page.
---
MUSIC CD ARCHIVE: ONECD
Bill McGee - Still Bill (2016) "Back in 2007, when reviewing the CD 'Chase The Sunset', I described trumpeter Bill McGee as a special kind of guy with a biography just waiting to be written. More of that in a moment but for now the hot news is that after a nine-year absence Bill is back with the appropriately titled 'Still Bill'. Many of the eleven choice tracks are a reflection on his early life as a young trumpet player and the time he spent learning songs such as 'Watermelon Man' and 'Cantaloupe Island'. Consequently it is no surprise that the latest single from the album is 'Cantaloupe and Watermelon', Bill's tribute to Herbie Hancock and a well crafted 'mash-up' of these two classic tunes." ~ SmoothJazzTherapy, Website, Facebook, Reverbnation and DC Bebop page.
---
MUSIC CD ARCHIVE: DOUBLECD

Al Di Meola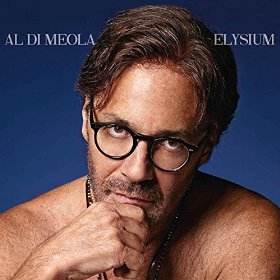 Al Di Meola - Elysium (2015) "Elysium is very much a showcase for di Meola's mastery of the guitar in all its forms against a distinct and sparse, but beautiful sonic backdrop. Playing all the guitar parts himself - acoustic, nylon, twelve-string and electric - it's the different colour undertones provided by the three keyboardists - Barry Miles, Philippe Saisse and Mario Parmisano - which give this album a distinct watermark that is worlds away from the richer fusion moods associated with di Meola from his break-out sessions with Return to Forever. The album is characterised by a rich infusion of guitar sounds complementing each other, sometimes effervescent, sometimes hard and rocky, but all beautifully played: this is an album for guitar lovers, undoubtedly." ~ Rob Mallows - LondonJazzNews.com, Website, Facebook and Discography.
---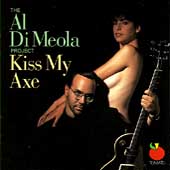 Al Di Meola - Kiss My Axe (1988) "Despite the aggression its title implies, Kiss My Axe is the work of a softer, more reflective Al Di Meola, who had become greatly influenced by Pat Metheny's subtle lyricism, but still had a very recognizable and distinctive sound. Di Meola's new approach was perfectly summarized when, in 1991, he told Jazz Times he wanted to be "enchanted" by the music instead of dazzling listeners with his considerable chops. Di Meola still has fine technique, but avoids overwhelming us with it, and shows more restraint than before. " ~ AllMusic.com