MUSIC: Featured Musician & Playlist*
Out of Abingdon - Melvin Taylor - Anton Schwartz -
Elijah Jamal Balbed - CDs - Mark Rapp - Lou Donaldson
---
Out of Abingdon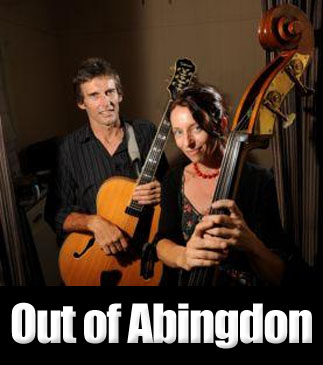 A Duo with a passion for Jazz, Blues, beautiful Ballads and all things that Groove! Out of Abingdon is Warwick Hargreaves on Guitar and Vocals & Tina Fullerton on Double Bass and Vocals. "Their captivating style includes interpreting & blending old favourites with new & original material, the resulting sound is refreshing, their musical rapport, passion & feel is infectious. Out of Abingdon independently released their long awaited debut CD 'Journeys' in July 2011 after building a solid following playing hundreds of live shows over 3 years. A tour to the UK followed, performances in London and the Edinburgh Fringe Festival were highly acclaimed and invitations to return were extended by all venues and audiences for whom they played. 'Journeys' has been receiving great reviews and radio airplay Australia wide through community radio stations and worldwide through an increasingly international audience. Out of Abingdon's reputation continues to grow as a captivating live music experience and unique voice in Australian music." In 2014, Warwick and Tina released their latest album, "Small Steps" on iTunes. Out of Abingdon can be heard performing regularly in and around Brisbane at clubs, restaurants, cafes, public events, festivals, private and corporate functions. "Be sure to catch on to the bewitching sound, when Out of Abingdon drift your way. Links: Reverbnation, Website, YouTube, Facebook and DC Bebop page.
---
MUSIC US East -
---
Melvin Taylor - solo and lead guitarist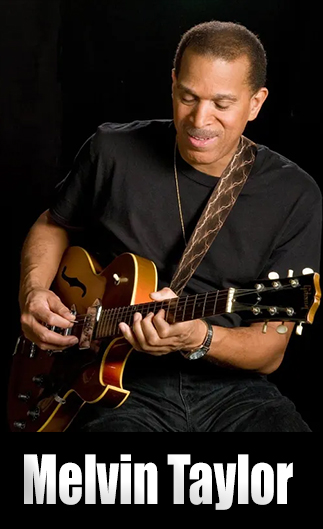 Melvin is a world renowned Jazz and Blues guitarist who has been at the top of the charts in Europe for years. His first two CD's, "I'll Play The Blues For You", and "Blues On The Run", were recorded in France in the early 1980's. Melvin returned to the US in 1990 where he recorded 4 additional CD's for Evidence Music - "Dirty Pool", remains Evidence label's best selling release ever. Taylor was born in Mississippi but raised in Chicago. Entirely self taught, this virtuoso began playing the famous, Maxwell Street when he was 10 years old. Melvin has developed a unique style and sound, mixing jazz chords with hints of blues and rock - ranging from hard, fast, explosive tones reminiscent of Hendrix, to the refined, smooth, elegant manner of Wes Montgomery. Melvin has recorded and performed throughout the world for the past 20 years. He has performed at historic and world class theaters attended by dignitaries. The Melvin Taylor Band has performed and been record live at the opening weekend of Sundance Film Festival in Park City, Utah - on three occasions. During his career, Melvin has released nine albums and several singles. In 2012, he released "Sweet Taste of Guitar", through Melvin Taylor LLC. and "Taylor Made," in 2013. His music is available on iTunes. Links: Website, Reverbnation, Wikipedia, NY Times article: "A Blues Guitarist Takes Off" and DC Bebop page.
---
---
Anton Schwartz - Saxophonist, composer, record producer, educator
Anton was born and raised in New York City. "He attended the The Dalton School, during which time he studied jazz privately with Warne Marsh and Eddie Daniels" He studied advanced mathematics during high school at New York University and Columbia University, moving on to earn his Bachelor's, Phi Beta Kappa, in Mathematics and Philosophy at Harvard University and was in the Doctoral program in Computer Science at Stanford University where he pursued research in artificial Intelligence, specializing in reinforcement learning. While gifted with a scientific mind, Anton found the call of music to have a greater pull. After receiving his Master of Science degree, he left the world of science to become a full-time musician. Anton can be found performing at many venues throughout the U.S., but notably appears periodically at Yoshi's, performs at the San Francisco Jazz Festival, and performed with the Boston Pops Orchestra at Boston Symphony Hall (2014). He is "a faculty member of the California Jazz Conservatory in Berkeley, California, has taught frequently at The Stanford Jazz Workshop, and has been Artist-In-Residence at Harvard University and The Brubeck Institute." During his musical career, "he has released five CDs as a leader, on his own Antonjazz label. Links: Reverbnation, Wikipedia, Facebook, Website and DC Bebop page
---
---
Elijah Jamal Balbed - Saxophonist, composer
Elijah is a native of Washington, D.C. In a Washingtonian Magazine article, he said he first wanted to become a martial artist, but in high school his enthusiasm and interest was captured by his desire to play music. He immersed himself in the pursuit of music as a career and the fruit of his efforts were realized. "In 2007, Elijah earned a Maryland Distinguished Scholar award, an Overall Best Soloist award in the Maryland Band Director's Association Big Band Festival, and a Best Soloist award at the 2008 Festival Disney Jazz competition." Elijah was recognized for his abilities by the Washingtonian Magaine in 2009, and twice by the Washington City Paper, which in 2010 named Elijah "Best New Jazz Musician" and then in 2013 the paper named him "Best Tenor Saxophonist." In an interview on JazzCast, he says he began taking private lessons from Saxophonist Paul Carr while attending Albert Einstein High School, and with the encouragement of his private tutor and school teacher, Joan Rackey, he began taking his music more seriously and decided to actively pursue a musical career as a life goal. Links: Website, Reverbnation, Facebook Bandcamp, SoundCloud, and DC Bebop page.
---
MUSIC CD ARCHIVE: ONECD
---
Mark Rapp's Melting Pot - Good Eats (2011) "Legendary saxophonist Lou Donaldson doesn't subscribe to a one-size-fits-all approach in his own music making. His oeuvre, which spans more than half a century, touches on bop, hard bop, soul-jazz, and funk, with each setting allowing for a different aspect of his musical personality to shine. In crafting a tribute to Donaldson, trumpeter Mark Rapp honors this diversity and organic amalgam of music by touching on various styles, as he works his way through Donaldson's catalog. Rapp's band is appropriately called Melting Pot, and they certainly know how to blend genres and cross stylistic lines. The band is comfortable dealing with Donaldson's legacy in a fairly straightforward fashion, but also revels in updating a few of his pieces. The funky blues strut of "Alligator Boogaloo" and the James Brown-ish funk of "Everything I Do Gonna Be Funky (From Now On)" fall under the first heading, as does the joyous and churchy "Love Power." ~ DAN BILAWSKY - AllAboutJazz.com, MySpace, The Song Project, website, Braden-Rapp, Mark Rapp store, DC Bebop.
---
MUSIC DOUBLE CD ARCHIVE: DOUBLECD
---
Lou Donaldson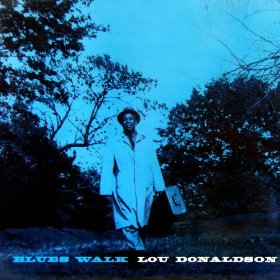 Lou Donaldson - Blues Walk (1958) "Lou Donaldson's undisputed masterpiece, Blues Walk, marks the point where the altoist began to decisively modify his heavy Charlie Parker influence and add a smoky, bluesy flavor of his own. The material is still firmly in the bebop vein, and the mellower moments aren't as sleepy as some of Donaldson's subsequent work, so the album sounds vital and distinctive even as it slows down and loosens things up. That makes it the definitive release in Donaldson's early, pre-soul-jazz period, but what elevates Blues Walk to classic status is its inviting warmth. Donaldson's sweetly singing horn is ingratiating and melodic throughout the six selections, making even his most advanced ideas sound utterly good-natured and accessible. " ~ Steve Huey - AllMusic.com, Website Wikipedia, NEA Jazz Masters, YouTube and Discography.
---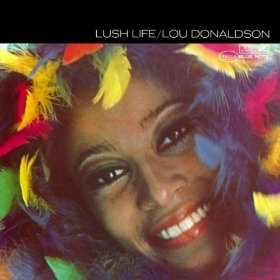 Lou Donaldson - Lush Life (1967) "Lou Donaldson's Lush Life is the sort of mysterious lost session that inexplicably fell through the cracks from time to time at Blue Note Records during their wildly productive 1960s and the sort of collectable that used to make vinyl hawks salivate. This January 1967 session, unreleased until 1980 when it debuted in Japan under a different title (now getting the Rudy Van Gelder Edition treatment), seems to have gone against everything that was happening in jazz (and American culture) at the time. " ~ JEFF STOCKTON - AllAboutJazz.com