MUSIC: Featured Musician & Playlist*
Marlene Lima - Jonathan Parker - Mads Tolling -
Paul Carr - CDs - Heads Of State - Hiromi
---
Marlene Souza Lima, Guitarist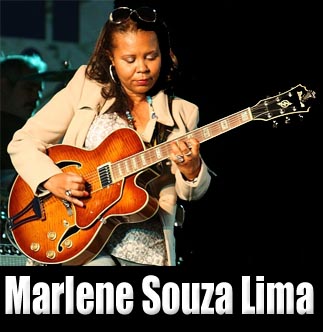 Marlene was born in Rio de Janeiro, but grew up in Brasília when it became Brazil's new capital. Her father was a saxophonist and her mother a music lover so music has always been part of her life. Marlene started playing the guitar when she was a teenager. She studied music at the prestigious "School of Music of Brasilia" learning to play from several famous Brazilian guitarists. In the years following her studies, she performed in theaters, bars of Brasilia and Goiânia with several instrumental groups, but notably with the "Loga'Ritmo" band, the "Maracatu Banda", and the big band "Popular Brasilia Orquestra". A gifted guitarist herself, she has continued to perform in many venues in Brasilia. She also teaches "violão and guitar at an institute "The Plant of Sounds Course of Music" in Brazil. Marlene released her first CD, "My Way," in 2011. Links: , Reverbnation, Facebook, YouTube and DC Bebop page.
---
---
Jonathan Parker - Saxophonist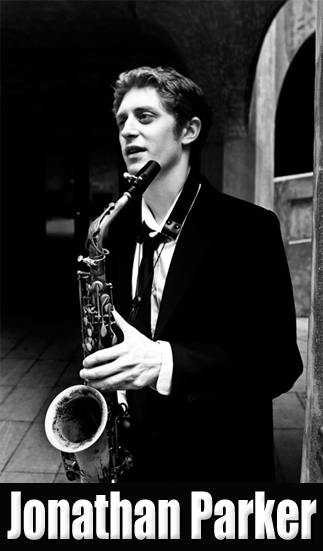 Jonathan is originally from the Washington D.C. area. "He graduated from The Oberlin Conservatory in 2008 where he studied under jazz legend Gary Bartz, as well as other world-class musicians, including Wendell Logan, Marcus Belgrave, Billy Hart, Dan Wall, and Robin Eubanks." Jonathan has also performed with Jimmy Heath, Dave Brubeck, and Slide Hampton while attending Oberlin. He has shared the stage with Terence Blanchard, Randy Brecker, Mulgrew Miller, and David Berkman to name a few. Jonathan has also performed at Carnegie Hall, Fat Cat Jazz Club in NYC, Stanford University in California, Skidmore College in New York, Night Town Jazz Club and The Bop Stop in Cleveland, OH. Jonathan moved to Shanghai, China, where he lived and performed, touring for 4 months in Beijing with American jazz singer Frankye Kelly. He moved back to the U.S., settling in New York City, where he met and perform with "many talented and innovative young musicians who are at the vanguard of modern jazz." Jonathan leads his own band, the "Jonathan Parker Group" for which he "exclusively composes and arranges." Influenced by a wide range of musical genres and manifesting his experiences from all over the world, Jonathan Parker's compositions and improvisations have been described by reviewers from All About Jazz as "bold," "having an intense energy," "sentimental," and "emotional." ~ Assembled from multiple sources Links: Website, BandCamp, Facebook, Reverbnation and DC Bebop page.
---
---
Mads Tolling, Violinist, Violist and Composer
Mads was born and raised in Copenhagen, Denmark. At the age of 20 he came to the United States to "pursue jazz studies". He attended the Berklee College of Music in Boston, Massachusetts where he graduated summa cum laude from the Berklee College of Music in 2003. While at Berklee, Mads was recommended to join Stanley Clarke's band by renowned jazz violinist Jean-Luc Ponty. "Since then, he has performed more than 100 concerts with Clarke worldwide, including the Newport Jazz Festival and the Hollywood Bowl." Mads is a member of the Grammy Award-Winning "Turtle Island Quartet". Mads "has received Denmark's Sankt Annae's Award for Musical Excellence as well as grants from Queen Margaret, the Sonning Foundation and the Berklee Elvin Jones Award. He has performed with Paquito d'Rivera, Kenny Barron, Joe Lovano, Stefon Harris, The Assad Brothers and Leo Kottke." He is an accomplished composer with three recordings of original material, one features the well-known pianist JoAnne Brackeen. Another with vibraphonist Dave Samuels and the third on RMB singer Teena Marie's recording "La Dona". He has contributed numerous arrangements and compositions to the Turtle Island Quartet's repertoire. Mads is viewed as "a thriving force in the educational aspects of jazz and improvisation. He has been active as a Yamaha clinician and has been involved in workshops, coachings and master classes throughout Canada and the U.S." Links: website, Facebook, Wikipedia, Discography and DC Bebop page.
---
---
Paul Carr - Saxophonist, Educator, Bandleader, Composer, Producer
Paul Carr - Saxophonist, Educator, Bandleader, Composer, Producer
Paul, a Houston native and 1985 Howard University graduate, has dedicated his professional career to mastering the saxophone and the art of Jazz. He carries on the Texas tenor tradition espoused by great heroes such as the late Houstonians Arnett Cobb and Don Wilkerson who served as his early idols and mentors. He grew up in inner-city Houston, Texas and was a member of the Kashmere High School Stage Band, whose director, the late Conrad Johnson, is the subject of a documentary, Thunder Soul, produced by actor, Jamie Foxx. Though never having had private music lessons, Paul has received several outstanding musician awards at high school and college jazz festivals. Paul is passionately committed to the education of children and particularly as it relates to the preservation of jazz. In 2002, he founded The Jazz Academy of Music Inc, which hosts summer camps and jazz ensembles for kids throughout the year. Several of his students have been admitted and even received full scholarships to some of the top music schools and conservatories in the country. Paul has recorded 5 CD's, which have been well received by critics and jazz fans alike. His new CD "DC-NYC Organ Sessions" was just release in September, 2014 and as of this writing is #9 on the Jazz Week radio play charts. His CD released in 2013, "Standard Domain," reached #3 on the Jazz Week radio play chart and stayed on the chart for 16 weeks. Paul has toured Russia, Europe, the Middle East, the Caribbean and Central and South America and has shared the stage with many of the greatest names in jazz. In 2010, Paul re-established the East Coast Jazz Festival as the Mid-Atlantic Jazz Festival, and serves as its Executive and Artistic Director. The festival enjoys over 2,000 attendees that travel from states across the U.S. and beyond. Held every Presidents Day weekend in Rockville, MD, the festival incorporates a strong educational component, with a high school band competition and free master classes for students as well as an entertainment component with performances by NEA Jazz Masters, such as Benny Golson, Jimmy Heath, and Roy Haynes, just to name of few. Links: Website, Reverbnation, DC Bebop - MAJF and Paul's DC Bebop page
---
MUSIC CD ARCHIVE: ONECD
---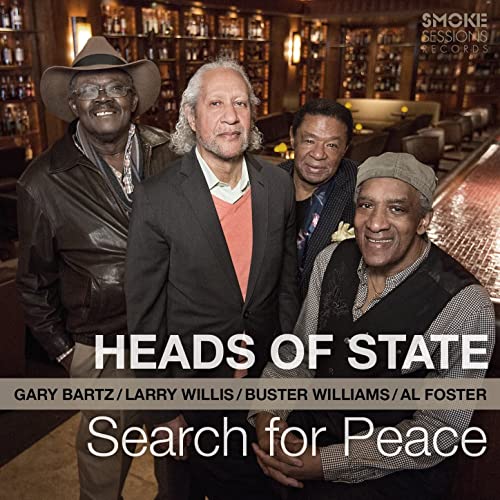 Heads of State - Search For Peace (2015) "Gary Bartz, Larry Willis, Buster Williams and Al Foster–four of today's most important and influential jazz artists–have joined forces as a collaborative group for the first time in their storied careers and the result is a quartet for the ages. Somewhat surprisingly after a half-century of working together in various combinations, these four masters had never performed together as a quartet until last fall at Smoke Jazz & Supper Club in New York City. They electrified the packed house during that run and knew immediately that they had something special. As Williams remembers, "Larry called me the next week, and said, 'What do you think about us keeping this band together?' I said, 'I like the idea; let me talk to Al and Gary.'" They agreed and the rest was history in the making." ~ theurbanmusicscene.com, CD on Amazon and Smoke Sessions.
---
MUSIC DOUBLE CD ARCHIVE: DOUBLECD
---
Hiromi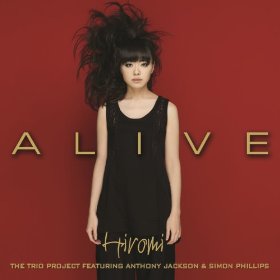 Hiromi The Trio Project - Alive (2014) "Ahmad Jamal nailed it when he observed, "Hiromi has discovered her own genre, and continues to pursue it with great sensitivity, energy, and dazzling virtuosity." As time passes and her experience grows, Hiromi has not only become a better player, but a better listener. Compare the tasteful understatement of 2014 version of Hiromi onthe elegant "Firefly" with the frenetic, bug-on-a-hot-stove of 2004's "Kung-Fu World Champion" and the difference is like that of night and day. Dare we call Alive the dreaded "F" word? Fusion? Yes, we can and yes we should because this is most definitely and unashamedly jazz fusion. Even without the electric guitar of John McLaughlin, or the arsenal of synthesizers employed by Herbie Hancock, The Trio Project is a legitimate inheritor of the legacy left behind by Joe Zawinul, Wayne Shorter and Jaco Pastorius when Weather Report called it a day." ~ Jeff Winbush - All About Jazz , CD Discography and Website.
---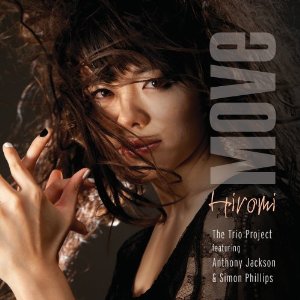 Hiromi - Move (2012) "In a world where the path to commercial success is to play it safe and keep faith in formula, it is only within jazz where being unpredictable is not only a virtue, but an expectation. Hiromi marks her first decade of music-making on her terrific ninth album, Move featuring her Trio Project with bassist Anthony Jackson and drummer Simon Phillips. Reunited with Jackson and Phillips for a second outing after 2011's superb Voice, (Telarc, 2011) the two veteran musicians provide the Japanese pianist with a rhythm section that can not only keep up with her but push her in a way she wasn't by her Sonicbloom band. That is not to disparage the talents of drummer Martin Valihora and bassist Tony Grey, but different players bring different dynamics to a band and in Jackson and Phillips rhythm section, Hiromi's mash-up of post-bop, straight-ahead and rock styles come together in a blistering tour de force." ~ Jeff Winbush - allaboutjazz.com