MUSIC: Featured Musician & Playlist*
Janine Gilbert-Carter - Neil Warden - Tim Warfield -
GG Amos - CDs - Phil Denny - Taimane
MUSIC DC Scene
Janine Gilbert-Carter - Vocalist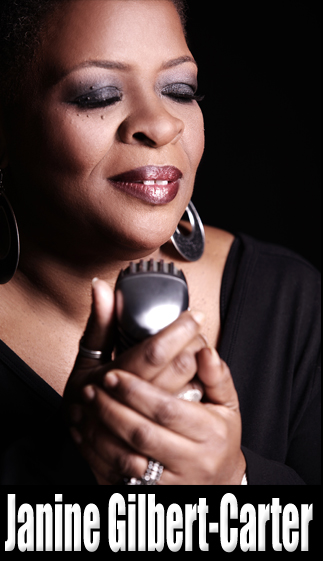 Music, in all its forms, has been a part of Janine's life from the beginning. She was introduced to gospel, Jazz and blues at a very early age by her parents and grandmother. Her "musical journey" began in the church as a member of the choir in Aliquippa, PA. From her singing there, opportunities to sing expanded with "solo performances as a member of the Bach Choir of PA, which performed for some of Braodway's most exciting musicals," and she continued to pursue music as a life goal. Janine moved to the Washington DC area in 1988. In the summer of 1996, She launched her career with a performance at the New Genesis Baptist Church. Since then she has performed as a soloist or with groups in the DC area. She has shared the stage with notable artists such as Tramaine Hawkins, Oleta Adams, Regina Bell, Ann Nesby and Donnie McClurkin and Sweet Honey in the Rock for WPAS's Annual Gospel concert held at the Kennedy Center in Washington, DC." She has performed at many DC jazz venues over the years. During her jazz performances, "she has shared the stage with area-wide jazz musicians like pianist Aaron Grave, Vince Smith, Eric Byrd, Chris Grasso and Ron Elliston; bassist Wes Biles, James King, Saxophonist Paul Carr and percussionist Nasar Abady, Jeff Neal and the late Ricky Loza and Mike Smith." Janine's style has earned her recognition through the awards received at numerous competitions. Her discography on CD Baby: "Good Spoke To Me" (2003), "In the Moment" (2003), "A Song For You" (2006), In A Silent Tear (2009), and "At Last" (2013). Janine can be seen at Laporta's Restaurant in Old Town Alexandria, VA every Thursday night, and at venues in the wider DC area, and abroad when she is touring. Links: Website, Reverbnation, Facebook Sonicbids, YouTube, and Discography, DC Bebop page.
---
MUSIC INTERNATIONAL
Neil Warden - Blue Soul Groove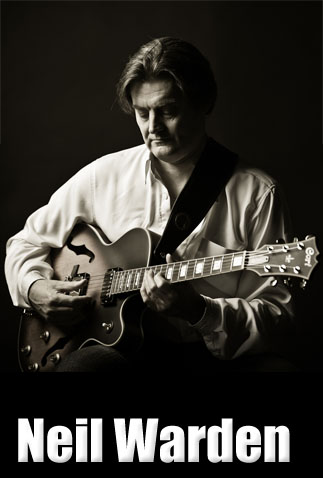 Neil has played and recorded guitar for over 40 years. He has performed live at festival and theatre venues and composed music for film and video within a wide cross section of genres. He played guitar with the legendary Tam White for 25 years, before releasing his first solo album with Blue Soul Groove. The band is Neil Warden (guitar), John Burgess (sax/flute), Ronnie Rae Jr. (keys), Bobby Heatlie Sr. and Ant Davies (bass). His musical inspirations were musicians like George Benson, Nile Rodgers, Larry Carlton, and groups like The Average White Band and The Crusaders. Blue Soul Groove's first self titled five track EP released in 2006, was well received, and provided an impetus to eventually release "Turn Back the Time" in 2008. Neil said he was interested in expanding the EP, but put it on the "back burner" to focus on work with Tam White, Boz Burell (Bad Company) and Border's singer songwriter Allie Fox. "Turn Back The Time" was released in 2011. Neil and Stuart Mitchell collaborated on the release of "Silent Sky" in 2015. He has performed with: Tam White, Boz Burrell, Peter Straker, Camille O'Sullivan, Maggie Bell, Brian Kellock, Dave Heath, John Burgess, Stuart Mitchell, Stevey Hay's Shades Of Blue, Aqua Bassino and more. Links: Reverbnation, Website, YouTube, Facebook and DC Bebop page.
---
MUSIC US East
Tim Warfield - Saxophonist, band leader & educator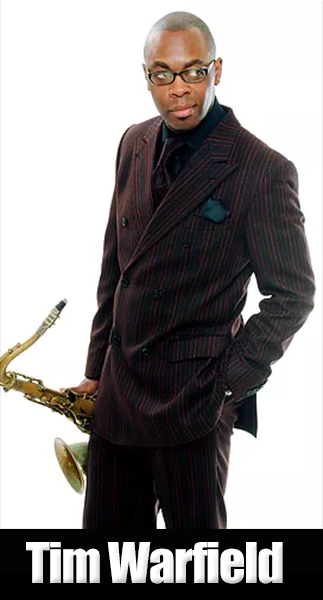 Tim is originally from York, PA. He has played the alto saxophone since the age of nine. He began playing the tenor saxophone in High School, where he played in a number of musical ensembles, from which he received a number of awards for his solo performances. After high school, he attended Howard University in Washington, D.C. for a period of time before becoming a band leader. He has performed with CBS/Sony recording artist Marlon Jordan's Quintet, Jazz Futures (a world touring group), on the Today Show, Bill Cosby's You Bet Your Life (as a member of the house band), and at Ted Turner's 1998 Trumpet Awards. He has shared the stage with "such names as Donald Byrd, Michelle Rosewoman, Marcus Miller, Marlon Jordan, James Williams, Christian McBride, The Harper Brothers, Dizzy Gillespie, Isaac Hayes, Shirley Scott, Jimmy Smith, Nicholas Payton, Charles Fambrough, Eric Reed, Carl Allen, Terell Stafford, Stefon Harris, Orrin Evans, The Newport Millennium All Stars, "Papa" John Defrancesco, Joey Defrancesco, Claudio Raggazzi, Danilo Perez, and others." Tim has released several albums since his debut CD, "Cool Blue," in 1995. His last three releases are "Tim Warfield's Jazzy Christmas," (2012), "Eye of the Beholder," (2013) and "Inspire Me" (2013). He has served "as a board member for the Central Pennsylvania Friends of Jazz as well as an artist-in-residence at Messiah College in Grantham, Pa." n 2012, Tim released "Tim Warfield's Jazzy Christmas". "Eye of the Beholder", (2013) and "Inspire Me" (2013). In 2015, Tim released "Spherical - Dedicated To Thelonious Sphere Monk". Links: Messiah College, Facebook, YouTube, Discography and DC Bebop page.
---
MUSIC US West
GG Amos - Vocals / Lead Guitar (Gibson SG Custom)
- Born and raised in Sacramento, CA, GG is described as "A riveting blues, soul and funky jazz guitarist / vocalist with a distinctive, expressive style.. focusing on the west coast blues style— a blend of blues, jazz, funk & latin elements. Her guitar playing and voice are both fluid and lyrical. Concert halls, nightclubs, roadhouses, restaurants, festivals, parties, wineries, weddings and wakes.. she's played them all. Soul jazz has increasingly become a bigger part of her repertoire." GG has performed with such legends as John Lee Hooker, Guitar Shorty, Jimmy McCracklin, Lowell Fulson, Johnnie Heartsman, Karen Lawrence, Duffy Bishop, the great KokoTaylor, Sista Monica, Elvin Bishop and Tower of Power vocalist Lenny Williams to name a few. GG can be heard performing with "The Delta Wires" band at venues and festivals in and outside the San Francisco area. GG can be seen and heard performing at The Saloon in San Francisco every Tuesday. Links: Website, Facebook, SonicBids, Reverbnation and DC Bebop page.
---
MUSIC CD ARCHIVE: ONECD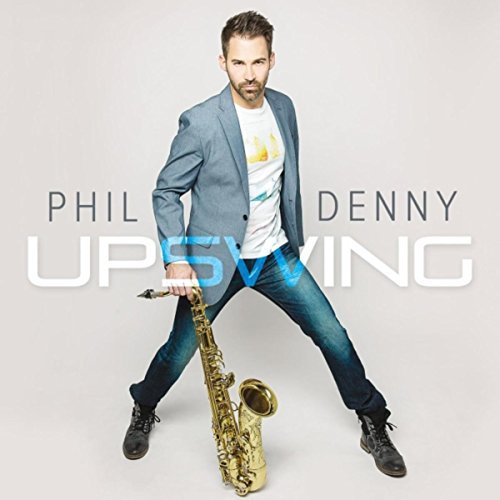 Phil Denny - Upswing (2015) "When Lansing jazz saxophonist Phil Denny recorded his first album, "Crossover," in 2012, he was plowing new ground as a songwriter after spending years performing mostly cover tunes. Even so, the album generated three Billboard charted hits and put Denny on the smooth jazz map, spawning a new audience for his music as far away as Dubai and Kenya, where he ended up performing for enthused crowds. For his brand new smooth jazz album, "Upswing," Denny has upped the ante and honed his sound with an air of confidence, taking some "creative liberty" with his music." Links: ~ John Sinkevics - localspins.com, Website page Facebook and Reverbnation.
---
MUSIC CD ARCHIVE: DOUBLECD

Taimane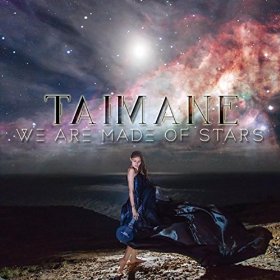 Taimane - We Are Made of Stars (2015) "Taimane Gardner is used to the ukulele being disrespected. "It happens everywhere, even in Hawaii," the Oahu native says. "I get into a cab, they see my instrument case, and they ask me what I play. When I say ukulele, they say, 'But what do you really do? How do you pay the rent?'" The notion that the ukulele is only fit for luaus and novelty numbers still lingers, but Gardner loves to turn those expectations upside down. "When I get onstage, people may not take me seriously at first. So when I play, the wow factor is much more extreme. It's very satisfying seeing their misconceptions get blown out of the water." With her custom-built, flat-black-finished Kamaka ukulele, Gardner has been blowing away audiences for most of her 26 years. A prodigy with a contagious zest for performing, she honed her showmanship and stagecraft at age 13 with mentor and legendary crooner Don Ho." ~ Pat Moran - ukelelemag.com, Website, YouTube and Facebook.
---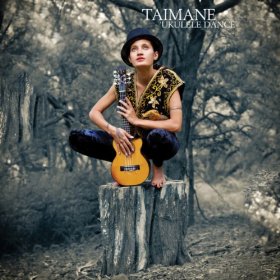 Taimane - Ukulele Dance (2012) "The ukulele scene keeps producing impressive virtuoso musicians. Taimane is one of the latest discoveries. She showcases her admirable technique in a new album titled Ukulele Dance. Taimane (whose name means "diamond" in Samoan) grew up in Hawaii. She is an eclectic musician, as other ukulele performers. Her repertory includes classical music, jazz, covers of rock music hits and even flamenco. On Ukulele Dance , Taimane presents her own material as well as Bach's "Tocatta," Lalo Schifrin's "Mission Impossible Theme," and pieces she wrote for the planet Neptune and the Moon, as part of her series on the solar system."

~ Angel Romero - World Music Central