MUSIC: Featured Musician & Playlist*
Melvin Taylor - Anton Schwartz - Elijah Jamal Balbed -
Sal La Rocca - CDs - Brian Bromberg - Terri Lyne Carrington
MUSIC US East -
---
Melvin Taylor - solo and lead guitarist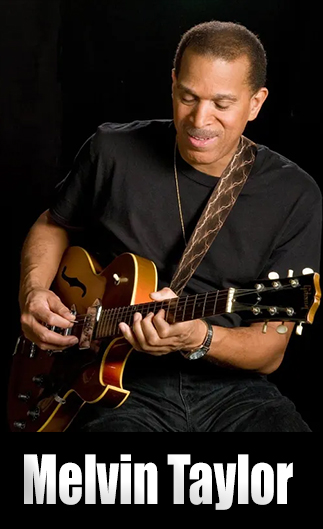 Melvin is a world renowned Jazz and Blues guitarist who has been at the top of the charts in Europe for years. His first two CD's, "I'll Play The Blues For You", and "Blues On The Run", were recorded in France in the early 1980's. Melvin returned to the US in 1990 where he recorded 4 additional CD's for Evidence Music - "Dirty Pool", remains Evidence label's best selling release ever. Taylor was born in Mississippi but raised in Chicago. Entirely self taught, this virtuoso began playing the famous, Maxwell Street when he was 10 years old. Melvin has developed a unique style and sound, mixing jazz chords with hints of blues and rock - ranging from hard, fast, explosive tones reminiscent of Hendrix, to the refined, smooth, elegant manner of Wes Montgomery. Melvin has recorded and performed throughout the world for the past 20 years. He has performed at historic and world class theaters attended by dignitaries. The Melvin Taylor Band has performed and been record live at the opening weekend of Sundance Film Festival in Park City, Utah - on three occasions. During his career, Melvin has released nine albums and several singles. In 2012, he released "Sweet Taste of Guitar", through Melvin Taylor LLC. and "Taylor Made," in 2013. His music is available on iTunes. Links: Website, Reverbnation, Wikipedia, NY Times article: "A Blues Guitarist Takes Off" and DC Bebop page.
---
---
Anton Schwartz - Saxophonist, composer, record producer, educator
Anton was born and raised in New York City. "He attended the The Dalton School, during which time he studied jazz privately with Warne Marsh and Eddie Daniels" He studied advanced mathematics during high school at New York University and Columbia University, moving on to earn his Bachelor's, Phi Beta Kappa, in Mathematics and Philosophy at Harvard University and was in the Doctoral program in Computer Science at Stanford University where he pursued research in artificial Intelligence, specializing in reinforcement learning. While gifted with a scientific mind, Anton found the call of music to have a greater pull. After receiving his Master of Science degree, he left the world of science to become a full-time musician. Anton can be found performing at many venues throughout the U.S., but notably appears periodically at Yoshi's, performs at the San Francisco Jazz Festival, and performed with the Boston Pops Orchestra at Boston Symphony Hall (2014). He is "a faculty member of the California Jazz Conservatory in Berkeley, California, has taught frequently at The Stanford Jazz Workshop, and has been Artist-In-Residence at Harvard University and The Brubeck Institute." During his musical career, "he has released five CDs as a leader, on his own Antonjazz label. Links: Reverbnation, Wikipedia, Facebook, Website and DC Bebop page
---
---
Elijah Jamal Balbed - Saxophonist, composer
Elijah is a native of Washington, D.C. In a Washingtonian Magazine article, he said he first wanted to become a martial artist, but in high school his enthusiasm and interest was captured by his desire to play music. He immersed himself in the pursuit of music as a career and the fruit of his efforts were realized. "In 2007, Elijah earned a Maryland Distinguished Scholar award, an Overall Best Soloist award in the Maryland Band Director's Association Big Band Festival, and a Best Soloist award at the 2008 Festival Disney Jazz competition." Elijah was recognized for his abilities by the Washingtonian Magaine in 2009, and twice by the Washington City Paper, which in 2010 named Elijah "Best New Jazz Musician" and then in 2013 the paper named him "Best Tenor Saxophonist." In an interview on JazzCast, he says he began taking private lessons from Saxophonist Paul Carr while attending Albert Einstein High School, and with the encouragement of his private tutor and school teacher, Joan Rackey, he began taking his music more seriously and decided to actively pursue a musical career as a life goal. Links: Website, Reverbnation, Facebook Bandcamp, SoundCloud, and DC Bebop page.
---
---
Sal La Rocca - Bassist, composer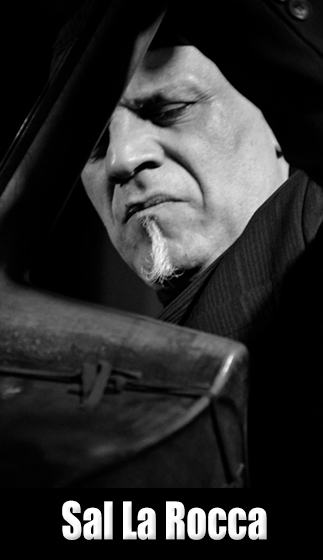 Sal is originally from Seraing, Belgium, near Liège. He was first a Rock guitarist, but switched to the bass as his instrument of choice after hearing (for the first time) music by several jazz greats. After switching, he taught himself how to play by the age of 23. Over time, he become one of the most "in demand" double bassists in Belgium and in the European theater. Starting in the mid 80's, Sal has toured and performed with a wide array of musicians on the European continent. The 90's saw him expanding his presence with world tours. His list of celebrity musicians he performed with continued to grow, adding well known names like Lee Konitz and Toots Thieleman to his musical resume. During his career, Sal has recorded on numerous albums. In 2003, he released his first album "Latinea". Around this time, Sal became the official bassist of singer Anne Ducros, playing, recording and touring with her group for several years. In 2007, he became the bassist for pop rock group Vaya Con Dios. Sal participated in both a European and world tour with the group. In 2010, he was bassist for the Steve Grossman Quintet performing at the Dinant Jazz Night Festival. In 2011, he joined the Gregory Houben Quintet. Sal met American singer Denise King through French pianist Olivier Hutman. They formed a trio that performed in what is referred to as the Benelux States (Belgium, the Netherlands and Luxembourg) and France. In 2013, Sal released his second album "It Could Be The End" (featuring a number of original compositions) through Igloo Records. Sal can be experienced live with his, and other groups at numerous world venues. Links: Website, Facebook, Reverbnation, SoundCloud, YouTube and DC Bebop.
---
MUSIC CD ARCHIVE: ONECD
---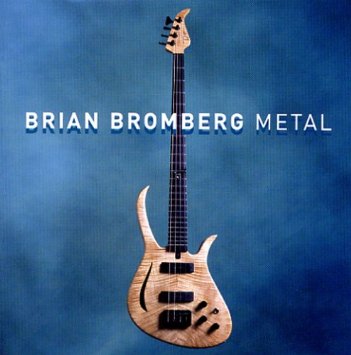 Brian Bromberg - Metal (2005) "Brian Bromberg's latest spotlights his prodigious ability in the world of rock/fusion. He tunes his piccolo bass an octave and a fourth above conventional basses, and he overdubs it like a lead instrument over electric bass parts, successfully creating the impression that a full band is performing these songs. In fact, with the exception of a couple of tracks with pianist Dan Siegel, Bromberg's joined only by drummer Joel Taylor."
~ Ron Wynn - JazzTimes.com, Website. Wikipedia, Carvin and Discography
---
MUSIC DOUBLE CD ARCHIVE: DOUBLECD
---
Terri Lyne Carrington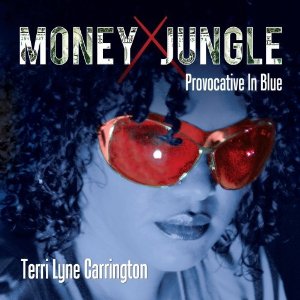 Terri Lyne Carrington - Money Jungle (2014) " Terri Lyne Carrington's new recording, a reenacting update of the Duke Ellington-Max Roach-Charles Mingus album of the same title from 50 years ago, begins in a frightening manner. "People are basically vehicles to create money," says a male voice over a drumbeat. "You have to create problems to create profit." As Ellington did in 1963, drummer Carrington and her musical mates counter-state the soul-numbing imperative of money as the be-all and end-all of human life. "Money Jungle" uses the symbolic action of groove, improvisation and free play within musical form" ~ New York Daily News, Discography, Facebook, YouTube and Website.
---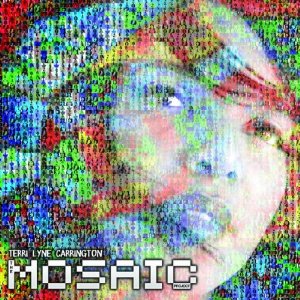 Terri Lyne Carrington - Moasaic (2011) "For her fifth album as a leader, Carrington calls on the talents of 20 musical sisters, both instrumentalists and vocalists. From the liner notes: "As with mosaic artwork, the goal for this project is to vibrantly connect colorful pieces together to create something integral, using thoroughly composed song forms, some abstract improvising, and also the human voice – to create sharp shapes, with blurred edges." Seldom does a recording meet such a goal so effectively, diversely and beautifully. From Carrington's arrangements of the Beatles' "Michelle" and Al Green's "Simply Beautiful," to the originals, "Wistful" and "Crayola," penned by Carrington and Esperanza Spalding, respectively, this set is as good as it gets, giving the listener some straight jazz instrumentals as well charming vocals." ~ Woodrow Wilkins -Smooth-Jazz.de