MUSIC: Featured Musician & Playlist*
Larry Mitchell - Russ Hewitt - Janine Gilbert-Carter -
Andrea Celeste - CDs - Sal La Rocca - Keiko Matsui
MUSIC US East -
---
Larry Mitchell - solo artist, sideman, songwriter and music producer

Nate Birkey - Composer, trumpeter and vocalist . Larry is a "self-taught" guitarist, and one article says he "started playing guitar at age 9, after his Mom threw his drumset out the window." Her action paired Larry with the guitar. His mastery of the guitar won him the New York City "Limelight guitar solo contest (Twice!), in both 1986 and 1987. Larry's expertise garnered recognition, from which he was chosen to tour with Spanish/Italian artist Miguel Bose in 1989. Larry released his first (self-titled) "Larry Mitchell" CD in 1990 on the Grude BMG label. He was a feature guitarist in 1991 on Ric Ocasek's "Fire Ball Zone" Cd and can be seen performing on the "Rockaway" music video from the album. In 1999 Larry was awarded the San Diego Music Awards "Best Pop Jazz artist". He has numerous endorsements, with the most notable being Ibanez Guitars, D'Addario Strings, and DiMarzio Pickups. Since the release of his debut CD, "Larry Mitchell" (1990) , he has released several other guitar instrumental albums over the years. Mind Body Soul (1993), Escape (1995), Temptation (1996), Insatiable (1999), Sonic Temple (2008) and Rhythm of Life (2013). Links: Website, Facebook, Reverbnation, NAMM Show, Discography, YouTube and DC Bebop page.
---
---
Russ Hewitt - Guitarist, songwriter
Russ has been playing guitar since he was eleven. He said he used to do whatever his older brother would do, so when his brother began playing guitar, he picked it up as well. When he was 14, his brother gave up playing and sold him his equipment, and it was at that point he seriously pursued his love of music. Russ said he spent his "formative years learning rock and heavy metal through guitar tabs, videos" and anything he could "get his hands on." A lot of his favorite rock players from that time were also into classical guitar, which introduced him to the style. This eventually lead him to pursue and receive a degree in Classical Performance from the University of North Texas. Russ explains his style of play is "not true flamenco, jazz, Latin jazz, Cuban or Brazilian, but a fusion of styles, sometimes combined together simultaneously. Russ has released two of his own CD's Bajo el Sol (2008) and Alma Vieja (2011). Russ is working on a few projects, which will be released in the near future. Links: Reverbnation, MySpace, Facebook, Website and DC Bebop page.
---
---
Janine Gilbert-Carter - Vocalist
Music, in all its forms, has been a part of Janine's life from the beginning. She was introduced to gospel, Jazz and blues at a very early age by her parents and grandmother. Her "musical journey" began in the church as a member of the choir in Aliquippa, PA. From her singing there, opportunities to sing expanded with "solo performances as a member of the Bach Choir of PA, which performed for some of Braodway's most exciting musicals," and she continued to pursue music as a life goal. Janine moved to the Washington DC area in 1988. In the summer of 1996, She launched her career with a performance at the New Genesis Baptist Church. Since then she has performed as a soloist or with groups in the DC area. She has shared the stage with notable artists such as Tramaine Hawkins, Oleta Adams, Regina Bell, Ann Nesby and Donnie McClurkin and Sweet Honey in the Rock for WPAS's Annual Gospel concert held at the Kennedy Center in Washington, DC." She has performed at many DC jazz venues over the years. During her jazz performances, "she has shared the stage with area-wide jazz musicians like pianist Aaron Grave, Vince Smith, Eric Byrd, Chris Grasso and Ron Elliston; bassist Wes Biles, James King, Saxophonist Paul Carr and percussionist Nasar Abady, Jeff Neal and the late Ricky Loza and Mike Smith." Janine's style has earned her recognition through the awards received at numerous competitions. Her discography on CD Baby: "Good Spoke To Me" (2003), "In the Moment" (2003), "A Song For You" (2006), In A Silent Tear (2009), and "At Last" (2013). Janine can be seen at Laporta's Restaurant in Old Town Alexandria, VA every Thursday night, and at venues in the wider DC area, and abroad when she is touring. Links: Website, Reverbnation, Facebook Sonicbids, YouTube, and Discography, DC Bebop page.
---
---
Andrea Celeste - Singer, songwriter, lyracist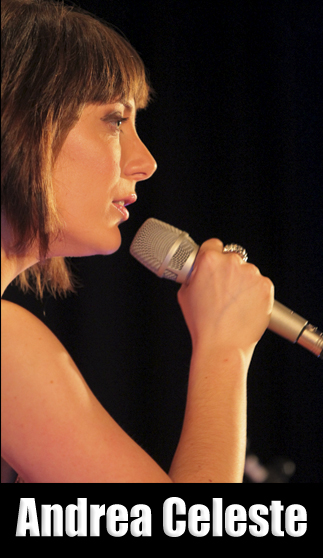 Andrea was born in Pontedera, Italy. She began studying classical singing and piano at an early age, and performed publicly for the first time when she was 11 years old. She received invitations to perform with "national and international Gospel projects and singers. In 2002 Andrea won a scholarship for the International Gospel Seminar in Castelbrando where she shared the stage with Mario Biondi and Cheryl Porter." In July 2007, Andrea started work on her fist solo album, "My Reflection", which was released in 2008. Upon its release, "My Reflection" achieved critical acclaim around the world. Her work "has been compared to such artists as Anita Baker, Diana Krall and Eva Cassidy." The entire CD was re-released for distribution in Taiwan, China, Hong Kong and Macao, and in June 2009 "My Reflection" was also published in Korea by the Label Enbluu (WorkSpace). In 2009 Andrea released "Enter Eyes" with the internationally acclaimed jazz pianist Andrea Pozza. In May of 2012, she released "Something Amazing," with the following coments, "we blended the amazing World percussions of Marco Fadda with the Jazz-Gospel touch of the greatest Dado Moroni and the groovy yet smooth bass lines of Lucas Bellotti ... The result is simply a sound that's unique and I'm crazy about it! My new original songs are the synthesis of the last three years spent touring, singing, recording and always searching for something… My emotions and feelings are free and I am ready to release them…" Andrea released "Something Amazing" (album) and "Born to Be Alive" (single) in 2012 and "Se Stasera Sono Qui" in 2013. Links: SoundCloud, Website, Facebook, Reverbnation and DC Bebop.
---
MUSIC CD ARCHIVE: ONECD
---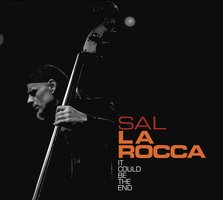 Sal La Rocca - It Could Be The End (2012)
"I was already aware of Sal's remarkable talent on bass. I also got to enjoy his qualities as a human being during our conversations. But this recording session was the opportunity for me to discover the composer and exceptional leader that he is. He has his own style of writing and chose musicians capable of following his vision on these recordings. The experience was a pure joy for me. It's one of the records I'm most proud of." -Line up: Jacques Schwartz-Bart" ~ Jazz Times, Website, Reverbnation, Facebook, Discography and YouTube
---
MUSIC DOUBLE CD ARCHIVE: DOUBLECD
---
Keiko Matsui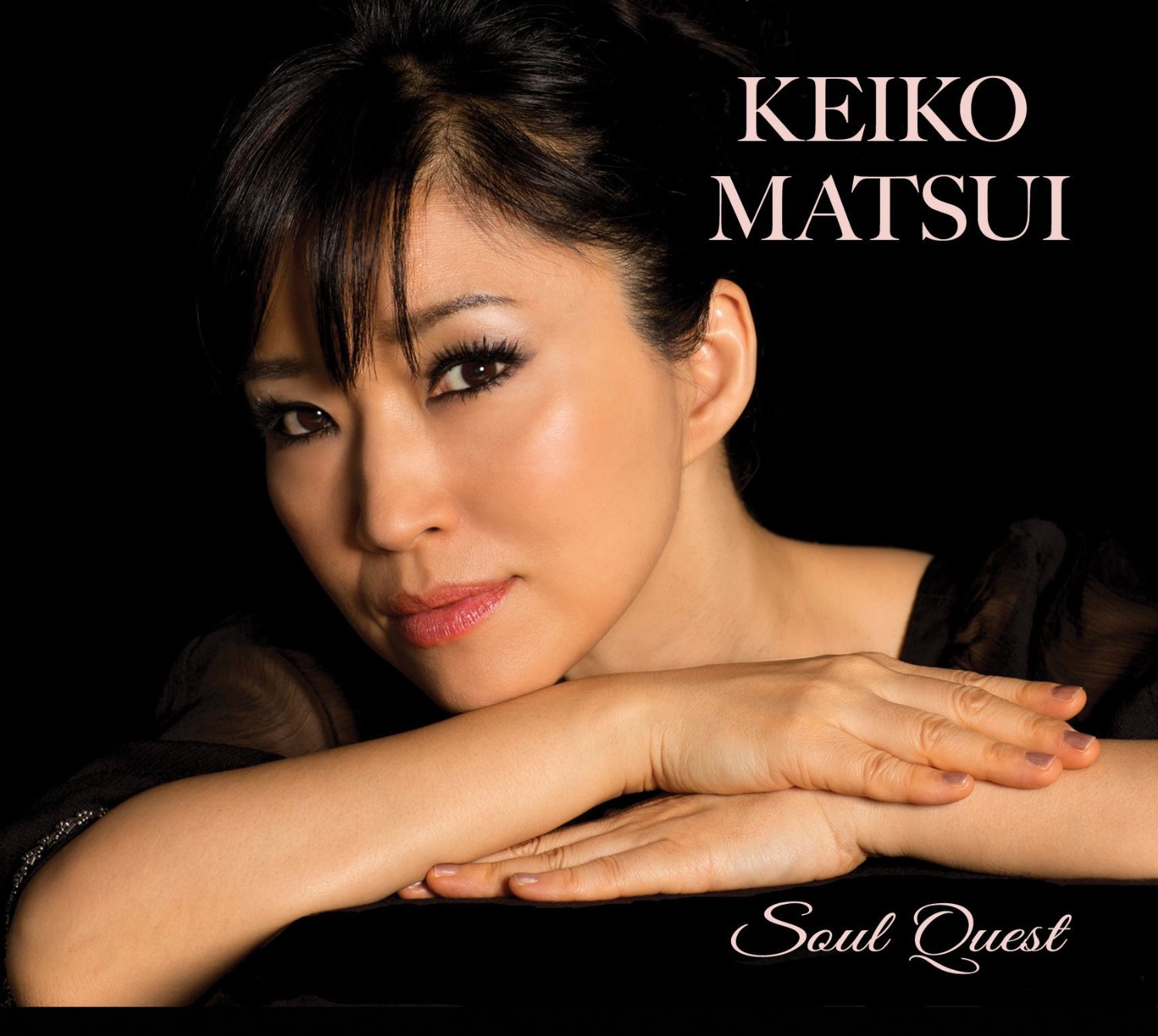 Keiko Matsui - Soul Quest (2013) "The Japanese princess of contemporary jazz, the lovely Keiko Matsui, is back with yet another of her mesmerizing collection of tunes on her latest project, Soul Quest, to be released on July 30. True to form, it is full of portraits of this virtuoso's magical journeKeiko's Soul Quest CD's and insights. Sandwiched between a killer lead track ("Dream Seeker") and the killer finale ("Stingo," which pays homage to one of her favorite artists, Sting) is a set of grooves as only Matsui can deliver. "Creating this album was like going on a soul quest, as I tried to figure out how to express the things I was thinking and experiencing during this past year," she states. "This music energizes me and I am overwhelmed with emotion when I listen to it. I hope people will allow themselves to go inside the music and become a part of my journey." I'm certain she will not need to convince many at all. " ~ Ronald Jackson - TheSmoothJazzRide.com, Discography, Website, Wikipedia and YouTube.
---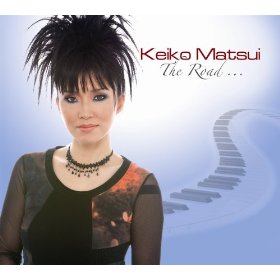 Keiko Matsui - The Road (2011) "Keiko Matsui is a master on the piano or the keytar, and she's demonstrated her technical skills both on record and onstage—especially during her remarkable four-hand piano gigs with Bob James. But throughout her distinguished career, Matsui hasn't been overly concerned with garnering recognition for her virtuosity. The Tokyo-born artist, although often placed in the contemporary-jazz category, has always been more about inspiration and hope. Her lovely runs on the ivories have shuttled her to the top of the new-age charts." Brian Soergel - Jazz Times