MUSIC: FEATURED MUSICIAN & PLAYLIST*
Su Terry - Vel Lewis - São Paulo Ska Jazz -
Cedric C. Givens - Rocco Ventrella -
CDs - Citrus Sun - Brian Bromberg
---
MUSIC US East
Su Terry, alto and soprano saxophonist, songwriter and writer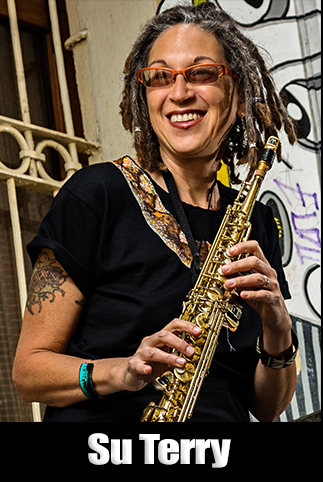 Su Terry is an alto and soprano saxophonist, songwriter and writer. Su grew up listening to Jazz from her father's jazz album collection. She later pursued the study of music while in High School, studying under pianist and educator John Mehegan. Her musical career started at the age of 16, performing at church functions and in musical theater. She attended and graduated from the University of Hartford where she was a protegee' of the late great saxophonist Jackie McLean at the Hartt School of Music, and the first graduate of the jazz studies program he founded. She began playing jazz gigs while attending Hartt. On the advice of Jackie McLean, Su moved to New York City where she was a featured soloist with many bands. Su has appeared as a Jazz soloist with the National Symphony at the Kennedy Center, with the New York Pops at Carnegie Hall and with the Brooklyn Philharmonic at the Brooklyn Academy of Music. She has performed at numerous jazz festivals, at Montreux Jazz Festival, the Nice Jazz Festival, the Pori Jazz Festival, the Northsea Jazz Festival and the Blue Note in Tokyo and many more. Links: Website, Wikipedia, Sonicbids, YouTube, CD Baby Discography, and DC Bebop
---
MUSIC US West
Vel Lewis - Multi-instrumentalist
Vel plays primarily, the Hammond organ; but also piano, synthesizer keyboards, drums, and electric bass guitar. He started out as a vocalist, his first instrument was the flute, but the organ captured his heart after learning to play it. While in high school, he performed on a televised jazz program playing organ. In the late 1960's, into the early 1970's, Vel performed with a number of gospel groups. In the early 1970's, Vel performed and traveled with "The Delfonics." and co-wrote and sang the opening lead vocal on a song released in 1974 on the Warner Bros. Reprise label entitled "Tell Me Why" by The Life Group, also known as "Life". In 1990, he co-produced songs with Tom Borton on Borton's albums "Dancing With Tigers" and "The Lost World", released on the Mesa/Bluemoon Records label. In the late 1990's, he composed music for Los Angeles Post Music, a production music library founded by Tom Borton. LA Post Music's tracks appear on popular TV shows "Sex And The City", "Friends", "Mad About You", and "The Fresh Prince Of Bel Air". Between the years 2003 through 2005, he performed on a World Tour with legendary singer Dionne Warwick. In 2005, he released his first solo debut album "All Wound Up" under the stage name of Shady Grady. He composed eight of the ten songs and co-wrote the remaining two songs contained in this album. His song "Song For My Love" from his EP "Colors Of Soul" landed at #67 on the Groove Jazz Music "Top 100" list. Links: Website, Facebook, Reverbnation, SonicBids, Bandcamp, All About Jazz, SoundCloud and DC Bebop page
---
MUSIC BANDS
São Paulo Ska Jazz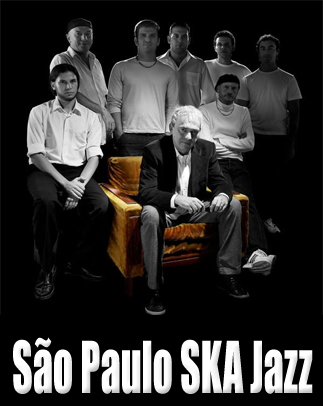 Founded by musician and composer Marcelo Calderazzo. The band is Marcelo Calderazzo (acoustic and electric bass), Renato Guizelini (guitar, mandolin and guitar), Ramon Montagner (drums), Sidney Ferraz (piano and keyboards), Manu Falleiros (baritone sax, tenor and high), Marcelo Pereira (baritone sax, tenor and flute), Gabriel Stampfli (trumpet) and André "Porão" Gomes (trombone). "South America's ska scene started developing in the mid-1980s. South American ska bands typically play traditional ska rhythms blended with strong influences from Latin music and rock en Español. São Paulo Ska Jazz ebmraced the musical style to entertain the people and to pay respect to Jamaican rhythm. To these rhythms, the band adds the sophistication of jazz to create their own unique sound. Links: Reverbnation, Website (BR), YouTube, Facebook and DC Bebop page.
---
MUSIC DC Scene
Cedric C. Givens - composer and multi-instrumentalist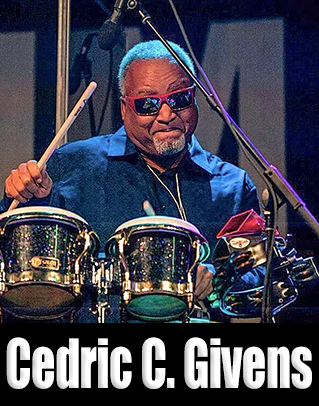 Originally from St. Petersburg, Florida, Cedric's passion for music began when he was a child. First with playing drums in the school band in elementary and high school, later his interest evolving into playing both the guitar and piano. While growing up, he says his most significant musical development originated amidst his "garage band" experience when he and his musical friends would gather at his house for jam sessions. They played R&B, Rock, Fusion and Jazz. They tapped into the "essence of the funk" and played the music of groups like the Parliament Funkadelic and the Ohio Players. This is the musical life force that energized him and the other members of the band. After graduating from high school, Cedric attended and graduated from Florida A&M University in Tallahassee, FL where he obtained a degree in Business. Out of college, he returned to St. Petersburg where he taught himself how to play the piano. He says this instrument "became the foundation for much of his songwriting and performing". He began collaborating with guitarist Roberto Tyson to write songs together to record their first album "Nemesis Bleu" (1997). Cedric says he went on hiatus for a few years, but "got the spark again after having an opportunity to sit in on stage with musical giant George Duke". Cedric and guitarist Roberto Tyson reconnected on new material for a new group "N-GROOVE" which resulted in the creation of the "It's who we are" (2008) CD. This CD features Senegalese bassist Cheikh Ndoye who collaborated on the project. Cedric is working on the next N-Groove CD which he says revisits his R&B and Funk roots. Links - Reverbnation, CD Baby and DC Bebop.
---
MUSIC INTERNATIONAL
Saxophonist & composer Rocco Ventrella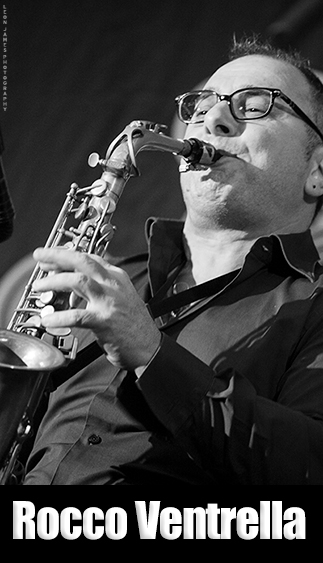 "The Italian American saxophone player Rocco Ventrella has enjoyed a Pre-Grammy Nomination Contemporary Jazz Best Album 2007 Top 50 and scored Top 20 smooth jazz radio stations with 5 tracks of the CD: Soulful Strut, Winelight, Alleria, On The Night, and Give Me The Groove and gotten quotes from George Duke, Everette Harp, Dave Koz, Marion Meadows, Chris Standring and more. Rocco Ventrella appeared in selected jazz festivals include the James Brown Festival in Georgia, the 1st Annual Smooth Jazz Festival in Austria, The Cube Smooth Jazz Festival with Brian Culbertson in Austria, the Augsburg Smooth Jazz Festival in Germany plus performances in Luxembourg, the UK, the USA, the France. Actually Rocco continuous to play in the world. He shared and sharing the stages with most respected smooth jazz artists such as Peter White, Candy Dulfer, Renato Falaschi, Oli Silk, Mindi Abair, Paul Brown, Gerald Albright, Brian Culbertson, Nick Colionne, Jackiem Joyner, Nils, Jessy J., Marion Meadows, Jaared, Jonathan Fritzen and more." ~ From Official short bio (pdf) Links: Website, Facebook and DC Bebop page.
---
MUSIC CD ARCHIVE: ONECD

Citrus Sun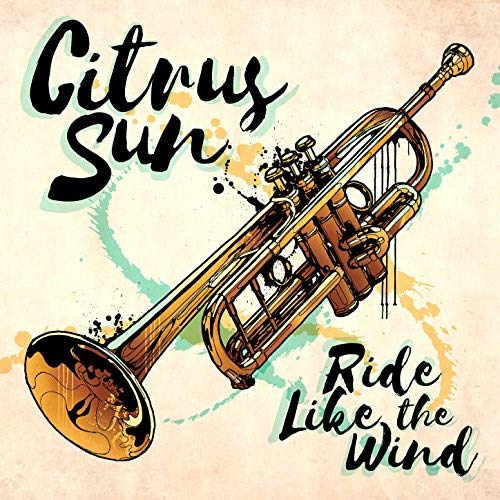 Citrus Sun - Ride Like the Wind (2018) "A fantastic little record from Jean-Paul "Bluey" Maunick – served up by a project with a slightly different vibe than his famous group Incognito – but a sound that's every bit as soulful! There's maybe a bit more jazz in the mix here – a focus even more on the great instrumentalists that Bluey works with – with long keyboard solos from the leader himself, plus trumpet from Dominic Glover, piano from Matt Cooper, guitar from Francisco Sales and Jim Mullen, and some other great contributions too! There's definitely still some vocals on the set – work from Imaani, Joao Caetano, and Natalie Williams – but a good portion of the set is instrumental too. " ~ dustygroove.com, Bluey of Incognito bio, Wikipedia and Facebook
---
MUSIC CD ARCHIVE: DOUBLECD

Brian Bromberg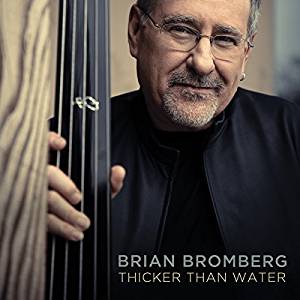 Brian Bromberg - Thicker Than Water (2018) "Brian Bromberg's career began as a teenager backing saxophonist Stan Getz. In the nearly forty years since and over 20 projects in his catalog, Bromberg has established himself as a first-call master of the upright as well as electric basses, releasing more than 20 albums globally as a leader and providing low-end for the likes of Chris Botti, Lee Ritenour and Michael Bublé. "Thicker Than Water is a record I've been wanting to make for a very long time," says the dynamic bass virtuoso Brian Bromberg. "I love the upright bass. It's where my heart and soul is. My connection with that instrument is unlike anything in my life. I also love the electric bass and really wanted to explore its endless possibilities on this project." That love of the bass is evident across the wide-range of irresistible grooves found on Thicker Than Water, available July 13 on Artistry Music." ~ bassplayer.com, Website, CD Wikipedia and Facebook
---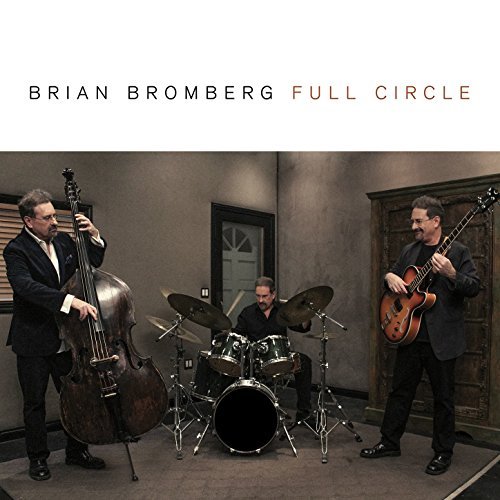 Brian Bromberg - Full Circle (2016) "Full Circle consistently hits its target, especially when the arrangements are tailored to accommodate several guests, including trumpeter Arturo Sandoval and percussionist Alex Acuña on the festively orchestrated "Havana Nights" (a.k.a. "Havana Nagila"), and saxophonist Bob Sheppard and pianist Mitchel Forman on the album's title track. Full Circle also marks another first for Bromberg, as it finds him occasionally doubling on bass and drums, the latter a reminder of his well-spent youth in Arizona." ~ Mike Joyce - JazzTimes.com
---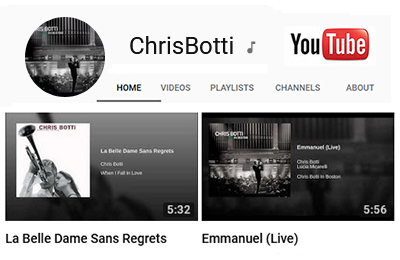 ---
MUSIC CD ARCHIVES:
DOUBLECD - SINGLES - ONECD