MUSIC: Featured Musician & Playlist*
Janine Gilbert-Carter - Andrea Celeste - Nate Birkey -
Ancient Future - CDs - Joe Bonamassa - Cindy Bradley
---
Janine Gilbert-Carter - Vocalist
Music, in all its forms, has been a part of Janine's life from the beginning. She was introduced to gospel, Jazz and blues at a very early age by her parents and grandmother. Her "musical journey" began in the church as a member of the choir in Aliquippa, PA. From her singing there, opportunities to sing expanded with "solo performances as a member of the Bach Choir of PA, which performed for some of Braodway's most exciting musicals," and she continued to pursue music as a life goal. Janine moved to the Washington DC area in 1988. In the summer of 1996, She launched her career with a performance at the New Genesis Baptist Church. Since then she has performed as a soloist or with groups in the DC area. She has shared the stage with notable artists such as Tramaine Hawkins, Oleta Adams, Regina Bell, Ann Nesby and Donnie McClurkin and Sweet Honey in the Rock for WPAS's Annual Gospel concert held at the Kennedy Center in Washington, DC." She has performed at many DC jazz venues over the years. During her jazz performances, "she has shared the stage with area-wide jazz musicians like pianist Aaron Grave, Vince Smith, Eric Byrd, Chris Grasso and Ron Elliston; bassist Wes Biles, James King, Saxophonist Paul Carr and percussionist Nasar Abady, Jeff Neal and the late Ricky Loza and Mike Smith." Janine's style has earned her recognition through the awards received at numerous competitions. Her discography on CD Baby: "Good Spoke To Me" (2003), "In the Moment" (2003), "A Song For You" (2006), In A Silent Tear (2009), and "At Last" (2013). Janine can be seen at Laporta's Restaurant in Old Town Alexandria, VA every Thursday night, and at venues in the wider DC area, and abroad when she is touring. Links: Website, Reverbnation, Facebook Sonicbids, YouTube, and Discography, DC Bebop page.
---
---
Andrea Celeste - Singer, songwriter, lyracist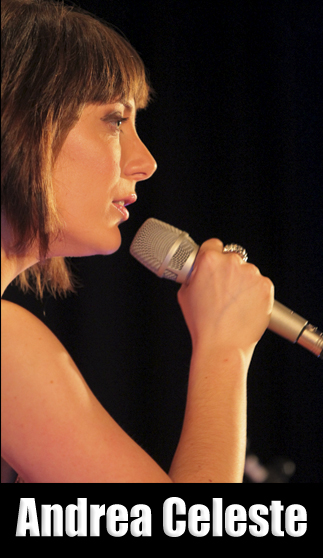 Andrea was born in Pontedera, Italy. She began studying classical singing and piano at an early age, and performed publicly for the first time when she was 11 years old. She received invitations to perform with "national and international Gospel projects and singers. In 2002 Andrea won a scholarship for the International Gospel Seminar in Castelbrando where she shared the stage with Mario Biondi and Cheryl Porter." In July 2007, Andrea started work on her fist solo album, "My Reflection", which was released in 2008. Upon its release, "My Reflection" achieved critical acclaim around the world. Her work "has been compared to such artists as Anita Baker, Diana Krall and Eva Cassidy." The entire CD was re-released for distribution in Taiwan, China, Hong Kong and Macao, and in June 2009 "My Reflection" was also published in Korea by the Label Enbluu (WorkSpace). In 2009 Andrea released "Enter Eyes" with the internationally acclaimed jazz pianist Andrea Pozza. In May of 2012, she released "Something Amazing," with the following coments, "we blended the amazing World percussions of Marco Fadda with the Jazz-Gospel touch of the greatest Dado Moroni and the groovy yet smooth bass lines of Lucas Bellotti ... The result is simply a sound that's unique and I'm crazy about it! My new original songs are the synthesis of the last three years spent touring, singing, recording and always searching for something… My emotions and feelings are free and I am ready to release them…" Andrea released "Something Amazing" (album) and "Born to Be Alive" (single) in 2012 and "Se Stasera Sono Qui" in 2013. Links: SoundCloud, Website, Facebook, Reverbnation and DC Bebop.
---
MUSIC US East -
---
Nate Birkey - Composer, trumpeter and vocalist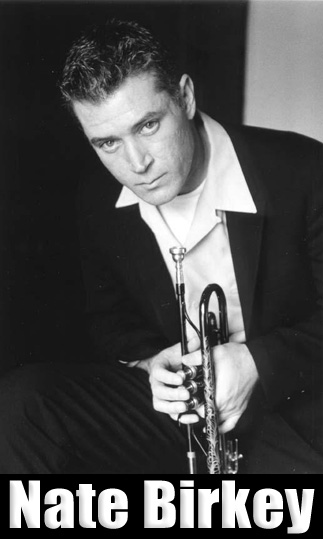 Nate Birkey - Composer, trumpeter and vocalist . Nate studied music at Berklee in Boston, Seattle Pacific University and the University of California Santa Barbara. For a number of years Nate was a "jazz presence" in Southern California and was referred to as a quintessential "west coast jazz musician". He performed with a number of groups before forming his own Quintet and moving to New York City. Over the years, he has contributed to and released a number of CDs. His Quintet released "Indelibly You" in 1998, "Mennonite" in 2001, "Ballads" also in 2001 and "Shortest Day" in 2004. All of Nate's efforts have received glowing reviews for his songwriting, composition, style of play and his singing. In 2008 Nate released "Almost Home" and "christmas" - "his first recordings made with his New York City quintet of saxophonist Sal Giorgianni, pianist Jim Ridl, bassist Tony Marino and drummer Marko Marcinko." Bob Agnew of the L.A. Jazz Scene writes, "Nate's subtle vocal and trumpet approach has often been compared to that of Chet Baker and Miles Davis respectively. A sound poised and assured, powerfully stark and spare, it creates an atmosphere at once solitary and electric." Nate released "Just A Closer Walk" in 2014, which is "a c ollection of hymns and spirituals live at St. Michael's Church in Isla Vista, California." Link: Website, Facebook, Sound Cloud, Reverbnation and YouTube page.
---
---
Ancient Future
Ancient Future is a large musical family of world fusion music ensembles led by scalloped fretboard guitarist Matthew Montfort. The group is dedicated to music termed by Matthew Montfort as "world fusion music". To date, Ancient Future is the world's first and longest running band dedicated to the creation many cultures, of world fusion music, which blends musical ideas from many different cultures. The music is described as being "contemporary sounds of jazz and rock with the irresistible rhythms of African, Balinese, Indian, Middle Eastern and South American percussion, the rich harmonies of Europe, and the beautiful melodies of Asia". Their music is "an exhilarating fusion of exciting rhythms and exotic sounds from around the globe". It is worth noting that all of the members of Ancient Future have studied with or performed professionally with "master musicians of many world music traditions, from Balinese gamelan director Made Gerindem to North Indian sarod master Ali Akbar Khan". Ancient Future is credited with having created "a musical world without borders". Link: Website, Facebook, Reverbnation and DC Bebop page.
---
MUSIC CD ARCHIVE: ONECD
---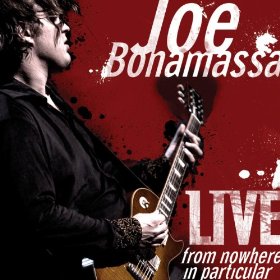 Joe Bonamassa - Live From Nowhere In Particular (2009) "Blues rocker has finally satisfied the desires of his long time fan base in releasing the double live cd Live From Nowhere In Particular. Bonamassa was born in 1977. It was the era that classic rock artists like Led Zeppelin, Yes, ZZ Top, Robin Trower and many others dominated FM radio stations. This was before VH-1 and MTV came along. Through touring the stadium and arena circuit, these bands built a reputation as performers who took no prisoners with their volcanic riffs and building a wall of sound that was thrilling on every audio and visual level. Joe seems to understand this. Working endlessly all over America and Europe, he has acquired monster sized chops sputtering out blues notes that appeal to the youngsters and middle-aged adults who came of age during the golden age of rock. " ~ Gary Weeks - Blues on Stage, Discography, Website, Wikipedia, and Facebook
---
MUSIC DOUBLE CD ARCHIVE: DOUBLECD
---
Cindy Bradley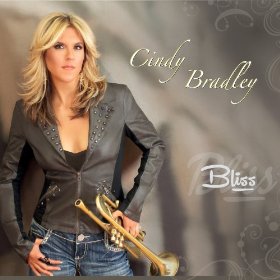 Cindy Bradley - Bliss (2014) "Back in 2007, as if from nowhere (but actually from Buffalo, NY), trumpeter Cindy Bradley burst onto the contemporary jazz scene with her independently released debut CD 'Just A Little Bit'. The recognition this fine eight track collection brought led to a touring engagement with the legendary Pieces of A Dream and a record deal with Trippin 'n' Rhythm that initially garnered the critically acclaimed 'Bloom' and then followed up with the equally good 'Unscripted'. Both were built around the basic constructs of Bradley's velvety tones, stellar input as writer, performer and producer from Michael Broening and consistently excellent performances from Mel Brown on bass and Freddie Fox on guitars. Now (with Brown again in the line-up and bass from Kip Sophos) Cindy has reunited with Broening for her latest Trippin 'n' Rhythm project, 'Bliss'." ~ Smooth Jazz Therapy, Discography, Website, Reverbnation, and Facebook
---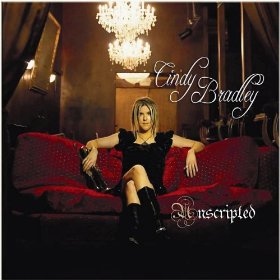 Cindy Bradley - Unscripted (2011) "Every now and then a musician gets bold and breaks the mold. Cindy Bradley's Unscripted is the sound of an artist just going for it. The nearly eight-minute "Prelude/Massive Transit/Interlude" suite that kicks off the album is like a rush of cool air to the face on a hot summer day. It's fast, furious and funky, with Bradley blowing the hell out of her trumpet as she dukes it out with producer Michael Broening's keyboards and Tim Veder's sax solos... The title is slightly misleading. There may not have been a script for Unscripted, but there is definitely a plan and Bradley is executing it to perfection. This is a highly rewarding sophomore effort from Bradley and establishes her as someone on the short list of jazz artists well worth following to see what comes next. " ~ Jeff Wimbush - AllAboutJazz.com