MUSIC: Featured Musician & Playlist*
Julian MacDonough - Tony Harrod - Marlene Lima -
Jonathan Parker - CDs - Jeanette Harris - Joanna Pascale
MUSIC US West
---
Julian MacDonough - drummer, bandleader and educator
- Julian "is an award winning drummer and educator residing in Bellingham Washington. Besides being a full time musician, Julian is also the artistic director of the Whatcom Jazz Music Arts Center located in Bellingham. He performs regularly with his own trio consisting of pianist Miles Black and bassist Michael Glynn, various bands with saxophonist and promoter Cory Weeds, a modern trio with saxophonist Josh Cook and bassist Michael Glynn as well as the swing era bands of Solomon Douglas. He loves and enjoys performing all styles of jazz from traditional, to swing, be bop, and modern. His love of great rock, funk and americana music in addition to jazz has helped make him an in demand studio drummer, having appeared on over 70 recordings. Besides performing over 200 times a year, Julian keeps busy with his love of teaching, instructing not only drums, but jazz combos as part of the Whatcom Jazz Music Arts Center's high school combo programs. He has had the honor and privilege of performing and touring with Harold Mabern, Jimmy Heath, Peter Bernstein, Larry Willis, Seamus Blake, Geoffry Keezer, Jon-Erik Kellso, Grant Stewart, Eric Alexander, David Hazeltine, Joey DeFrancesco, Vincent Herring, Steve Davis, Josh Bruneau, George Cables, Gary Smulyan, Julian Preister, Aaron Parks and many many others." website bio. Links: website, WJMAC.org, Facebook, WJMAC Facebook, YouTube, Discography and DC Bebop page.
---
MUSIC DC Scene
---
Tony Harrod - Guitarist
DC born Rhythm and Bass Guitarist Tony Harrod has been performing with a band since his 9th grade girlfriend convinced him to play with a group at a social club dance. The band (The Mar-Tribs), had three solid songs. Two fast and one slow; "Baby Baby Don't Cry" by the Miracles. This performance launched Tony's professional career, but interestingly enough, it was not the first public performance. Back in the day, he started his musical career at a very tender age on a Mickey Mouse wind-up guitar, but the artist in Tony would not allow him to wind it. He strummed and sang "Blue Suede Shoes" while standing on the front porch of his house and people walking by would give him money for his performance. He knew he had a career in music ahead of him. Since that time, Tony has played with many bands over the years. He is the consummate guitarist, performing as a studio musician and with many local musicians. His repertoire runs the gamut, from Reggae tunes with "Englishman", to Jazz with Karen Lovejoy & The Lovejoygroup, and R&B with "One Nite Stand", Tony lays down the rhythm. He released his own CD "THP" Tony Harrod Project on CDBaby.com in 2004. Links: Facebook, The Jazz Network, One Nite Stand, Jegna Music, Just In Time Band, YouTube and DC Bebop page.
---
MUSIC INTERNATIONAL
---
Marlene Souza Lima, Guitarist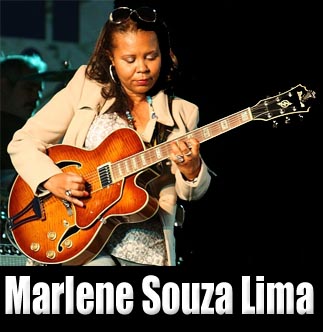 Marlene was born in Rio de Janeiro, but grew up in Brasília when it became Brazil's new capital. Her father was a saxophonist and her mother a music lover so music has always been part of her life. Marlene started playing the guitar when she was a teenager. She studied music at the prestigious "School of Music of Brasilia" learning to play from several famous Brazilian guitarists. In the years following her studies, she performed in theaters, bars of Brasilia and Goiânia with several instrumental groups, but notably with the "Loga'Ritmo" band, the "Maracatu Banda", and the big band "Popular Brasilia Orquestra". A gifted guitarist herself, she has continued to perform in many venues in Brasilia. She also teaches "violão and guitar at an institute "The Plant of Sounds Course of Music" in Brazil. Marlene released her first CD, "My Way," in 2011. Links: Website, Reverbnation, Facebook, YouTube and DC Bebop page.
---
MUSIC US East
---
Jonathan Parker - Saxophonist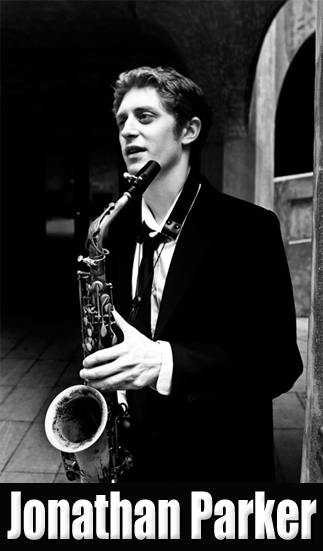 Jonathan is originally from the Washington D.C. area. "He graduated from The Oberlin Conservatory in 2008 where he studied under jazz legend Gary Bartz, as well as other world-class musicians, including Wendell Logan, Marcus Belgrave, Billy Hart, Dan Wall, and Robin Eubanks." Jonathan has also performed with Jimmy Heath, Dave Brubeck, and Slide Hampton while attending Oberlin. He has shared the stage with Terence Blanchard, Randy Brecker, Mulgrew Miller, and David Berkman to name a few. Jonathan has also performed at Carnegie Hall, Fat Cat Jazz Club in NYC, Stanford University in California, Skidmore College in New York, Night Town Jazz Club and The Bop Stop in Cleveland, OH. Jonathan moved to Shanghai, China, where he lived and performed, touring for 4 months in Beijing with American jazz singer Frankye Kelly. He moved back to the U.S., settling in New York City, where he met and perform with "many talented and innovative young musicians who are at the vanguard of modern jazz." Jonathan leads his own band, the "Jonathan Parker Group" for which he "exclusively composes and arranges." Influenced by a wide range of musical genres and manifesting his experiences from all over the world, Jonathan Parker's compositions and improvisations have been described by reviewers from All About Jazz as "bold," "having an intense energy," "sentimental," and "emotional." ~ Assembled from multiple sources Links: Website, BandCamp, Facebook, Reverbnation and DC Bebop page.
---
MUSIC CD ARCHIVE: ONECD
---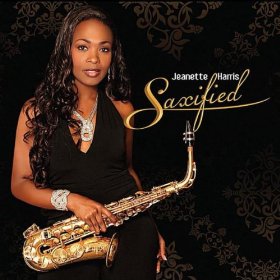 Jeanette Harris - Saxified (2010) "2010's Saxified finds the undisputedly talented musician (who plays soprano and alto saxophones, flute, and piano onthis effort) showing off her consummate talents over fourteen rock-solid cuts. She may not be synonymous with Grover Washington,Jr., but she certainly channels his tone, sensibilities, and energy throughout this superb affair" ~ Urban Music Scene, Website, YouTube, Facebook and Discography.
---
MUSIC CD ARCHIVE: DOUBLECD
---
Joanna Pascale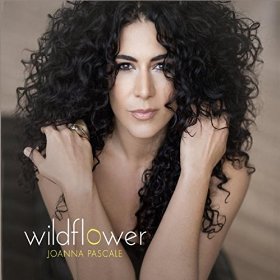 Joanna Pascale - Wildflower (2015) "The 11 covers tend to favor Pascale's slow, burning vocals. She sets the ballads on a blues scale afire, from the opening track, "Forget Me," by Valerie Brown down to the heart of Stevie Wonder's "Overjoyed." There's plenty of room for the jazz to flow, from her throaty, deliberate seduction to McBride's aerial bass grit on Brown's come-hither stance, Gershwin's "Do It Again," and the title track, that 1972 Skylark hit by Doug Edwards and Dave Richardson." ~ seaoftranquility.org, All About Jazz, Website, Discography, Facebook and YouTube
---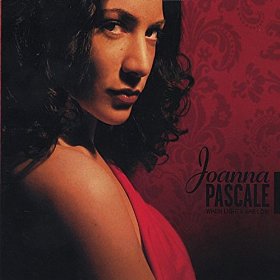 Joanna Pascale - When Lights Are Low (2004) "Joanna Pascale's debut CD, When Lights are Low, is a searching exploration of the female voice, its many facets and subtleties, within the context of rendering ballad standards in a "classic," timeless way. There are no "frills," cliches, or "tricks of the trade" in this album, nothing clever or stylish about it. It is simply an attempt to manifest the "pure clear word" of these songs as transparently as possible. The accompaniment follows suit. Terell Stafford's solo on "Easy Living" states the case. It is a lyrical improvisation that makes no attempt to be "modern" and flashy- rather, it echoes the evolution of jazz trumpet playing from Armstrong through Beiderbecke to Baker as a unified whole rather than a series of signature styles. This CD is entirely a statement about classic jazz as having one core, one essence. And Pascale is up to that challenge." ~ VICTOR L. SCHERMER - All About Jazz