MUSIC: Featured Musician & Playlist*
Anton Schwartz - Elijah Jamal Balbed - Sal La Rocca -
Larry Mitchell - CDs - Hilary Kole - Louis Hayes

---
Anton Schwartz - Saxophonist, composer, record producer, educator
Anton was born and raised in New York City. "He attended the The Dalton School, during which time he studied jazz privately with Warne Marsh and Eddie Daniels" He studied advanced mathematics during high school at New York University and Columbia University, moving on to earn his Bachelor's, Phi Beta Kappa, in Mathematics and Philosophy at Harvard University and was in the Doctoral program in Computer Science at Stanford University where he pursued research in artificial Intelligence, specializing in reinforcement learning. While gifted with a scientific mind, Anton found the call of music to have a greater pull. After receiving his Master of Science degree, he left the world of science to become a full-time musician. Anton can be found performing at many venues throughout the U.S., but notably appears periodically at Yoshi's, performs at the San Francisco Jazz Festival, and performed with the Boston Pops Orchestra at Boston Symphony Hall (2014). He is "a faculty member of the California Jazz Conservatory in Berkeley, California, has taught frequently at The Stanford Jazz Workshop, and has been Artist-In-Residence at Harvard University and The Brubeck Institute." During his musical career, "he has released five CDs as a leader, on his own Antonjazz label. Links: Reverbnation, Wikipedia, Facebook, Website and DC Bebop page
---
---
Elijah Jamal Balbed - Saxophonist, composer
Elijah is a native of Washington, D.C. In a Washingtonian Magazine article, he said he first wanted to become a martial artist, but in high school his enthusiasm and interest was captured by his desire to play music. He immersed himself in the pursuit of music as a career and the fruit of his efforts were realized. "In 2007, Elijah earned a Maryland Distinguished Scholar award, an Overall Best Soloist award in the Maryland Band Director's Association Big Band Festival, and a Best Soloist award at the 2008 Festival Disney Jazz competition." Elijah was recognized for his abilities by the Washingtonian Magaine in 2009, and twice by the Washington City Paper, which in 2010 named Elijah "Best New Jazz Musician" and then in 2013 the paper named him "Best Tenor Saxophonist." In an interview on JazzCast, he says he began taking private lessons from Saxophonist Paul Carr while attending Albert Einstein High School, and with the encouragement of his private tutor and school teacher, Joan Rackey, he began taking his music more seriously and decided to actively pursue a musical career as a life goal. Links: Website, Reverbnation, Facebook Bandcamp, SoundCloud, and DC Bebop page.
---
---
Sal La Rocca - Bassist, composer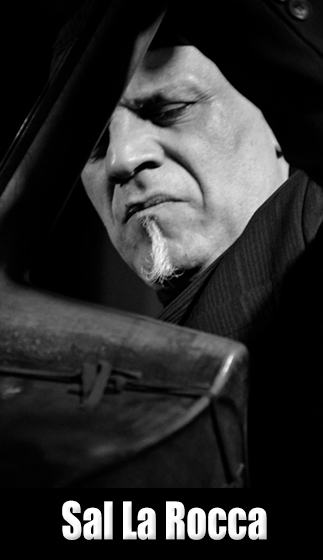 Sal is originally from Seraing, Belgium, near Liège. He was first a Rock guitarist, but switched to the bass as his instrument of choice after hearing (for the first time) music by several jazz greats. After switching, he taught himself how to play by the age of 23. Over time, he become one of the most "in demand" double bassists in Belgium and in the European theater. Starting in the mid 80's, Sal has toured and performed with a wide array of musicians on the European continent. The 90's saw him expanding his presence with world tours. His list of celebrity musicians he performed with continued to grow, adding well known names like Lee Konitz and Toots Thieleman to his musical resume. During his career, Sal has recorded on numerous albums. In 2003, he released his first album "Latinea". Around this time, Sal became the official bassist of singer Anne Ducros, playing, recording and touring with her group for several years. In 2007, he became the bassist for pop rock group Vaya Con Dios. Sal participated in both a European and world tour with the group. In 2010, he was bassist for the Steve Grossman Quintet performing at the Dinant Jazz Night Festival. In 2011, he joined the Gregory Houben Quintet. Sal met American singer Denise King through French pianist Olivier Hutman. They formed a trio that performed in what is referred to as the Benelux States (Belgium, the Netherlands and Luxembourg) and France. In 2013, Sal released his second album "It Could Be The End" (featuring a number of original compositions) through Igloo Records. Sal can be experienced live with his, and other groups at numerous world venues. Links: Website, Facebook, Reverbnation, SoundCloud, YouTube and DC Bebop.
---
MUSIC US East -
---
Larry Mitchell - solo artist, sideman, songwriter and music producer

Nate Birkey - Composer, trumpeter and vocalist . Larry is a "self-taught" guitarist, and one article says he "started playing guitar at age 9, after his Mom threw his drumset out the window." Her action paired Larry with the guitar. His mastery of the guitar won him the New York City "Limelight guitar solo contest (Twice!), in both 1986 and 1987. Larry's expertise garnered recognition, from which he was chosen to tour with Spanish/Italian artist Miguel Bose in 1989. Larry released his first (self-titled) "Larry Mitchell" CD in 1990 on the Grude BMG label. He was a feature guitarist in 1991 on Ric Ocasek's "Fire Ball Zone" Cd and can be seen performing on the "Rockaway" music video from the album. In 1999 Larry was awarded the San Diego Music Awards "Best Pop Jazz artist". He has numerous endorsements, with the most notable being Ibanez Guitars, D'Addario Strings, and DiMarzio Pickups. Since the release of his debut CD, "Larry Mitchell" (1990) , he has released several other guitar instrumental albums over the years. Mind Body Soul (1993), Escape (1995), Temptation (1996), Insatiable (1999), Sonic Temple (2008) and Rhythm of Life (2013). Links: Website, Facebook, Reverbnation, NAMM Show, Discography, YouTube and DC Bebop page.
---
MUSIC CD ARCHIVE: ONECD
---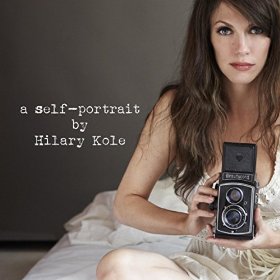 Hilary Kole - A Self-Portrait (2014) "A perennially popular presence on the NYC jazz scene and a world renowned concert hall and symphony performer, Hilary Kole has wowed us before with her dynamic recordings Haunted Hart (produced by fellow jazz great John Pizzarelli) and the ambitious concept album You Are There, featuring vocal-piano duets with legends like the late Dave Brubeck, Michel Legrand, Cedar Walton, etc. With her intimate, intensely personal and cleverly autobiographical new collection A Self Portrait, she shares her truest musical heart that is as tethered to classic 70s pop as it is to pure jazz and which expands beyond the confines of her roots as a Great American Songbook stylist."
~ Jonathan Widran - JazzMonthly.com, Website and Facebook
---
MUSIC DOUBLE CD ARCHIVE: DOUBLECD
---
Louis Hayes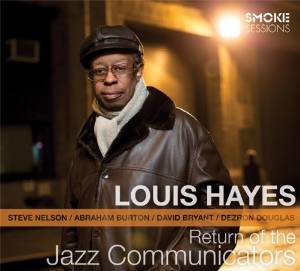 Louis Hayes - Return of the Jazz Communicators (2014) "As the story goes, the original Jazz Communicators were formed back in 1967 when Hayes put together a group featuring Freddie Hubbard, Joe Henderson, and Kenny Barron. This new edition was formed out of Hayes' desire to use the vibes in a quintet setting. It is fabulous to hear Steve Nelson vibraphone in this ensemble, being that his recorded appearances are rare these days. A veteran of other Hayes ensembles over the years and another gifted musician we hear from too rarely, Abraham Burton first made a name for himself playing alto with Art Taylor back in the '90s." ~ C. ANDREW HOVAN - All About Jazz, Website, Wikipedia, Website and CD Discography,
---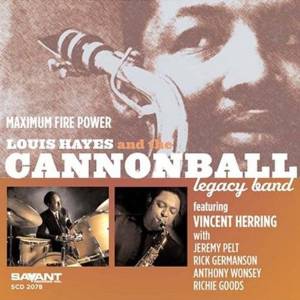 Louis Hayes and the Cannonball Legacy Band - Maximum Firepower (2006) "Like his old-school contemporaries Jimmy Cobb and Mickey Roker, drummer Louis Hayes elevates the music from within, using finesse and hip nuance rather than playing on top of it with overt chops. It's the same supportive role he assumed with such bandleaders as Yusef Lateef, Horace Silver, Cannonball Adderley, Oscar Peterson and half a dozen other major figures in jazz. As a bandleader in his own right, Hayes surrounds himself with an abundance of talent in alto-sax burner Vincent Herring, rising star trumpeter Jeremy Pelt, bassist Richie Goods and pianists Rick Germanson and Anthony Wonsey. And he fuels this superb hard-bop session with a relaxed yet authoritative swing feel in tackling several tunes associated with Cannonball Adderley, in whose band Hayes provided the rhythmic thrust alongside bassist Sam Jones from 1959 to 1965."
Bill Milkowski - JazzTimes.com