MUSIC - Scott Detweiler, Guitarist, Singer & Composer
---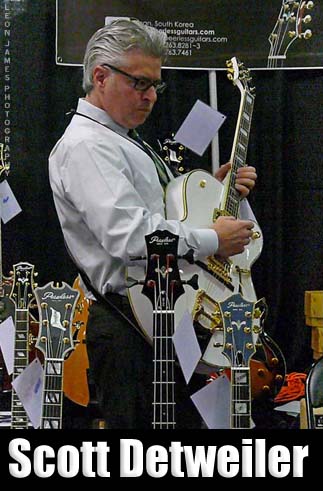 Scott Detweiler is an award-winning artist who was born and raised in New Orleans. Now based in Woodland Hills, he performs regularly in the Los Angeles area with his N.O. Jazz Funksemble, solo, and as cantor at Our Lady of Grace Church in Encino. He has performed Asia, Europe and South America. Scott is a prolific lyricist and composer of jazz standards, blues, opera, chamber music, ballets, sacred, etc, in the grand tradition of American composers such as Bernstein, Marsalis and Gershwin. He also has a large catalog of music composed for acoustic guitar. In L.A. he studied with Henri Mancini, Pulitzer Prize winning composer Dr. Albert Harris and lyricist K.A. Parker.

Scott is a writer of hundreds of songs not only for his own releases, but also for other artists, including funk band sensation, Orgone. He has released over 20 (twenty) albums under his own name, including his recent "Magnificat In Blue", a blues/jazz based oratorio based on a bible story. Detweiler is the recipient of The Congressional Certificate of Recognition, has been honored by Billboard Music Awards, The Nashville City Song Festival, Utah Composer's Guild and served as a juror for the Gohar & Ovanes Andriassian Classical Guitar Competition & Festival at California State University Los Angeles. He is also a sought-after consultant by leading international musical instrument and music product manufacturers and is an endorsing artist for AMI Guitars, Peerless Guitars, Conti Guitars and Olympia Strings. For more information see www.detweilermusic.com.
---
LINER NOTES:
SCOTT DETWEILER - Blue Roasted Jazz (2010):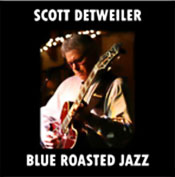 BLUE ROASTED JAZZ
(Detweiler Records)
Produced and Recorded
By Scott Detweiler

Personnel:
Scott Detweiler – guitar/vocals
Ed Cogan – piano
Matt McFadden – bass
Jeff Fish – drums


Blue Roasted Jazz was recorded live at Jax Bar & Grill in Glendale (Los Angeles), California in April 2010.

It is the third volume (following 2009's, "Rendition Integration" and "Infusion Went Away") in Detweiler's continuing chronicle of live early 21st century American music. Because the tracks are raw, unedited and recorded with a single microphone placed in the middle of the club, the listener experiences the true live performance, complete with background sounds from the audience.

Another compelling feature about this recording is that although Detweiler had played with each of the musicians separately on prior occasions, there were no group rehearsals prior to this performance. Set lists and a handful of charts were distributed moments prior to each of the 4 (four) sets, creating what Detweiler refers to as "live 'Kind of Blue'".

Working in this idiom for the past several years, his developing ability to "read" the audience is revealed in this recording as he spontaneously abandons set lists, creates medleys and calls key changes, while playing, right from his post at the microphone.

Naturally there are rough spots under these conditions, but there are also musical segments of pure, brazen magic that could never be realized in any other way. "You won't find diamonds laying on the ground….you have to dig for them", says Detweiler, "and as we play, we are digging with our instruments for diamond moments that can only be forged between the musicians and the audience in an intimate setting".

Liner notes by Phil Packard.

SD uses Peerless Guitars, Gomez Amplifiers, Olympia Strings, Straps and Picks and Presonus components, exclusively, and thanks them for their belief and support of excellence.

SD thanks St. Martha, Elsa, Scott, Marie, Lee Family, John Kim, Dario Gomez, Ellis, Hank, Ed, all of the staff at Jax Bar & Grill and the great writers of the non-SD material presented here.

Copyright 2010 Detweiler Records, Detweiler Music, ASCAP. All Rights Reserved. International Copyright Secured.
---
TRACK LIST:

Link: "Blue Roasted Jazz" CD: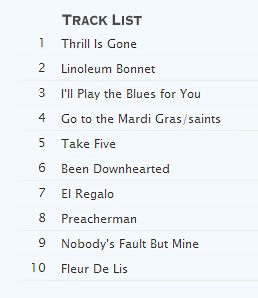 ---
VIDEOS:
Scott Detweiler — America
---
Scott Detweiler — MARDI GRAS MYSTERY
---
Back to the Top - Back to the Music page