MUSIC - Jon Barnes, Trumpeter, pianist, multi-instrumentalist, writer, composer, producer and educator.
---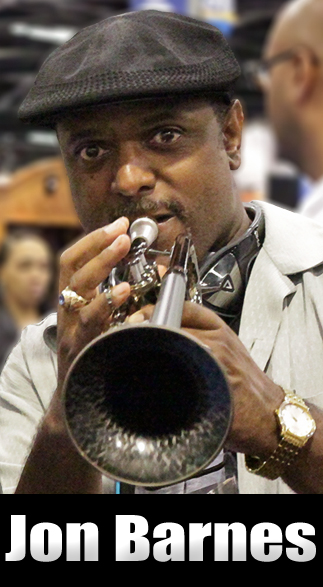 Jon, is originally from Baltimore, Maryland, is a multi-instrumentalist. His favored instruments are trumpet and piano, but "he plays all and teaches all instruments." He is multi-talented. Jon is a writer, composer, producer, educator and a businessman. Jon began studying trumpet in church and elementary school. His desire to teach was created by the music taught by of his mentors over the years. His first, was the late violinist Robert Smith, who played with the Baltimore Symphony Orchestra and was also a jazz pianist. The foundation of music theory and composition was learned in high school, taught by the late David Hairston. While in high school, he began playing gigs to evolve his style. He was also taught by Charles Funn, who exposed him to different styles of music. Jon was encouraged to learn and develop skills relationg to the classical, improvisational, big band and bebop styles. He attended Virginia Polytechnic University, where he studied under Dr. Allen Batchelder, who "unlocked the mysteries of how the trumpet can be easily played and encouraged him to pursue music and business." "Professionally, Jon has also recorded, toured and produced many projects with Gerald McCaulley, Billy Preston, Gerald Albright, The Temptations, The Four Tops, Smokey Robinson, Tom Scott, Chris Botti, Gary Bias, Brenda Russell, Little Anthony and the Imperials, the West Coast Allstars CD and DVD and many more. In addition, he has managed to create his own music curriculum, "KidsMusicCorner.com," which allows children to learn about music while simulating the playground experience." "Jon, like Miles Davis enjoys sharing the stage with talented people who are inspiring, honest, and hard working. He enjoys spending time with his family in jam sessions and teaching music to his grandkids. Jon believes ' a family that plays together will stay together'."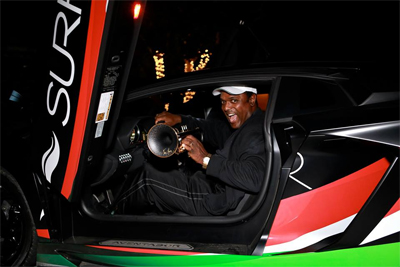 ---
PRESS:
"World Class Jazz Musician Jon Barnes retains MAYO Communications for global publicity"
"LOS ANGELES, July 8, 2013 /PRNewswire/ -- MAYO Communications announced today (Monday) it has teamed up with Jon Barnes, a world class musician, who played in the movie "Dirty Dancing". He is also a writer, composer, producer, businessman and educator. Although his principal instruments are trumpet and piano, Barnes also plays all and teaches all instruments. Growing up in Baltimore, he started studying trumpet in church and elementary school. He was inspired by Louis Armstrong and Miles Davis."
---
ARTICles:
"Music Master Jon Barnes returns from daCarbo Jazz Festival with all that jazz"



"I can sum many albums up in one word. Mostly that word is not printable, but this is one CD that I can happily sum up in one word. SUPERB. I had heard a few tracks from this set on the great Richard Searling's show, Soul Sauce, and could not wait to get my grubby little hands on this. Now I have the CD in the same grubby paws I can honestly report that it far exceeds even my high hopes. With guest stars aplenty and a fresh, groovy approach this CD really is a no nonsense, no risk disc. I love the sheer party funk, the groovy, driving jazz mixed up with a healthy dose of soul, poetry and rap. So, as you can see, this is one healthy, strong and eclectic mix that should definitely be included in my listing of albums of 2005."

~ George S. McQuade III - Examiner.com
---
Jon Barnes, Music Master
December 2012 - "The Precinct Reporter had the opportunity to sit down with music master Jon Barnes recently and delve into his heart and soul. He is not only a world class musician who played in the movie "Dirty Dancing," but has left his footprint in the disciplines of writing, composing, producing, as a businessman and educator. As a youth growing up in Baltimore, he was surrounded by the sounds of his mother playing the organ in church. He fondly recalled the melodic sounds of his grandmother rocking him while she hummed. Music began to develop in the young Barnes as he studied piano. His trumpet-playing prowess began in church and elementary school. Barnes was fortunate to have mentors along the way who helped to develop the latent talent and encouraged him to expand his horizon. One of those mentors was a violinist with the Baltimore Symphony Orchestra, and also a jazz pianist; another from his school days at Garrison Junior High School developed the music theory and composition strands."

~ Eliz Dowdy - Precinct Reporter Group
---
VIDEOS:
Jon Barnes Jazz Festival Monster Cable Dacarbo NAMM 2013
---
Jon Barnes Valley-hi Kia Cool Jazz Festival Trailer 2013
---
Back to the Top - Back to the Music page