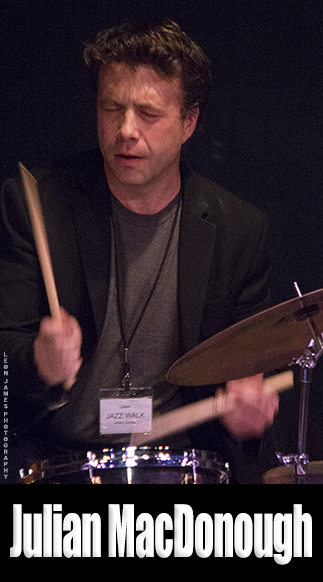 Julian MacDonough is an award winning drummer and educator residing in Bellingham Washington. For a number of years, he performed regularly with his own trio consisting of pianist Miles Black and bassist Michael Glynn, various bands with saxophonist and promoter Cory Weeds, a modern trio with saxophonist Josh Cook and bassist Michael Glynn as well as the swing era bands of Solomon Douglas. He loves and enjoys performing all styles of jazz from traditional, to swing, be bop, and modern. His love of great rock, funk and americana music in addition to jazz has helped make him an in demand studio drummer, having appeared on over 70 recordings. Julian has had the honor and privilege of performing and touring with Harold Mabern, Jimmy Heath, Peter Bernstein, Larry Willis, Seamus Blake, Geoffry Keezer, Jon-Erik Kellso, Grant Stewart, Eric Alexander, David Hazeltine, Joey DeFrancesco, Vincent Herring, Steve Davis, Josh Bruneau, George Cables, Gary Smulyan, Julian Preister, Aaron Parks, Terell Stafford and many many others.
---
VIDEOS:
ART at Frankie's Live Nov 10 2016 - montage

Adam Robert Thomas live in Vancouver @ Frankie's Jazz Club Adam Robert Thomas - vocals, guitar; Brad Turner - keys; James Meger - bass; Julian MacDonough - drums.
---
Miles Black Quartet feat. Grant Stewart Live - Everything Happens to Me (2013 Cellar Live)
---
Josh Cook, Chuck Kistler, Julian MacDonough Trio Live at Egan's (Wiggy)
---
Back to the Top - Back to the Music page