MUSIC - Scott Detweiler, Guitarist, Singer & Composer
---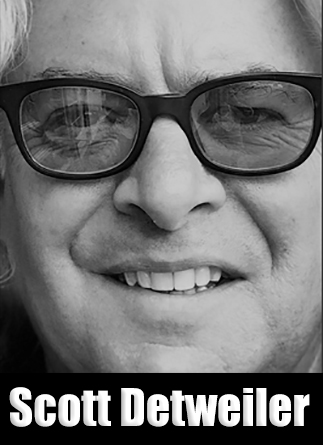 Scott is an American composer and lyricist born and raised in New Orleans. He began studying guitar when he was 17. After high school, he attended Loyola University in New Orleans where he studied jazz guitar with Bill Huntington, and music composition at the University of New Orleans. While attending the universities Scott learned to read music, and he began to sing, as a member of opera choruses and master chorales.

After college, Scott sought out the best people to study under to expand his knowledge and expertise. To this end, he studied "orchestration as a private pupil of Ellis Marsalis in Ellis' home." He learned writing and arranging for strings from "Henry Mancini, and Dr. Albert Harris (Pulitzer Prize nominee)". He studied writing for film and television with Earle Hagen. "He attended a songwriting seminar with Harriet Schock and studied lyric writing with K. Parker at the BMI Institute in West Hollywood." During his career, Scott has worked with several dance companies as a collaborating composer and as composer in residence. Notably, he has work with the Gabriel Masson Dance Company of New York during their 2000-2001 season, and again for a special production "She Didn't Stay Long", produced and performed by Ballet Memphis in 2008. "Scott is recognized as a prolific composer and an active performer, both solo (on hollow body jazz guitar and vocals) and with his band." Scott has performed with many artists during his musical career, "including The Neville Brothers, The Preservation Hall Jazz Band and The Allman Brothers Band." He has performed in Europe and Asia. He has received numerous awards for his music contributions. "His symphonic premiere was with the New Orleans Symphony and his compositions have been honored by the Utah Composer's Guild, The Nashville Music City Song Festival and the Billboard Music Awards. He was also awarded a Congressional Certificate of Recognition by California Congressman Brad Sherman."

In 2008 Scott released his "Made in New Orleans" CD, which is available on the Louisiana Music Factory website. Scott can be heard performing in and around the L.A. area. Check his calendar for dates and show times.
---
LINER NOTES:
DETWEILER - Made in New Orleans (2008):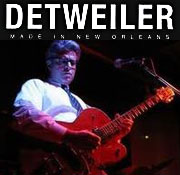 After 8 (eight) independent releases, and being passed over by dozens of recording companies during the course of his 25 (twenty-five) year career, Scott Detweiler, emerge in 2008 with Made in New Orleans, his first album to be recorded and released by a record label. In early 2007, after getting a project for Big Joe Hurt, Detweiler looked at by Alejandro Laborde, co-founder of latin-rock sensation, Noxdei, to produce their album. While scouting Los Angeles Studios were a suitable location, SD visited VAVV Studios. Friend, Kelly Zirbes (singer of Kelly's Lot), insisted that VAVV founder, Sebastian Sheehan (drummer of Kelly's Lot), would provide the creative climate within which the project could thrive. Detweiler had hired Sheehan to play with him at an infusion Gallery opening in 2005 but had never been to VAVV Studios. (Downtown Los Angeles art gallery remained Detweiler's most performed venue, playing over 100 shows).
The strategy discussion for Noxdei, Detweiler mentioned his plans to record his own new album. After playing a CD of the intended material from the mixing board in the studio. They decided to work together to produce the album at VAVV. A week later, the contract was signed in Detweiler arrived at VAVV Studios, which is self-penned, 52 (fifty-two) page score of Mad in New Orleans. That first day in the studio, Detweiler would play all of the rhythm guitar tracks are in a marathon, 10 (ten) hour session. Over the following weeks, the other musicians would be brought in the complete recording of the tracks. In May 2007 Detweiler, injured his left wrist, rendering him unable to play guitar. Although most of the guitar tracks had been recorded, incident cast him into a deep depression. He cleared his calendar became a recluse. In late June 2007 commission to compose a 20 minute blues for string quartet and alto saxophone. It is unable to play guitar, Detweiler composed the "The Sun Will Rise" during the month of July 2007. Although he based the theme on the Katrina disaster, composing the piece actually proved to be therapeutic, providing an emotional outlet for his own feelings about the tragedy, as well as his personal injury (from which he would miraculously recover in September 2007). "The Sun Will Rise" premiered in October 2007 12 rousing standing ovation. These are not marked the first crew nearby New Orleans composer in Los Angeles, and the first concert in L.A. containing both the premiere of a chamber piece and performance of original blues compositions by the same composer.
Made New Orleans bringing together the elements of blues, funk and jazz, in the timeless tradition of the New Orleans greats from the rich lyrics and touching melodyies to the pulsating grooves, intricate arrangements and the uninhibited emotional quality of Detweiler's voice, is a work of art that inspires and touches the soul. It is the first CD ever to be recorded exclusively with Peerless Guitars and Gomez Amplifiers. The album also sustains bold standards of excellence for VAVV Records and reaffirms Scott Detweiler's place and not only the most important guitarist to emerge from New Orleans in recent memory, but also as an important American artist of our time. ~ Liner notes by Dr. Roscoe Washington Jones
---
TRACK LIST:
Link: "DETWEILER - Made in New Orleans" CD:
---
VIDEOS:
Scott Detweiler Quartet — "I'll Play The Blues For You"
---
Chameleon - Scott Detweiler, Galen Shostac and
Albert Trepagnier Jr.
---
New Orleans Mardi Gras Medley - Scott Detweiler
New Orleans Jazz Funksemble
---
Back to the Top - Back to the Music page