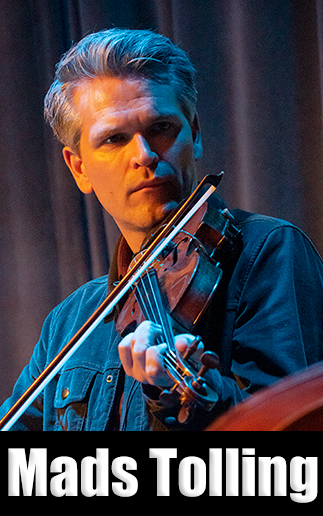 Mads was born and raised in Copenhagen, Denmark. At the age of 20 he came to the United States to "pursue jazz studies". He attended the Berklee College of Music in Boston, Massachusetts, studying under violinist Matt Glaser (an American jazz and bluegrass violinist who served as the chair of the string department at the Berklee College of Music for more than twenty-five years, and later became the founder and artistic director of Berklee's American Roots Music Program). Mads graduated summa cum laude from the Berklee College of Music in 2003. While at Berklee, Mads was recommended to join Stanley Clarke's band by renowned jazz violinist Jean-Luc Ponty. "Since then, he has performed more than 100 concerts with Clarke worldwide, including the Newport Jazz Festival and the Hollywood Bowl." Mads is a member of the Grammy Award-Winning "Turtle Island Quartet". He performed as violist with the quartet between 2003-2007. As his skills grew, he rose to the 1st violinist position in 2007 and continues to hold that seat. As part of Turtle Island Quartet, Mads won a Grammy in 2006 for Best Classical Crossover album, "4+Four". The Turtle Island Quartet, with Mads was nominated for a Grammy again in 2008 for "A Love Supreme - The Legacy of John Coltrane". Mads "has received Denmark's Sankt Annae's Award for Musical Excellence as well as grants from Queen Margaret, the Sonning Foundation and the Berklee Elvin Jones Award. He has performed with Paquito d'Rivera, Kenny Barron, Joe Lovano, Stefon Harris, The Assad Brothers and Leo Kottke." He is an accomplished composer with three recordings of original material, one features the well-known pianist JoAnne Brackeen. Another with vibraphonist Dave Samuels and the third on RMB singer Teena Marie's recording "La Dona". He has contributed numerous arrangements and compositions to the Turtle Island Quartet's repertoire. Mads is viewed as "a thriving force in the educational aspects of jazz and improvisation. He has been active as a Yamaha clinician and has been involved in workshops, coachings and master classes throughout Canada and the U.S.".
---
Q&A:
The music and the release of "THE PLAYMAKER" CD
DCB: Is the violin your first instrument? Did you ever consider playing another and if so which?
MT: No. I started playing the violin at age six. I started with the Suzuki method, which is an approach, where you learn to play by ear. Some of my early childhood memories would include my sister, mother and me getting up and practicing before school in the morning for 45 minutes. My sister also played the violin, so we would play together early in our lives. I played for two Danish prime ministers and for the US ambassador in Denmark at age 10. We used to play folk music and classical music in the streets of Copenhagen in the summer and make a lot of money. At about age 14 I listened to Miles Davis, and that changed my life. Listening to jazz and improvised music really struck a note in me, and that's what I knew I wanted to do going forward. I got into the jazz program at my high school as the first jazz violinist in its history. I later wanted to pursue it further, and as my goal had always been to study abroad, what better way than to study in the birthplace of jazz – USA. In 2000 I received a large scholarship to attend Berklee College of Music, which I did till 2003, where I graduated with a B.A. in Professional Music. I studied with some of the finest educators and performers including Joe Lovano, JoAnne Brackeen, Hal Crook & Matt Glaser. DCB: I try to include information about a musician's early life. For a young reader, it provides them with background information, they may be able to identify with. Not so much in the way of a musician's life-style but based on the musicians dedication and perseverance. Questions like, is the violin your first instrument?
MT: The violin is my first instrument, although at age eight I started playing piano as well. I also play viola which I learned at a later age, when I joined Turtle Island Quartet at age 23. DCB: During your school years, what music teacher or teachers influenced your style of play the most? Did these experiences contribute your current desire to teach the concepts in classes and seminars?
MT: In Denmark I studied with a great jazz violinist by the name of Kristian Jorgensen. He was the teacher I first turned to as I started improvising at about age 16. I learned many of his solo note for note and jammed with him many times. What inspires me to teach is that very few kids get the opportunity to study styles besides classical music if they are string players. I love classical music, but jazz and fiddle styles are also big parts of what American music is today and what many kids ultimately grow up listening to. It is important to me that kids don't grow up compartmentalizing music. I believe it is important that we integrate all music that move us and bears meaning to us no matter what genre or country of origin. The compartmentalizing if continued will ultimately lead to the demise of the music we all love. Remember that jazz and classical music historically has always been moved by risk takers that were at first called liberals and rebels, but later enjoyed the status as definers of an era. These people all broke out of the boxes that us humans for some reason love to create to keep things in order and to define good and bad. I am thinking of Beethoven, Stravinsky, Charlie Parker, John Coltrane, etc. What I do at schools is to plant a seed. It is OK to improvise and play stuff that isn't written down. And the kids go home thinking: "I didn't totally suck at this even though it is new to me….and it was fun!" DCB: You bring a very unique style of play to your performances using an instrument that had formerly been thought of as only being suited in a "classical" music setting. How would you like for people to think differenly about the use of classical instruments when playing Jazz and other forms of music?
MT: Any style of music can be played with any instrument. It all depends on the musician's ability to be creative and find a way in which the instrument can sing and have an impact on the listener. I draw from many different styles, because I listen to many different genres of music. I think it would be better not to think of instruments relating to specific styles. All an instrument is really is a tool to convey emotions and connecting to people in a direct way. The tool has to work of course, but it is the human element that wins people over – not the instrument. DCB: "The Playmaker" is your first Mads Tolling CD. How long did it take for you to go from concept to final release of the project??
MT: "The Playmaker" is my second CD. The first one was "Speed of Light", but it was a trio recording. We had no real distribution, but it was a great way to get my feet wet. The concept of "The Playmaker" is team play, and it is linking sports and music, because I was always a big sports fan. Really sports and music are my two passions in life. The concept musically was to record the tunes that I liked playing in the band and get a fair amount of my original stuff on there. I started thinking about it early 2009, and the CD came out October 2009, so as you can imagine a lot of hard work, musically and organizationally went into it. DCB: The cast of musicians performing on the CD is outstanding. Are there plans for the original musicians on the CD to play together at a live concert in California?
MT: No there are no plans of that. The problem is that Stanley Clarke, Russell Ferrante and Stefon Harris are such big stars in the jazz world that it would take a lot of money and organizational luck to pull that off. I invite it to happen, I would be thrilled, but we need a spiggy bank to make that happen. If I was a very well known artist it would be easier, but as an independent artist with no backing from labels, radio stations there is just not enough support there. It can be a bit frustrating, because I feel that I released a very special album with "The Playmaker." I don't really see an album out there with the range of styles and with a combination of through composition and jam stuff with an emotional impact as well. DCB: Are you thinking about the next CD project and when would you like to release it?
MT: Not really. This was a lot of work, and I think I would take more time next time. It would also be good for that to have better backing and more of a marketplace hence better distribution and PR. No matter how good an album is it needs to be promoted and get out to people to evaluate it.
---
ONESHEET:
From Mad Tolling's "THE PLAYMAKER" CD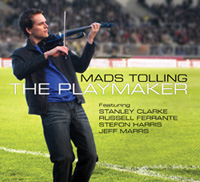 Mads Tolling, internationally renowned violinist, violist, and composer, is a two time
Grammy Award-Winner. He is currently a member of the Turtle Island Quartet and soloist with bassist Stanley Clarke's band. Born and raised in Copenhagen, Denmark, Mads moved to Boston to study at Berkeley College of Music. Mads was immediately recognized as a fresh voice in jazz, and his career went into full swing performing with top artists such as Al Di Meola, Kenny Barron, Paquito d'Rivera & Leo Kottke.

Mads' sophomore CD release "The Playmaker" features jazz greats Russell Ferrante & Stanley Clarke along with vibes extraordinaire Stefon Harris. Hear these leading musicians along with a violinist, who views his instrument as part fiddle, part saxophone, part acoustic and electric violin. Mads Tolling is a leading innovator in string playing, and this recording of jazz, fusion, funk, classical, Danish folk along with rock & roll arrangements of Led Zeppelin's "Black Dog" and Radiohead's "Just," encapsulates his point of view.


"The Playmaker" conveys the connection between sports and music. In sports, the playmaker's role is to facilitate his teammates for scoring opportunities - to bring them, and ultimately the team, success. This is what musicians do: make their band mates sound better by supporting them during a solo, making the band sound greater than any one of its parts In the titular Tolling original, "The Playmaker Suite," each of the movements is dedicated to three athletes who are truly great at what they do, while serving their teammates and representing their sport to the highest degree possible. Likewise, for three of the remaining songs, they are dedicated to musicians, who had that same greatness in their music making, while being true "playmakers" on the bandstand.
— Liner notes by Bill Milkowski (Author and writer for Jazz Times).
Link to Band Bios and One Sheet PDF file.
---
QUOTES:
On "THE PLAYMAKER" CD:

"I recommend this CD for some serious listening. It's hard to accept it at face value, in my opinion, because there's a lot going on in the music. I think jazz violin has had its struggle for recognition, and Mads Tolling gives jazz violin a hopeful and vibrant placement in the collection with his heartfelt playing and musical talent in this recording."
— ANALYN REVILLA ~ City of the Angels Music Opinion Page "Mads has the amazing talent and skills that few young musicians can match. His music is both beautiful and refreshing exhibiting his superb mastery of the modern American Jazz music that is rarely seen among his peers."
— Jean-Luc Ponty "Overall, a wondrously balanced and stylish outing that sustains repeated listens. Tolling and his bandmates provide the requisite."
— Glenn Astarita ~ JazzReview.com "In the album's liner notes, he explains that "in sports, the playmaker's role is to facilitate his teammates, and in music it's kind of the same thing." The lineup includes bassist Clarke, vibraphonist Stefon Harris and keyboardist Russell Ferrante and Tolling consistently benefits from their input. Yet while there's sufficient firepower to fuel the rock covers, the album's highlights often find Tolling and company nimbly exploring swing, ballads and blues."
— Mike Joyce ~ Washington Post
---
VIDEOS:
Mads Tolling's — "Danish Dessert"
---
Mads Tolling's — "The Playmaker"
---
Mads Tolling Quartet - Song to John - Stanley Clarke


Mads Tolling, internationally renowned violinist, and composer, is a two time Grammy Award-Winner. .
---
Back to the Top - Back to the Music page