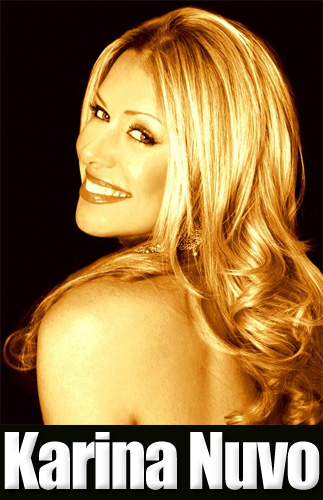 Karina is a first generation Cuban-American from Miami, Florida. When she was growing up she would "lip-sync shows" to her family. She also "lip-synced" songs while in high school, but says she did not really become "aware of her voice" until she was 19 years old. She never took voice lessons or sang live until that time. She considers herself to be a "late bloomer" with her musical career, but also says "better late than never". Karina says she feels "quite blessed" to have shared the stage with Celia Cruz, Tom Scott, Ray Parker Jr., Jeff Kashiwa, Johnny Britt of Impromp 2, Paul Shafer and Dan Siegal. She also says "I have a band that I am quite lucky to have perform with me on stage and on the NUVOSOUL CD. They are some the top musicians out there that work with other Amazing superstars of all genres. Hopefully I can continue this wonderful trend". Karina's music is described as being "a sultry combination of Soul-Jazz and Latin" Notably, she co-wrote, co-produced and sang the songs in both English and Spanish "to create a unique sound". NUVOSOUL" was released in July of 2008.
---
NUVOSOUL
Karina's Onesheet (excerpts) -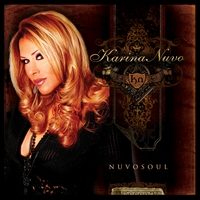 Karina Nuvo couples classic musical influences with her own heartfelt instincts and authenticity, resulting in an unrivaled sound best described as "Nuvo Soul". Her vocal styling conveys a sultry unapologetic power, balanced by her sensual clarity and broadened along a gospel / rock edge. She writes and sings fluently in both English and Spanish, extending her appeal across cultures. Her music encompasses all cultures, races and genders - gospel, R&B, disco, and Latin jazz. Karina has finished her highly anticipated Debut album "NUVOSOUL", in both English and Spanish, which she co-wrote and produced. It blends all that is true to Karina's style. There's Soul, Jazz , R&B and Latin all mixed in to a truly unique and inspiring Album. In particular, her record includes a spicy salsa-flavored rendition of Shining Star, Karina's homage to the group that has influenced her the most, Earth, Wind and Fire. Her message is honest and positive. Her delivery is uplifting.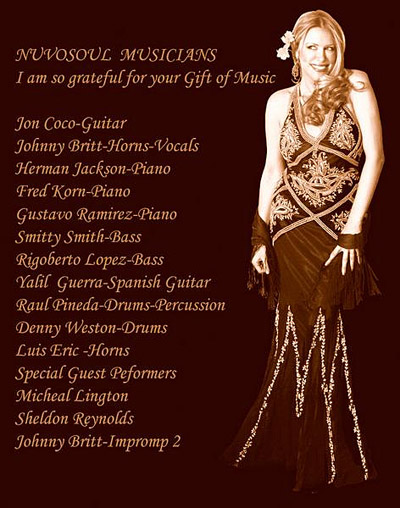 Karina integrates every element of her mind, body and soul into her music, which has produced odes to the homeland she has never seen, Cuba, as well as gospel numbers like "I Will Love You". She exposes her soul while inspiring others to charge on with hope . /

She is determined to spearhead a bilingual soulful sound and hopes to one day bring her music back to her parents homeland. Karina is polished and ready to take on the world with her music and style. .

Karina says, "My music is what I've created from all the things that truly inspire me. Its NUVO SOUL."
---
VIDEOS:
With or With Out Your Love feat. Michael Lington
---
Let Go
---
Back to the Top - Back to the Music page