MUSIC: FEATURED MUSICIAN & PLAYLIST*
Cecile Corbel - Bob Baldwin - Melissa Morgan -
Jeff Antoniuk - Amy Shook -
CDs - Idris Muhammad - Al Foster
---
MUSIC INTERNATIONAL
Cecile Corbel, Celtic harpist, composer and singer.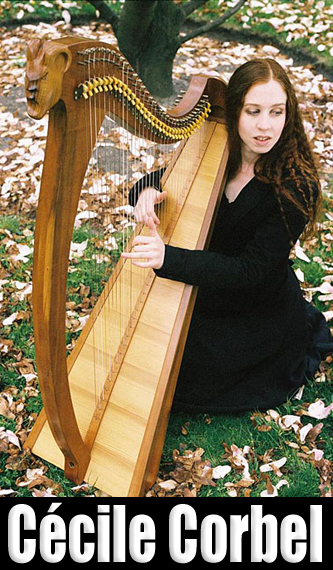 Cécile was born in Brittany, the Celtic region in the north-west of France. While growing up, Cécile traveled all over Brittany with her parents, who were puppeteers. She learned to play the guitar, but in her teens discovered the Celtic harp. At the age of 18 Cécile went to Paris to study to become an archeologist. Instead, she found herself performing at concerts, pubs and cafes and eventually she self-produced her first album "Harpe celtique & Chants du monde" and was then noticed and approached by Keltia Musique, which is Sinead O'Connor and Loreena McKennitt's label. Cécile released "Kari-gurashi"(2010), "Songbook Vol. 3" (2011), Song Book Vol. 4 (2013), La Fiancee (2014) and Vagabonde (2016). From a review in Musical Discoveries, "Corbel's unique harp technique and her appealing young voice, sometimes compared to Kate Bush's, reveal a world encompassing ancient poems, original compositions, Celtic tunes and Mediterranean melodies. It is said that Cécile Corbel takes you for a trip out of a time. Following the path of prestigious musicians such as Alan Stivell, the young Breton composer and singer now performs her Celtic and world music with her musicians in France and all over the world." Links: Website, Facebook, YouTube, Albums and DC Bebop page.
---
MUSIC US East
Bob Baldwin - contemporary jazz pianist, music composer, author, and producer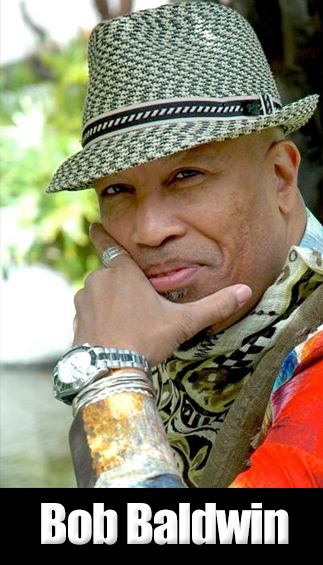 Bob is a multi-facetted person. He is a Jazz Artist, Radio Host, Music Presenter, Arts Advocate, Educator, and Author. He has "a vision to take his gift of music to bless those less fortunate, and raise funds for organizations in need of help." Bob is originally from Mount Vernon, N.Y. He began playing piano when he was four years old, and was taught by his father, Robert Baldwin, Sr., who was an accomplished jazz pianist and upright bassist. In his youth, Bob would accompany his father to jam sessions near home, and had the opportunity to listen to and study the music of "the masters of the Westchester region." Later, Bob was influenced musically by a number of artists, "strongly by Herbie Hancock, Stevie Wonder, Patrice Rushen, Chick Corea, EWF, Joe Sample, Ramsey Lewis, Miles Davis, and George Duke." His style is "a by-product of these artists." During the 80's, Bob performed with a who's who of talent, including Roy Ayers, Gerald Albright Dean James, Chieli Minucci, Jocelyn Brown, Kim Waters, Will Downing, Marion Meadows, Najee, the late Grover Washington, Jr., and Noel Pointer and many others. (2010), Bob released "Never Can Say Goodbye: A Tribute to Michael Jackson," "Betcha By Golly Wow: The Songs Of Thom Bell" (2012). "The Brazilian-American Soundtrack" (2016), "Never Out of Season " (2017), and "Abbey Road and the Beatles," in 2018. Bob can be seen and heard in venues nationally and internationally. Links: Website, Facebook, Discography, Reverbnationand DC Bebop page.
---
MUSIC US West
Singer Melissa Morgan
Born in New York City, Melissa grew up in Teaneck, New Jersey. Her first musical instrument was the piano, which she began practicing at age four. Her singing began while in high school with local choirs and performing with a few select classical vocal groups across the U.S. and other venues abroad. Inspired by the classic recordings by Billie Holiday, Dinah Washington, Nancy Wilson and Sarah Vaughn, Melissa pursued her love of Jazz through studies of music. She attended the SUNY Purchase Conservatory of Music and graduated from the Purchase in 2002 with a B.A. in music. She has since performed as a regular at several of New York's top jazz venues; Cleopatra's Needle, Flute, G Bar, Smalls, Smoke and St. Nick's Pub to name a few. She was featured in performances with Jon Faddis and the Dizzy Gillespie Alumni All-Stars at the Blue Note in New York in 2001. Melissa competed and became a semi-finalist in the 2004 Thelonious Monk International Jazz Competition in Washington D.C., "the most prestigious jazz competition in the world. Melissa moved to Los Angeles, California where she pursued a recording career for a number of years. She has now moved to the Bay Area, where she continues to perfect her art, and can be heard performing in numerous venues. Links: Facebook, SoundCloud, YouTube, and DC Bebop page.
---
MUSIC BANDS
Jeff Antoniuk, The Jazz Update & Jazz Band Masterclass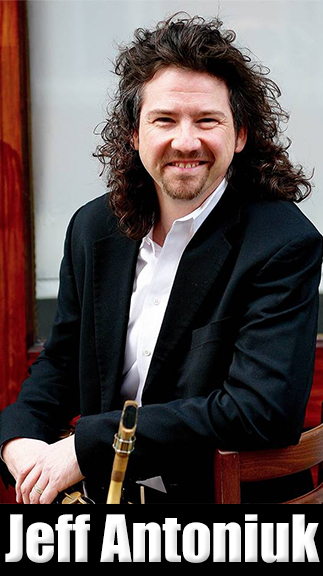 Jeff Antoniuk was "Born in Edmonton, Canada, Antoniuk studied at the prestigious University of North Texas, where he earned both a BM and a Masters Degree in Jazz Performance and Ethnomusicology. Living in Nigeria, Africa as a child, and traveling the world as a musician. Jeff has developed and served as Artistic Director on over 50 different workshops on specific jazz topics, and conducted over 2500 jazz masterclasses in the last 15 years. As a performer and composer, heralded for his "considerable chops" (Jazz Times Magazine) and "a creative spark that never lets up," (Rochester City Paper). His recordings with Jeff Antoniuk & The Jazz Update and The MARS 4-tet have all received critical praise, with appearances on the Jazz Top 40 charts. Jeff Antoniuk has played with or led bands with such luminaries as fellow saxophonists Ralph Bowen and Walt Weiskopf, guitarists Tim Miller and Steve Rochiniski, drummers Sherrie Maricle and Warren Wolf, bassists Jimmy Haslip and Marcus Miller, and trumpet players Tim Hagans and Ingrid Jensen." Links - Website, Wikipedia, All About Jazz and YouTube

Led by Jeff Antoniuk, THE JAZZ UPDATE, with pianist Wade Beach, drummer Tony Martucci and bassist Tom Baldwin, is one of the top professional jazz groups in the DC/MD/VA area. The Jazz Update's combined bio reads like a who's-who of jazz and modern music, with performances and recordings with the likes of Sonny Stitt, John Aebercrombie, Marcus Miller, Mose Allison, Eric Alexander and many more. This is a seasoned band that knows how to get an audience engaged, enthralled, and on it's feet.

Formed in 2004, this heavy hitting quartet is comprised of some of the top-call players in the mid-Atlantic. These seasoned pros have played festivals and clubs across the US, with numerous shows at the top local venues - Blues Alley, the Kennedy Center, Strathmore Hall, the Smithsonian, many local universities, and The White House. Jazz Update Band

JAZZ BAND MASTERCLASS, Saxophonist Jeff Antoniuk, Bassist Leonardo Lucini and guitarist Steve Herberman. The jazz Band Masterclass groups are for musicians who have studied privately or have some improvising experience. Each group is assembled with the aptitude and experience of its members in mind, from beginner/intermediate up to semi-pro. A Core Value: "Communication and Interaction is at the heart and soul of jazz and improvisation. The classes bring together like minds, those who have something to give and share. We create a forum for adult musicians, and give them the tools to achieve real musical communication. The instructors love facilitating interaction, in music and in life." The Jazz Band Masterclass is regularly featured in local jazz venues in the DC area. Links - Jazz Band Masterclass, All About Jazz, Jazz Teacher Training and Jeff Antoniuk's DC Bebop page
---
MUSIC DC Scene
Amy Shook - Bassist, composer and songwriter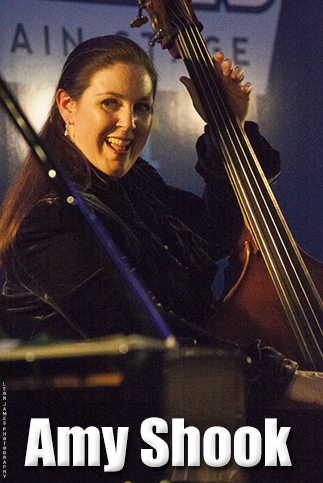 Amy holds two bachelor's degrees (performance and composition) and a master's degree (performance) from the University of Idaho in Moscow, ID. Amy also performs and teaches with various teaching artists, led by pianist Fred Hughes. The members of this ensemble are integral components of the Washington Performing Arts Society's (WPAS) Capitol Jazz Project in affiliation with Wynton Marsalis and Jazz At Lincoln Center. Since settling in the Washington DC area in 2003, Amy has become "one of the most in-demand upright bassists" in the metropolitan DC and Maryland area. She is a versatile musician, able to play "jazz standards as well as new music." Amy co-leads "The Amy Shook Quartet" with drummer Frank Russo, and her husband, Pat. She is featured on singer/songwriter Felicia Carter's 2008 double CD release Feather/Step Lightly, as both a performer and an arranger of the music. In 2009, they released "So Far From Home" on Summit Records, which features original music by Amy and Pat. In 2011, Felicia Carter and Amy Shook released their first CD collaboration "Nothing To Do," receiving great acclaim. In the summer of 2013, Amy joined the Fred Hughes Trio (Fred Hughes, piano, Amy Shook, bass and Frank Russo, drums), performing for audiences up and down the east coast and the trio recorded a live DVD. In 2013, Amy joined Sherrie Maricle and the DIVA Jazz Orchestra backing up Maurice Hines' TAPPIN' THRU LIFE for critically acclaimed performances at Arena Stage in Washington, D.C. and the Cleveland Playhouse in Cleveland, OH, where Sherrie and Amy met pianist Jackie Warren and formed the powerhouse trio 3Divas. 3Divas went on to more critically acclaimed performances of TAPPIN' THRU LIFE in Wilmington, DE at the Delaware Theater Company, Off-Broadway at New World Stages in New York, at Penn's Landing Playhouse in Philadelphia, and a live webcast concert version of the show at Dizzy's Club Coca Cola at Jazz At Lincoln Center in New York. Since then, they have released 3 more critically acclaimed albums, "Love Letters" in 2015, "I'll Be Home For Christmas" in 2015, and "Matrix" in 2016. They also did a TV performance of the show, filmed live at the Katherine Hepburn Performing Arts Center in Old Saybrook, CT, for The Kate TV series' 2nd season, airing in April of 2017. She has performed at numerous East Coast Jazz Festivals, including the Mid-Atlantic Jazz Festival, and has shared the stage with Lionel Hampton, Jane Jarvis, Claudio Roditi, Al Grey, Bill Watrous, John Stowell, Greg Gisbert, Ingrid Jensen, Ethel Ennis, Slide Hampton, Paquito d'Rivera, Ali Ryerson, Maureen McGovern, Dee Daniels, Lanny Morgan, Jim Snidero, Frank Lacy, Walt Weiskopf, Greg Boyer and Bobby Watson." Links to - Website, Facebook, YouTube and DCBebop page.
---
MUSIC CD ARCHIVE: ONECD

Idris Muhammad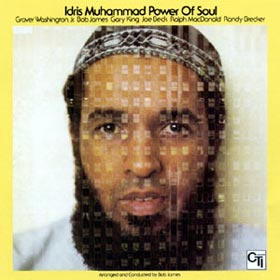 Idris Muhammed - The Power of Soul (1974) "No doubt, Muhammad is one of the most influential jazz/funk and R&B drummers on the planet. Known for his infusions of hip, snazzy grooves into jazz-based formats and other genres, Power Of Soul signifies his first solo effort. Clocking in at a mere thirty-four minutes in length, Muhammad and then prominent "CTI" recording artists, keyboardist/arranger, Bob James, and the late saxophonist, Grover Washington Jr. render some truly inspiring performances. However, this date denotes a team effort, where everyone plays a vital role, witnessed from the onset of the musicians' forceful and brassy rendition of Jimi Hendrix' "Power Of Love." Consequently, electric guitarist, Joe Beck adds a bit of psychedelia to this Hendrix classic, largely due to his quasi, jazz-fusion Hendrix-like distortion drenched solo." ~ GLENN ASTARITA - AllAboutJazz.com, New York Times and Wikipedia.
---
MUSIC CD ARCHIVE: DOUBLECD

Al Foster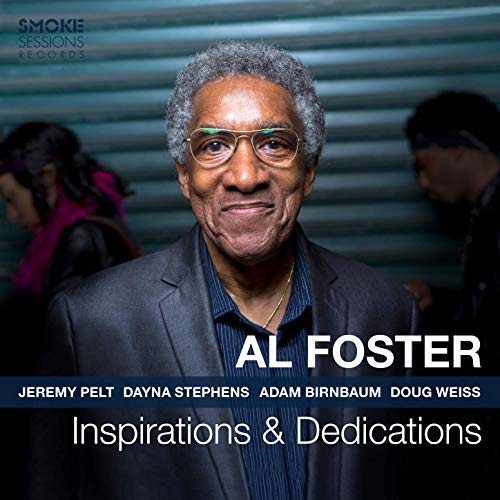 Al Foster - Inspirations & Dedications (2019) "As its title suggests, the album is a somewhat autobiographical release. With its 66-minute runtime divided into 13 tracks, the disc is lengthy without becoming bloated. Foster's quintet is a top-tier group of musicians, including trumpeter Jeremy Pelt, saxophonist Dayna Stephens, pianist Adam Birnbaum, and bassist Doug Weiss. The group plays well together, offering a pleasant sound which pushes the lengthy album along at a quick pace, their consistency never allowing for a lull. Rather than featuring a standout single, each song on this crowded release contributes more to a whole. At its finish, Inspirations and Dedications seems not to be a somber reflection on a life lived, but a celebration of it. " ~ PETER HOETJES - AllAboutJazz.com, Website, All About Jazz page and Wikipedia.
---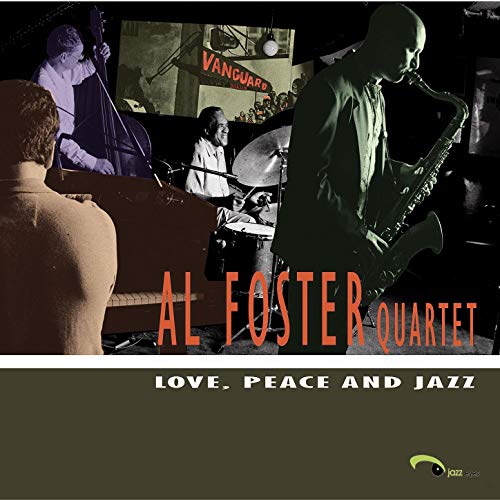 Al Foster Quartet - Love, Peace and Jazz (2008) "Al Foster is probably best known as Miles Davis' drummer for much of the '70s and '80s, and as a well-regarded sideman for jazz giants including Herbie Hancock, Sonny Rollins and Joe Henderson. He's also, somewhat quietly, been leading a first-rate unit of his own for more than a decade, one that has only released two albums, the first in 1997 and the second just out in 2008 on the Italian Jazz Eyes label. " ~ JOEL ROBERTS - AllAboutJazz.com
---
MUSIC CD ARCHIVES:
DOUBLECD - SINGLES - ONECD