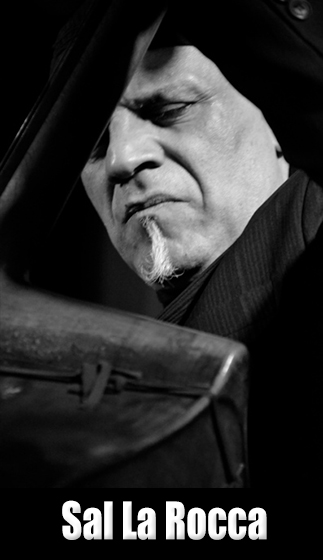 Sal is originally from Seraing, Belgium, near Liège. He was first a Rock guitarist, but switched to the bass as his instrument of choice after hearing (for the first time) music by several jazz greats. After switching, he taught himself how to play by the age of 23. Over time, he become one of the most "in demand" double bassists in Belgium and in the European theater. Starting in the mid 80's, Sal has toured and performed with a wide array of musicians on the European continent. The 90's saw him expanding his presence with world tours. His list of celebrity musicians he performed with continued to grow, adding well known names like Lee Konitz and Toots Thieleman to his musical resume. During his career, Sal has recorded on numerous albums. In 2003, he released his first album "Latinea", included musicians Bruno Castellucci, Peter Hertmans, Kris Goessens and Jacques Pirotton. Around this time, Sal became the official bassist of singer Anne Ducros, playing, recording and touring with her group for several years. He added several jazz greats to his resume, including trumpeter Randy Brecker and pianists Thierry Eliez, Enrico Pieranunzi, Jacky Terrasson and René Urtreger. In 2007, he became the bassist for pop rock group Vaya Con Dios. Sal participated in both a European and world tour with the group. In 2010, he was bassist for the Steve Grossman Quintet performing at the Dinant Jazz Night Festival. The group featured Steve Grossman, Nico Menci, Alvin Queen, Joe Lovano and Sal. In 2011, he joined the Gregory Houben Quintet, which was comprised of Gregory Houben (trumpet), Pierrick Pedron (alto sax) and Sal La Rocca (bass). Sal met American singer Denise King through French pianist Olivier Hutman. They formed a trio that performed in what is referred to as the Benelux States (Belgium, the Netherlands and Luxembourg) and France. In 2013, Sal released his second album "It Could Be The End" (featuring a number of original compositions) through Igloo Records. The group was comprised of Lorenzo Di Maio, Pascal Mohy, Hans van Oosterhout and Jacques Schwarz-Bart. Sal can be experienced live with his, and other groups at numerous world venues. Sal has shared the stage with an impressive list of talented musicians:
"John RUOCCO, Gianni BASSO, Harold LAND, Jack VAN POLL, Kris DEFOORT, Ali RYERSON, Paolo RADONI, John ENGELS, Michel HERR, Guy CABAY, Andre CECCARELLI, Ch. HIRSON, Bert JORIS, Jiggs WIGHAM, Steve GROSSMAN, Nico MENCI, Dave TURNER, Michel GRAILLIER, David LINX, Sheila JORDAN, Deborah BROWN, Mark MURPHY, Salvatore BONAFEDE, Lee KONITZ, Ada ROVATTI, Gordon BECK, Sangoma EVEREST, Stanley JORDAN, Anne DUCROS, Charlie MARIANO, Roni BEN-HUR, Bob MOOVER, , Randy BRECKER, Bob FRANCESCHINI, Richie BEIRACH, Scott HAMILTON, Didier LOCKWOOD, Tony LAKATOS, Roby LAKATOS, Bobby DURHAM, Steve WILLIAMS, Dani KLEIN, Olivier HUTMAN, Denise KING, Jacques SCHWARZ-BART, William LECOMTE, Pierrick PEDRON, Alvin QUEEN, Baptiste TROTIGNON, Sylvain BEUF etc…" ~ from Sal's bio
---
ARTICLE: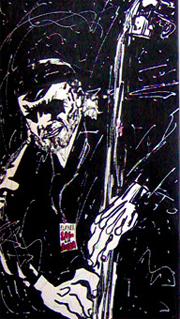 Jazz in Belgium - A Chronology: "After a stint with rock playing guitar, at age 23, Salvatore LA ROCCA discovers jazz in the early 80's and switches to double bass which he intensively explores on his own, taking as a model Paul CHAMBERS. Thereafter he is regularly seen aside Jacques PELZER. Establishing himself as a bass player, a position rather empty at that time in Liège, he plays with the musicians of the region: Robert JEANNE, Robert GRAHAME, Steve HOUBEN, Pierre VAIANA... It is aside Jacques PELZER that he meets and plays with Jon EARDLEY. In 1986, he works with French pianist Michel GRAILLIER and American drummer Leo MITCHELL. Steve GROSSMAN hires him, together with Georges BROWN (drs), in 1987, for a tour in the Benelux and south of France, to appear in the major Festivals." ~ jazzinbelgium.com
---
REVIEW: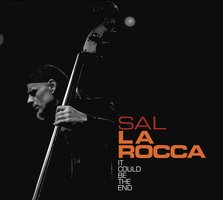 Sal La Rocca - It Could Be The End (2012) "I was already aware of Sal's remarkable talent on bass. I also got to enjoy his qualities as a human being during our conversations. But this recording session was the opportunity for me to discover the composer and exceptional leader that he is. He has his own style of writing and chose musicians capable of following his vision on these recordings. The experience was a pure joy for me. It's one of the records I'm most proud of." - Line up: Jacques Schwartz-Bart ~ JazzTimes.com
---
VIDEOS:
Sal La ROCCA Band ? It Could Be The End ?
---
Sal La Rocca Band - INSOMNIA - Live Th. MARNI 2013 (HD)
---
Sal La Rocca Band at "Le Palace" (BE)
---
Back to the Top - Back to the Music page