---
MUSIC BANDS - FEATURED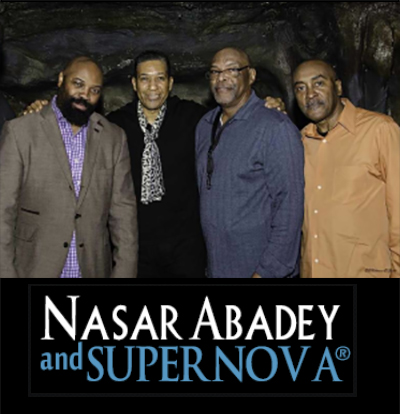 Nasar Abadey and Supernova

"Drummer and Composer Nasar Abadey is the founder, leader and driving force of SUPERNOVA®. They perform music from the threshold of Jazz to beyond space and time, while having an artistic license to express their compositions through traditional African rhythms, bebop, fusion, Afro-Cuban, Afro Brazilian, and free form. The quartet's musical inspirations include John Coltrane, Miles Davis, Wayne Shorter, and Duke Ellington among others." - Smalls Live - Greenwich Village. Nasar Abadey (drums) has been a bandleader for many years and has also built a solid reputation as a sideman with several groups from his home base in Washington, DC; and he has performed and/or recorded with many artists throughout his career. He is Professor of Jazz Percussion in the Jazz Studies department at the Peabody Institute of the Johns Hopkins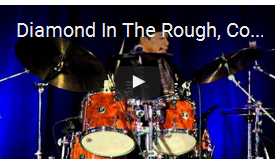 University. Joe Ford (saxophones) composer and arranger, is a passionate musician who began playing in 1958 while in elementary school in Buffalo, New York. His melodious, humorous, insightful style reflects the broad spectrum of the American experience, and ranges from spirituals and rural blues to contemporary music and avant-garde jazz. James King (bass) and composer, was born in Houston, Texas. James studied at Texas Southern University, Hampton University, and the University of the District of Colombia. He is a well-known bassist in the mid-Atlantic region, and performs in concerts and festival throughout the world. Allyn Johnson (piano) composer, and arranger, born in Washington, and is currently the Director of Jazz Studies and the UDC Jazz Band, for his alma mater, the University of the District of Columbia. He has worked with Andrew White, Frank Morgan, Sonny Fortune, David "Fat Head" Newman, Bennie Golson, and Stanley Turrentine among others. Links: Website, Reverbnation, Facebook, and YouTube BANDS EAST -
---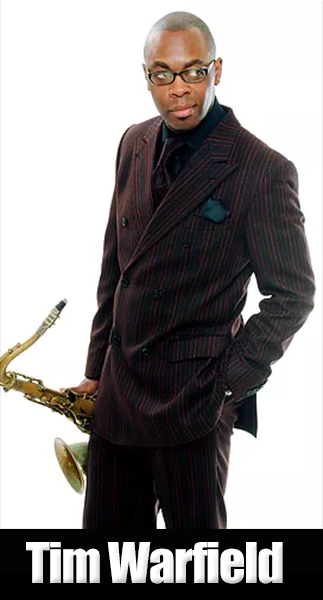 Tim Warfield - Saxophonist, band leader & educator. Tim is originally from York, PA. He has played the alto saxophone since the age of nine. He began playing the tenor saxophone in High School, where he played in a number of musical ensembles, from which he received a number of awards for his solo performances. After high school, he attended Howard University in Washington, D.C. for a period of time before becoming a band leader. He has performed with CBS/Sony recording artist Marlon Jordan's Quintet, Jazz Futures (a world touring group), on the Today Show, Bill Cosby's You Bet Your Life (as a member of the house band), and at Ted Turner's 1998 Trumpet Awards. He has shared the stage with "such names as Donald Byrd, Michelle Rosewoman, Marcus Miller, Marlon Jordan, James Williams, Christian McBride, The Harper Brothers, Dizzy Gillespie, Isaac Hayes, Shirley Scott, Jimmy Smith, Nicholas Payton, Charles Fambrough, Eric Reed, Carl Allen, Terell Stafford, Stefon Harris, Orrin Evans, The Newport Millennium All Stars, "Papa" John Defrancesco, Joey Defrancesco, Claudio Raggazzi, Danilo Perez, and others." Tim has released several albums since his debut CD, "Cool Blue," in 1995. His last three releases are "Tim Warfield's Jazzy Christmas," (2012), "Eye of the Beholder," (2013) and "Inspire Me" (2013). He has served "as a board member for the Central Pennsylvania Friends of Jazz as well as an artist-in-residence at Messiah College in Grantham, Pa." In 2012, Tim released " Tim Warfield's Jazzy Christmas." Edward Blanco, at All About Jazz says, "Performing a selection of familiar songs with a heavy contemporary flavor, the music is so straight-ahead in nature that such seasonal tunes like "Let It Snow," "Joy To The World," and "Silent Night," are almost unrecognizable as Christmas music and could easily be part of any playlist throughout the year." " Eye of the Beholder," (2013), " Inspire Me" (2013), " Spherical - Dedicated To Thelonious Sphere Monk" (2015) and "Jazzland" (2018) Tim's latest album. Links: Messiah College, Facebook, YouTube, Discography and DC Bebop page.
---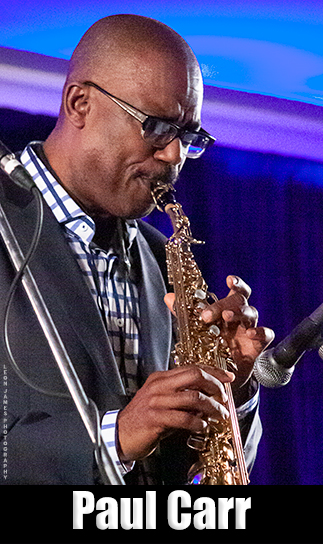 Paul Carr - Saxophonist, Educator, Bandleader, Composer, Producer Paul, a Houston native and 1985 Howard University graduate, has dedicated his professional career to mastering the saxophone and the art of Jazz. He carries on the Texas tenor tradition espoused by great heroes such as the late Houstonians Arnett Cobb and Don Wilkerson who served as his early idols and mentors. He grew up in inner-city Houston, Texas and was a member of the Kashmere High School Stage Band, whose director, the late Conrad Johnson, is the subject of a documentary, Thunder Soul, produced by actor, Jamie Foxx. Though never having had private music lessons, Paul has received several outstanding musician awards at high school and college jazz festivals. Paul is passionately committed to the education of children and particularly as it relates to the preservation of jazz. In 2002, he founded The Jazz Academy of Music Inc, which hosts summer camps and jazz ensembles for kids throughout the year. Several of his students have been admitted and even received full scholarships to some of the top music schools and conservatories in the country. Paul has recorded 8 CD's, which have been well received by critics and jazz fans alike. His new CD "The Real Jazz Whisperer" features Allyn Johnson, Michael Bowie, Lewis Nash and will be released September, 2020. His CD "DC-NYC Organ Sessions" reached #9 on the Jazz Week radio play charts. His CD released in 2013, "Standard Domain," reached #3 on the Jazz Week radio play chart and stayed on the chart for 16 weeks. Paul has toured Russia, Europe, the Middle East, the Caribbean and Central and South America and has shared the stage with many of the greatest names in jazz. Paul was a favorite of President Clinton during his term in office and Paul performed at many of the Clinton's private events. He also did a special performance for the late King Hussein and Queen Noir of Jordan at their residence in Aqaba, Jordan. In 2010, Paul re-established the East Coast Jazz Festival as the Mid-Atlantic Jazz Festival, and serves as its Executive and Artistic Director. The festival enjoys over 2,000 attendees that travel from states across the U.S. and beyond. Held every Presidents Day weekend in Rockville, MD, the festival incorporates a strong educational component, with a high school band competition and free master classes for students as well as an entertainment component with performances by NEA Jazz Masters, such as Benny Golson, Jimmy Heath, and Roy Haynes, just to name of few. Links: Website, Reverbnation, DC Bebop - MAJF and Paul's DC Bebop page
---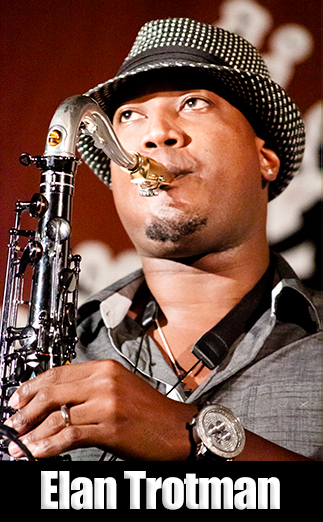 Elan Trotman - Saxophonist, composer and educator. Elan grew up in Barbados listening to calypso, reggae, local and other music. His first instrument was the piano, which he began playing when he was 7, his musical curiosity led him to the Sax at age 12. While in high school, he had the good luck to be mentored by Berklee schooled saxophonist Arturo Tappin. Also while in high school, Elan "led his own band, worked with a couple of gospel groups and eventually organized a combo, 'Inspiration'," which successfully found "work at local shows and festivals." He discovered the music of "Grover Washington Jr. and other contemporary jazz musicians who performed at the prestigious Barbados Jazz Festival," and his interest in jazz became a focal point for evolving his own style. His musical virtuosity contributed to him receiving a full scholarship to the Berklee School of Music in Boston from the Barbados government. Elan is committed to educating the young, and has served as a teacher in the Boston public school system for a number of years. Elan has released five CD's. "Memories: The Debut" (2001), "Let's Have a Good Time" (2005), "A Reggae Christmas" (2007) and his latest, "Love and Sax" (2010) and the single "As" with trumpeter Lin Roundtree (2011). He has "recorded and performed with Roberta Flack, Kirk Whalum, Brian McKnight, Johnny Gill, Tony Terry, Nathan East, Najee, Walter Beasley, Don Grusin" As a recording artist Elan has topped the Billboard Radio Charts over 10 times. As a solo artist charting songs include "Heaven In Your Eyes" feat. Brian Simpson, "Tradewinds" feat Peter White, "Master Blaster", "As" feat. Lin Rountree, "Thoughts of Sumer" feat. Will Downing, and "Smooth N Saxy". Collaborations that have topped the charts include "Magic Men" Marion Meadows), "Groove Me" (Greg Manning), "Just What You Need" (Brian Simpson), "Smooth (Cal Harris) and "Ride Along" (Julian Vaughn)." Elan's collaborations are exponential, and there are many other well known musicians. Elan can be seen and heard performing at venues national and international. Links: website, Facebook, Reverbnation, Discography and DC Bebop page.
---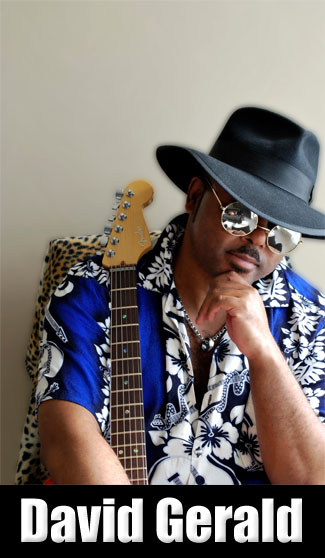 David Gerald - Guitar, Vocals, Bandleader, Songwriter and Producer - David is a blues guitarist. He is originally from Detroit, Michigan. Growing up in the "Motor City" and the home of Motown, meant that he was surrounded by the soulful sounds of R&B and the Blues. After many years of listening, at age 16, he began to learn to play the guitar. He attributed his interest to the musical influence of Prince and other 80's rock guitarists. In Motown, the sound is soul and R&B, but somewhere along his path, David says "He rediscovered the blues" and began listened more seriously to the music of Albert King, ZZ Hill, B.B. King, and Stevie Ray Vaughan. In the 80's David composed rock and pop tunes. At age 24, he began writing and composing tunes with the help of a computer program, and has continued to write and compose to this day. In 2009, David released his first album "Hell and Back" (Amazon) containing 5 of his original tunes and a selection of cover tunes previously recorded by Blues greats. The "Thrill is Gone", "Red House", "Cold Shot", and the other cover tunes were recorded live at J. Dubs bar in Riverview, Michigan. David can be seen and heard playing at growing number of clubs and festivals across the U.S Links: Website, Facebook, YouTube, SonicBids, Reverbnation and DC Bebop page.
---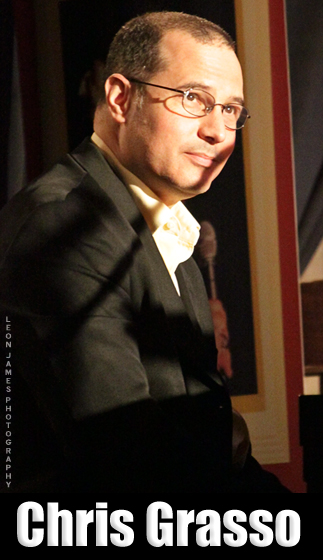 Chris Grasso, Jazz Pianist. Chris is a Washington, D.C.-based jazz pianist who specializes in working with vocalists. He is the Music Director for Sharon Clark, one of DC's most in-demand jazz vocalists. They can be seen and heard performing in numerous venues, and have appeared together on many stages, from the National Mall, as part of the Duke Ellington Jazz Festival, to the Cape May Jazz Festival. Chris has performed with Denise Thimes, Matt Wilson, Avery Sharpe and Albert Rivera, closing the show after Dave Brubeck's performance at the 2010 Litchfield Jazz Festival. He has performed live on WPFW, Washington, D.C.'s jazz station, with jazz greats Keter Betts and Buck Hill. He has appeared with the Ken Peplowski/Chuck Redd Quartet, and with New Orleans' historic jazz family, the Jordans. Chris has made multiple appearances at what was formerly the the East Coast Jazz Festival, and continues the tradition through what is now the Mid-Atlantic Jazz Festival. He has performed at a number of closed historical venues like the One Step Down and the Smithsonian Jazz Cafe in DC. He continues to perform at major venues in the Washington, D.C. area, including Blues Alley, Twins Jazz, Bohemian Caverns, the Kennedy Center, and the Music Center at Strathmore. Chris serves as Music Director at several local venues in the Washington D.C. area, and performs regularly with a number of local vocalists such as Sharon Clark, Lena Seikaly, Kristine Key, Sara Jones and others. Links: Website, Facebook, Sam Hill Bands, YouTube and DCBebop page.
---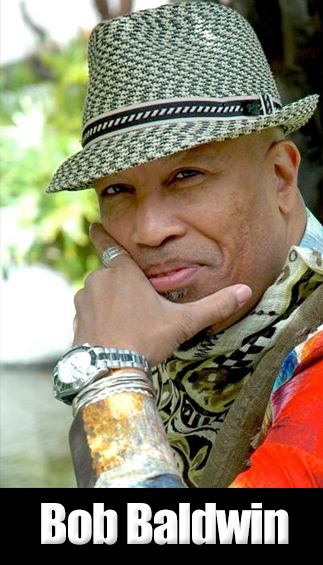 Bob Baldwin - contemporary jazz pianist, music composer, author, and producer. Bob is a multi-facetted person. He is a Jazz Artist, Radio Host, Music Presenter, Arts Advocate, Educator, and Author. He has "a vision to take his gift of music to bless those less fortunate, and raise funds for organizations in need of help." Bob is originally from Mount Vernon, N.Y. He began playing piano when he was four years old, and was taught by his father, Robert Baldwin, Sr., who was an accomplished jazz pianist and upright bassist. In his youth, Bob would accompany his father to jam sessions near home, and had the opportunity to listen to and study the music of "the masters of the Westchester region." Later, Bob was influenced musically by a number of artists, "strongly by Herbie Hancock, Stevie Wonder, Patrice Rushen, Chick Corea, EWF, Joe Sample, Ramsey Lewis, Miles Davis, and George Duke." His style is "a by-product of these artists." During the 80's, Bob performed with a who's who of talent, including Roy Ayers, Gerald Albright Dean James, Chieli Minucci, Jocelyn Brown, Kim Waters, Will Downing, Marion Meadows, Najee, the late Grover Washington, Jr., and Noel Pointer and many others. (2010), Bob released "Never Can Say Goodbye: A Tribute to Michael Jackson," "Betcha By Golly Wow: The Songs Of Thom Bell" (2012). "The Brazilian-American Soundtrack" (2016), "Never Out of Season " (2017), and "Abbey Road and the Beatles," in 2018. Bob can be seen and heard in venues nationally and internationally. Links: Website, Facebook, Discography, Reverbnationand DC Bebop page.
---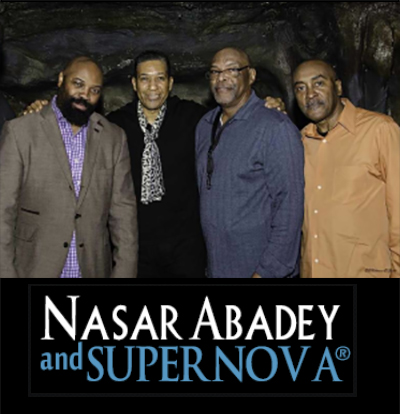 Nasar Abadey and Supernova

"Drummer and Composer Nasar Abadey is the founder, leader and driving force of SUPERNOVA®. They perform music from the threshold of Jazz to beyond space and time, while having an artistic license to express their compositions through traditional African rhythms, bebop, fusion, Afro-Cuban, Afro Brazilian, and free form. The quartet's musical inspirations include John Coltrane, Miles Davis, Wayne Shorter, and Duke Ellington among others." - Smalls Live - Greenwich Village. Nasar Abadey (drums) has been a bandleader for many years and has also built a solid reputation as a sideman with several groups from his home base in Washington, DC; and he has performed and/or recorded with many artists throughout his career. He is Professor of Jazz Percussion in the Jazz Studies department at the Peabody Institute of the Johns Hopkins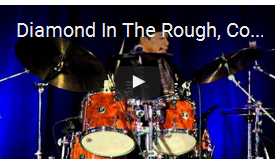 University. Joe Ford (saxophones) composer and arranger, is a passionate musician who began playing in 1958 while in elementary school in Buffalo, New York. His melodious, humorous, insightful style reflects the broad spectrum of the American experience, and ranges from spirituals and rural blues to contemporary music and avant-garde jazz. James King (bass) and composer, was born in Houston, Texas. James studied at Texas Southern University, Hampton University, and the University of the District of Colombia. He is a well-known bassist in the mid-Atlantic region, and performs in concerts and festival throughout the world. Allyn Johnson (piano) composer, and arranger, born in Washington, and is currently the Director of Jazz Studies and the UDC Jazz Band, for his alma mater, the University of the District of Columbia. He has worked with Andrew White, Frank Morgan, Sonny Fortune, David "Fat Head" Newman, Bennie Golson, and Stanley Turrentine among others. Links: Website, Reverbnation, Facebook, and YouTube
---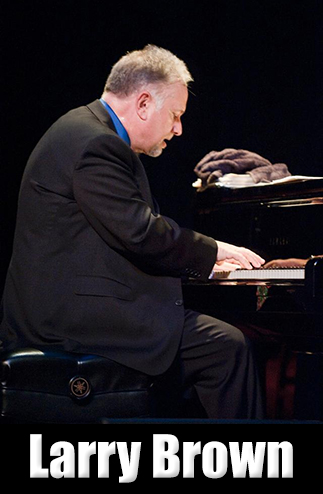 Larry Brown is a straight-ahead jazz pianist, performing in the Mid-Atlantic region. He received his Bachelors Degree in Music Theory from Towson University, where he studied with arranger/composer Hank Levy. He earned his Masters of Music degree from Catholic University in Washington, DC, where he studied Composition and Electronic Music with Professor Emeritus H. Emerson Meyers, who died in 1990. Larry released, "Hard Bop Cafe" which "reprises the hard-bop style of the legendary Blue Note era" in 2006, and later that year the group received the WAMA (Washington Area Music Association) award for "Best Jazz Recording for 2006" and a Wammie award for "Best Jazz Group". He launched his next album, "Peace" (Lush Life Records in 2008), with a CD release party at Blues Alley in Georgetown. Larry is noted for his "rendering of ballads", and his unique style again brought him to the attention of the Washington Area Music Association (WAMA), which awarded his band "the Best Jazz Group for 2008". Larry and his group can be heard performing at many venues in the Mid-Atlantic region. Links: DVD, "Live At The Mid-Atlantic Jazz Festival" (2011), CD, "Peace" (2008), CD Review, Discography, Website and his DC Bebop page.
---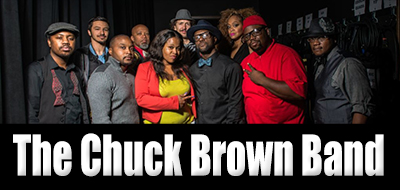 The Chuck Brown Band - Performing Go-go, Funk, R&B, jazz, blues and soul - Chuck Brown recorded with artists as diverse as Thievery Corporation, Brian Culbertson , Jeff Majors and Kindred the Family Soul. A street in Washington DC was renamed "Chuck Brown Way." In September 2010 Brown released an ambitious three disc set "We Got This" which includes the Grammy nominated song LOVE featuring Jill Scott with Marcus Miller.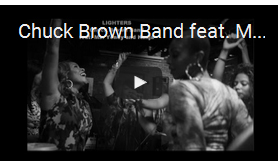 As part of the support for the new album some recent appearances include the Jimmy Fallon Show with The Roots, the Mo'Nique show, NPR's Tiny Desk Unit, and NPR's World Café. The National Symphony Orchestra paid tribute to Chuck Brown in September 2011 with 2 commissioned works of orchestral arrangements and a performance on the West Lawn of the US Capitol. Attended by an estimated 50,000 people the NSO and Chuck performed together, followed by his band in concert with guests Doug E Fresh and Sugar Bear. Chuck Brown passed away on May 16, 2012. Chuck Brown Memorial Park opened on August 22, 2014. The Chuck Brown Band, who toured the world with the Godfather carries the torch and keeps the beat and legacy alive. " Links: Website, Facebook and Wikipedia.
---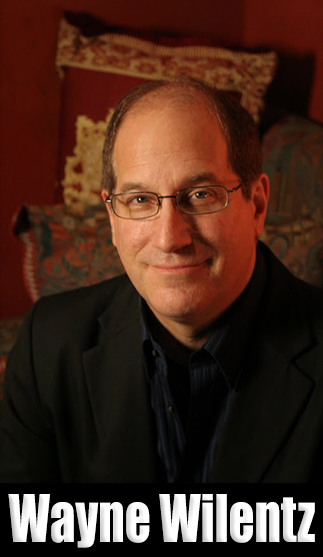 Wayne Wilentz - Pianist and bandleader, originally from New York, moved to the DC area in 1989 and has played Brazilian Jazz in the nation's capitol since then. Before coming to DC Wayne was a keyboardist and composer for the '80's funk band "SKYY", and received a gold record commemorating their #1 Album "Skyy Line" on Salsoul Records. During his career he has performed with such famous R&B acts as Carl Gardner's Coasters, The Shirelles, The Marvellettes, and Jimmy Norman. Since moving to the DC area, Wayne has recorded on a number of CD's, many of which he co-produced. In 2004, Wayne released his first compilation of original material entitled "Break of Dawn". It featured vocals by four of DC's finest jazz singers, Pam Bricker, Patrick Desantos, Nicki Gonzalez and Steve Washington. Over the years Wayne has done many sessions for ESL Music and Thievery Corporation, and can be heard on remixes by them. The Wayne Wilentz Quartet released Recordar E Viver (2008). Wayne performs regularly in the DC area. Check his calendar for coming performances. Links: Website, Reverbnation, SoundCloud, Facebook, YouTube, and DC Bebop page.
---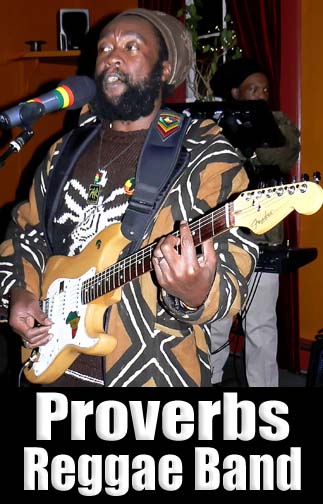 Proverbs Reggae Band A rootz reggae band known for performing music with "strong lyrical content and musical expressions to uplift Rasta livity." The band specializes in performing socially conscious roots music and the band "endeavors to promote Ancient Wisdom through the art of music, thereby spreading the spiritual message of JAH RASTAFARI through word power and sound." When the band performs, their "MUSICAL POETRY, ROOTZ RASTA STYLE", it compels the audience to get up and dance. The band is diverse musically.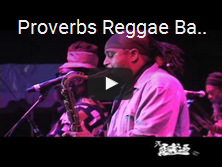 Collectively, the band's members bring their own unique musical gifts to transform Proverbs into an "eclectic, spiritually, and socially conscious reggae band with a profound cultural base and deep rooted sound." Proverbs performs an extensive range of genres, which include "SKA, ROOTZ REGGAE, GOSPEL, JAZZ, R&B, COMPAZ, ZOOK, SOUL, and a splash of CALYPSO." Proverbs has shared stages with a host of international artists over the years. They include Half Pint, Freddie McGregor, Chuck Brown, Collie Bud, Wyclef and Luciano, to name a few. Proverbs has performed in the D.C. area since 2000 and have won several Reggae awards. Links: Facebook, Reverbnation, YouTube, and DC Bebop page.
---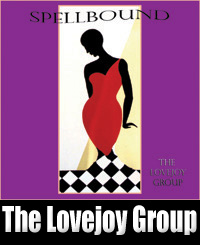 The Lovejoy Group is a versatile ensemble serving up energetic jazz, funky blues and smooth Latin rhythms. Karen Lovejoy, vocalist and bandleader, fronts the group. She migrated from the Midwest where she began singing contemporary ballads, rhythm and blues, and top 40 songs, but when she discovered jazz, "she found a home". The Lovejoygroup has won a number of awards including, the 2006 Jazz Jammie Award. Each member of the group brings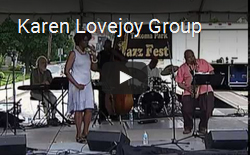 a wealth of experience to the ensemble. Jazz Historian Herb Smith with saxophone and woodwinds. Drummer, Lawrence "Bubbles" Dean, brings fire to the group's musical body and texture with his multi-genre style of play. "The Maestro", Jerry Allen, is pianist and musical director for The LovejoyGroup. Guitarist, Tony Harrod moves seamlessly from genre to genre, mastering nuances of sound without missing a beat. Bassist Bill Branch contributes his solid bass lines with a hard-hitting, foot stomping groove and traditional down home blues. Collectively, they are the Lovejoygroup. Link to Lovejoy Group Website, Reverbnation, Facebook and Bandcamp.
---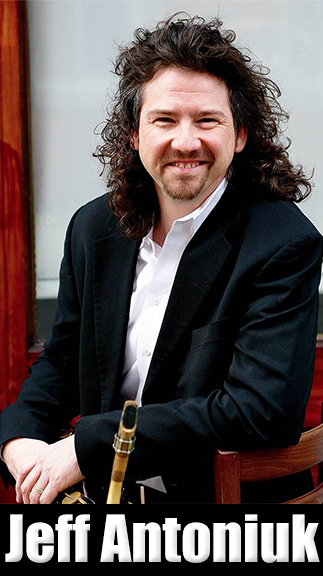 JEFF ANTONIUK,
THE JAZZ UPDATE &
JAZZ BAND MASTERCLASS
Jeff was "Born in Edmonton, Canada, Antoniuk studied at the prestigious University of North Texas, where he earned both a BM and a Masters Degree in Jazz Performance and Ethnomusicology. Living in Nigeria, Africa as a child, and traveling the world as a musician. Jeff has developed and served as Artistic Director on over 50 different workshops on specific jazz topics, and conducted over 2500 jazz masterclasses in the last 15 years. As a performer and composer, heralded for his "considerable chops" (Jazz Times Magazine) and "a creative spark that never lets up," (Rochester City Paper). His recordings with Jeff Antoniuk & The Jazz Update and The MARS 4-tet have all received critical praise, with appearances on the Jazz Top 40 charts. Jeff Antoniuk has played with or led bands with such luminaries as fellow saxophonists Ralph Bowen and Walt Weiskopf, guitarists Tim Miller and Steve Rochiniski, drummers Sherrie Maricle and Warren Wolf, bassists Jimmy Haslip and Marcus Miller, and trumpet players Tim Hagans and Ingrid Jensen. Links - Website, Wikipedia, All About Jazz and YouTube

Led by saxophonist Jeff Antoniuk, THE JAZZ UPDATE, with pianist Wade Beach, drummer Tony Martucci and bassist Tom Baldwin, is one of the top professional jazz groups in the DC/MD/VA area. The Jazz Update's combined bio reads like a who's-who of jazz and modern music, with performances and recordings with the likes of Sonny Stitt, John Aebercrombie, Marcus Miller, Mose Allison, Eric Alexander and many more. This is a seasoned band that knows how to get an audience engaged, enthralled, and on it's feet.

Formed in 2004, this heavy hitting quartet is comprised of some of the top-call players in the mid-Atlantic. These seasoned pros have played festivals and clubs across the US, with numerous shows at the top local venues - Blues Alley, the Kennedy Center, Strathmore Hall, the Smithsonian, many local universities, and The White House. Jazz Update Band

JAZZ BAND MASTERCLASS, Saxophonist Jeff Antoniuk, Bassist Leonardo Lucini and guitarist Steve Herberman. The jazz Band Masterclass groups are for musicians who have studied privately or have some improvising experience. Each group is assembled with the aptitude and experience of its members in mind, from beginner/intermediate up to semi-pro. A Core Value: "Communication and Interaction is at the heart and soul of jazz and improvisation. The classes bring together like minds, those who have something to give and share. We create a forum for adult musicians, and give them the tools to achieve real musical communication. The instructors love facilitating interaction, in music and in life." The Jazz Band Masterclass is regularly featured in local jazz venues in the DC area. Links - Jazz Band Masterclass, All About Jazz, Jazz Teacher Training and Jeff Antoniuk's DC Bebop page
---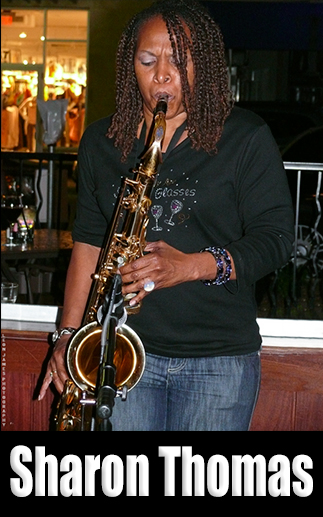 Sharon Thomas tenor and soprano saxophonist, bandleader. From Washington DC, Sharon is also a flautist and keyboardist. The piano was her first instrument. From this start, she began playing drums, the flute, and ended with the sax. She began playing sax in high school and said "believe it or not I wanted to hang out with the sax players after hearing Grover Washington and several funk songs that had horn sections". She started a career in computers as a programmer and a web designer, but after being laid off several times due to riffs, realized that she had the sax to fall back on. She says "its a struggle, but I love performing and touching others through my music and I have been doing it full time as a career for 4 years. Since starting her musical career, Sharon has jammed with a number of well-known bands. More recently she has been performing locally with the band "Uncharted Waters", which features flautist Arch Thompson. Her band, The Sharon Thomas Experience, has performed with Ginuwine, Ralph Tresvant, Dawn Robinson of EnVogue, Mr. Cheeks, Tony Terry, and Teena Marie just to name a few. Sharon is committed to her musical journey and to sharing her musical talents with the world. Sharon can be seen and heard performing at numerous venues in the DC area. Links: Reverbnation, Facebook, YouTube and DCBebop page.
---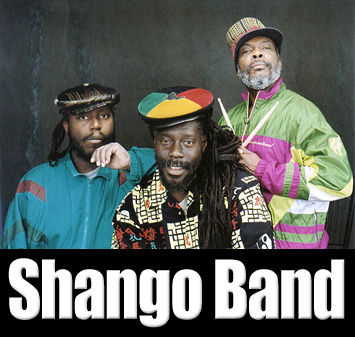 The Shango Band is a D.C. area reggae group that sings about real life and current world issues. The Band has been performing since the late 1980's. In 2001 they won the award for "Best Reggae Band" in the D.C. Annual Reggae Music Awards. Englishman, the band's bass-player, lead singer, songwriter and producer, has performed with reggae bands for more than 30 years. He has received many awards for his music over the years, and he has been a Master Artist in the D.C. Folks Arts Program for the Commission on the Arts and Humanities. Other award winning artist in the band are Eric (Spiduki) McDermott (drummer/singer) and Jackson (Professor) Briscoe, a graduate of Howard University and MIT. The Shango Band performs in venues all over the world. Links - Reverbnation, Facebook, Englishman Reggae and BandMix
---
BANDS WEST - Back to top
---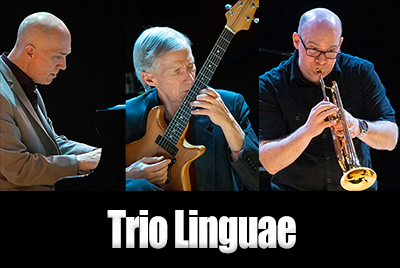 Trio Linguae is a "Freewheeling, playful and engaging, trumpeter Kevin Woods, guitarist John Stowell and pianist Miles Black weave their way through a collection of originals by Woods & Black, and others from Jobim, Wayne Shorter, Bill Evans and Harold Arlen on their debut recording. Though colleagues for many years in different configurations, the three found inspiration in collaborating as Trio Linguae (Lin-gwee) through their collective sense of conversational, contrapuntal improvising and reflexive listening - harkening the spirit of duo and trio albums by Bill Evans, Jim Hall or Kenny Wheeler. Integral to Vancouver's creative music scene, Miles Black has been a collaborator of the highest order since the '80s. John Stowell's unique musical voice and relationship to the guitar has gained him untold followers throughout the world since he began touring in the '70s, and Kevin Woods has found his place in Northwest jazz circles as an articulate improvisor and catalyst for artistic endeavors." ~
Trio Linguae Info, Facebook - Kevin Woods, Website - Kevin Woods, Facebook John Stowell, Website - John Stowell, Facebook Miles Black, Website - Miles Black, YouTube Channel and Trio Linguae - DC Bebop page.
---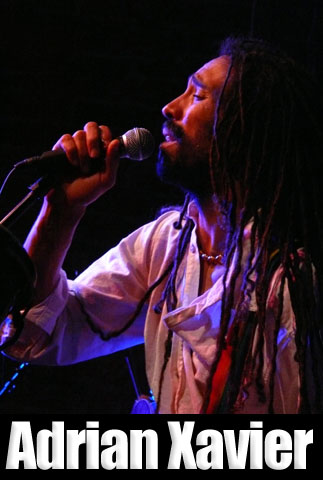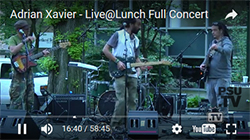 Adrian Xavier Band, with Adrian Xavier on Lead Vocals, Guitar & Percussion. Born in Seattle, he grew up surrounded by the music played by his father, a radio DJ, in the 80's. Adrian's musical background gave rise to an environment which allowed him to create songs that appeal to a broad cultural range of people. Adrian has been a performing artist for more than 20 years and has shared the stage with many well known musicians. While a member of the "Pure Water Band", they opened for "The Wailers (of Bob Marley fame) and also for the famous Jamaican ska and reggae musician Jimmy Cliff. Adrian formed the "Adrian Xavier Band" in 2000, and has been performing in and around Seattle, various cities in the state of Washington and touring the world. He has three CD's: "R-Nature" (2004), "Adrian Xavier Band Live" (2006) and "Miracle" (2008). Links: Reverbnation, Facebook, Website, and DC Bebop Page.
---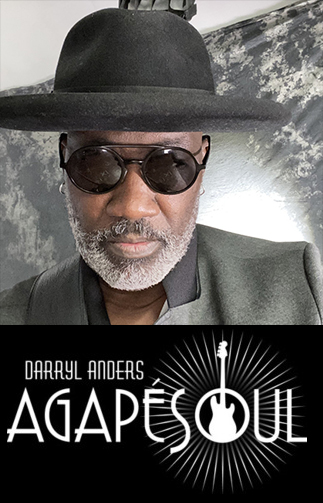 Darryl Anders ~ AgapeSoul is a "Modern Soul band" based in the San Francisco Bay Area." Led by bassist/producer Darryl Anders, the band delivers a musical experience that is all about Love, Soul …and undeniably funky grooves, destined to stand the test of time." Before becoming a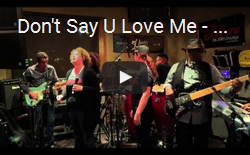 bandleader, Darryl earned his reputation by performing as a bass "sideman," and over the years, has performed with Tower of Power, Narada Michael Walden, Zigaboo Modeliste, Booker T. Jones, Joyce Cooling, Bonnie Hayes, Ledisi and many others. AgapeSoul is Darryl Anders (bass/vocals), Indra Jones (vocals), Zoe Ellis (vocals), Aaron Green (drums), Lynette Williams (keys), Cam Perridge (guitar), Vince Lars (sax), and special guest Martin Luther (vocals). 2012, "Believe in Love," is AgapeSoul's debut album, with seven original songs and two covers. 2012, released album "Conversations". 2018, single "Kite. 2019, single "The Way That We Love." In 2020, released single "Bulletproof," featuring Tommy Sims. In 2021, released single "Nobody But You," featuring Maysa Leak. Darryl Anders ~ AgapeSoul, can be seen and heard performing in venues in and around the San Francisco Bay area. Links: Website, Facebook, Facebook Bandpage, ReverbNation, Jazz Network, YouTube Channel and DC Bebop
---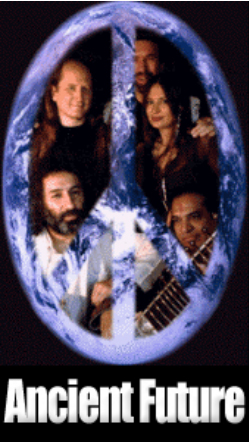 Ancient Future is a large musical family of world fusion music ensembles led by scalloped fretboard guitarist Matthew Montfort. The group is dedicated to music termed by Matthew Montfort as "world fusion music". To date, Ancient Future is the world's first and longest running band dedicated to the creation of world fusion music, which blends musical ideas from many different cultures. The music is described as being "contemporary sounds of jazz and rock with the irresistible rhythms of African, Balinese, Indian, Middle Eastern and South American percussion, the rich harmonies of Europe, and the beautiful melodies of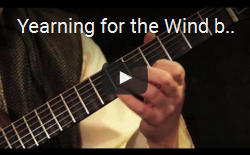 Asia". Their music is "an exhilarating fusion of exciting rhythms and exotic soundsfrom around the globe". It is worth noting that all of the members of Ancient Future have studied with or performed professionally with "master musicians of many world music traditions, from Balinese gamelan director Made Gerindem to North Indian sarod master Ali Akbar Khan". Ancient Future is credited with having created "a musical world without borders". Link: Website, Facebook, Reverbnation and DC Bebop page.
---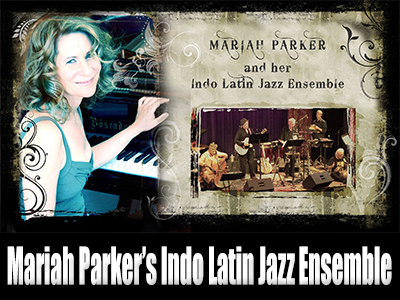 Mariah Parker's Indo Latin Jazz Ensemble

"Parker and friends blend the rhythmic syncopations of Latin jazz music with the entrancing, asymmetrical meters of East Indian rhythms resulting in first-class world music. Intriguing melodies that draw musical inspiration from the tempos of Brazil, Cuba, India and Spain make for an uplifting serene yet passionate musical journey into an ideal world." - LATIN BEAT MAGAZINE"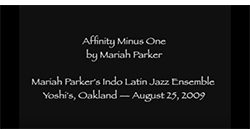 A gifted composer and a visionary band leader, Mariah has gathered together a remarkable ensemble including Paul McCandless (Grammy award-winning woodwind virtuoso with the group Oregon), Matthew Montfort (pioneering guitarist with Ancient Future), Ian Dogole (global percussion), Brian Rice (Latin percussion), and Kash Killion (bass, cello). Mariah will be releasing a new recording January, 2017, "Indo Latin Jazz: Live in Concert," a recording project taken from concerts at Yoshi's, Freight & Salvage, the Throckmorton Theatre, and TRI Studios over a seven year period. Of this upcoming release, Paul Liberatore of the Marin Independent Journal says "Like all the best jazz bands, this group is as disciplined as it is innovative, stopping on a dime when the composition calls for it and soaring into gorgeous landscapes of free association the next moment that are as pleasing as they are adventurous. This is sophisticated stuff, an album of global fusion performed by a group with character, charisma and the confidence that comes across when world-class musicians at the top of their games come together and create magic in the here and now of a live performance." - Links: Website, Reverbnation Facebook and Mariah Parker - DC Bebop page.
---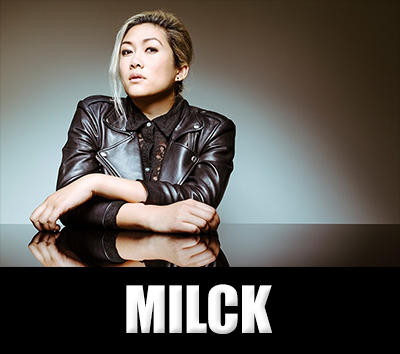 MILCK

"MILCK is a singer, songwriter, producer, and advocate who is known for cowriting and performing "Quiet," the viral sensation that became known as the unofficial anthem of the Women's March, Billboard's No.1 Protest Song, and a featured selection on NPR's American Anthem Series. In 2020, her single with Atlantic Records, "If I Ruled the World," was named song of the week by Time Magazine. Her 2021 song "I Belong" was featured in the CBS special "See Us", a nationwide special to bring more tolerance and safety for the AAPI community. As MILCK plans for her album release, she is also finding tremendous joy in writing and producing songs for other artists, like John Legend and Phillipa Soo (Hamilton). The Planned Parenthood Champion of Choice Award Recipient has funneled her advocacy work into the Somebody's Beloved Fund, which she established with her team in 2020 to use her songs to generate resources for ten grassroots beneficiaries that build power around racial justice and healing. MILCK has pledged for every song on her upcoming 2022 album to benefit The Somebody's Beloved Fund." Website About. Links: Website, Facebook, MILCK (DC bebop) page.
---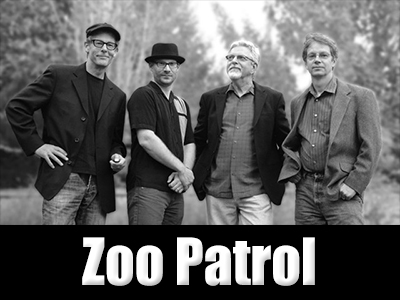 Zoo Patrol

Drummer Joel Litwin, bassist Steve Jones, guitarist Brian Cunningham and trumpeter Kevin Woods are Zoo Patrol, "a 'chamber groove quartet,' plays an infectious amalgam of instrumental blues, jazz, funk, soul,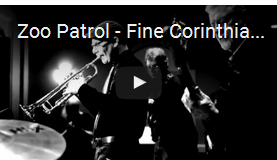 New Orleans and other styles, incorporating a menagerie of space, interplay and improvisation. Zoo Patrol deconstructs and reconstructs, interacts and reacts, whispers and flourishes, with the beat as its guiding principle." Kevin Woods - Trumpet, "emerging as one of the most melodic and emotive voices in improvised music in the Northwest. His passion for both performance and education have made him in demand as a leader and a sideman as well as a composer, arranger and clinician." Brian Cunningham - Guitar, "draws on a variety of influences ranging from jazz and folk to latin performed solo, and/or in a duo or group setting. His original compositions prominently feature the acoustic steel string guitar throughout,as well as various electric guitars. " Steve Jones - Bass, performs with Zoo Patrol, Bilongo Quintet, Arete Quartet and Sabrina y los Reyes, he is an all around musician who is comfortable as bassist or percussionist over a wide range of musical genres, covering jazz, Latin, funk and world music. Joel Litwin - Drums, Known for his creative and innovative style, Joel Litwin is a favorite drummer/percussionist among acoustic artists and regional bands in and around Seattle WA and the West Coast.. Links: Website, Reverbnation, Facebook, and YouTube
---
BANDS INTL - Back to top
---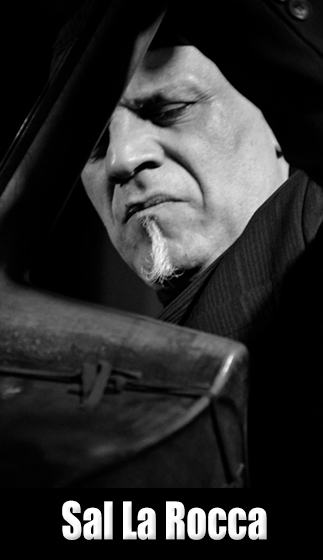 Sal La Rocca - Bassist, composer . Sal is originally from Seraing, Belgium, near Liège. He was first a Rock guitarist, but switched to the bass as his instrument of choice after hearing (for the first time) music by several jazz greats. After switching, he taught himself how to play by the age of 23. Over time, he become one of the most "in demand" double bassists in Belgium and in the European theater. Starting in the mid 80's, Sal has toured and performed with a wide array of musicians on the European continent. The 90's saw him expanding his presence with world tours. His list of celebrity musicians he performed with continued to grow, adding well known names like Lee Konitz and Toots Thieleman to his musical resume. During his career, Sal has recorded on numerous albums. In 2003, he released his first album "Latinea". Around this time, Sal became the official bassist of singer Anne Ducros, playing, recording and touring with her group for several years. In 2007, he became the bassist for pop rock group Vaya Con Dios. Sal participated in both a European and world tour with the group. In 2010, he was bassist for the Steve Grossman Quintet performing at the Dinant Jazz Night Festival. In 2011, he joined the Gregory Houben Quintet. Sal met American singer Denise King through French pianist Olivier Hutman. They formed a trio that performed in what is referred to as the Benelux States (Belgium, the Netherlands and Luxembourg) and France. In 2013, Sal released his second album "It Could Be The End" (featuring a number of original compositions) through Igloo Records. Sal can be experienced live with his, and other groups at numerous world venues. Links: Website, Facebook, Reverbnation, SoundCloud, YouTube and DC Bebop.
---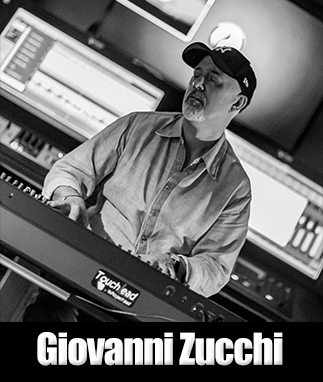 Giovanni Zucchi is a composer, producer, arranger and sound technician - Giovanni, over the years, has developped a personal research of production techniques, while working as a consultant in the production of professional studio outboards and music recording software. On this journey, he has had the pleasure of meeting and collaborating with many artists, independent and international. "Gio's Project" is the result of this research variety of musical backgrounds. His project encompasses 20 years of experience into a musical style which represent his "human and musical values, along with those of the artists who have collaborated on the project. "This 'musical laboratory', grown from the seed of this idea, has reached the international music scene" through the myriad artists who took part. Some of which are, Oskar Cartaya, Angie Brown, Marco Brioschi, Bebo Ferra, Carlo Maria Micheli, Isgrò Carmelo, Martino Malacrida, Andrea Pollione, Lucy Campeti, Yves Ntola, Luca Trolli, Ambrogio Frigerio, Antonio Galbiati, Ugo Bongianni, Isgrò Santi, Rino di Pace, Mikee Introna, Lela Cortesi and other great special guests. The " Gio's Project" CD is his musical offering to the world. Links: Website, Facebook, Gio's Project FB, Spotify, YouTube and DC Bebop page.
---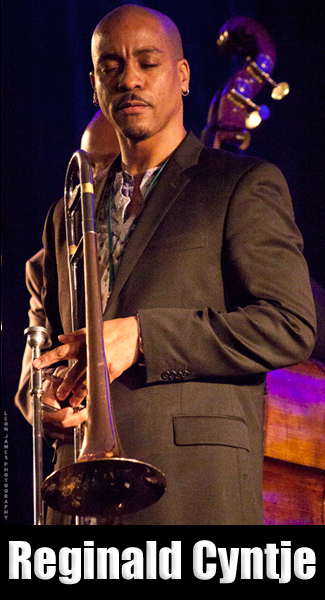 Reginald Cyntje, Trombonist - from the island of Dominica, began his musical career at age 12, at that time he chose the trombone as his tool of expression with the goal of becoming a great trombone player. To this end, he has studied at Interlochen where he was exposed to the virtuoso trombonist Christian Lindberg. In 1993 Reginald began studying jazz trombone at Berklee College of Music. During his time at Berklee Reginald performed with well-known international artists. Since that time, he has performed and/or recorded with world renowned musicians/ poets to include Nasar Abadey, Wayne Andre, Amiri Baraka, Ron Blake, Michael Bowie, Herman Burney, Marc Cary, Benito Gonzalez, Amin Gumbs, Michael Hawkins, Buck Hill, Ron Jackson and Illinois Jacquet to name just a few. Cyntje is currently leading The Reginald Cyntje Group and working as a sideman in other jazz, Latin, and Calypso groups. Link to: Website, Facebook, Reverbnation and DC Bebop page.
---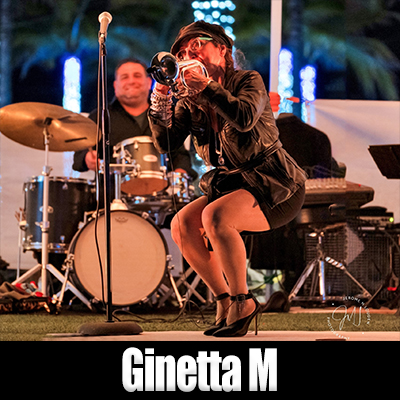 Ginetta Minichiello (Ginetta's Vendetta) - Trumpeter, vocalist, composer and bandleader. "Meet Ginetta Vendetta: this "Triple threat Female powerhouse" plays pocket trumpet, sings & composes while leading her acclaimed Jazz combo Ginetta's Vendetta (c.) around the world . From Moscow to Jakarta, Paris to Beirut, Jamaica to California, Canada to Mexico & all points in between she continues her musical ministry as a Jazz Ambassador, calling Jazz "America's Greatest Export" ! Her most recent 2022 Ambassador tour through the central Asian county of Uzbekistan was a massive success! Ginetta's Vendetta was headling the opening night of The International Jazz Day celebration at The 6th annual International Jazz Festival of Uzbekistan, touring the country, giving workshops at various conservatories, visiting disabled youth centers, doing radio & TV spots and generally enjoying her overseas "Stardom"! As she entertains & teaches audiences around the globe about Jazz, she is garnering new fans & inspiring young musicians from the far east to Miami! "Ginetta is an alumnus of North Texas State University where she studied and played most styles of music ranging from classical, jazz, blues and pop to Cumbia, Salsa, Merengue and Funk. She has studied music and been taught to play by trumpet masters Marky Markowitz, Spanky Davis, Ted Curson, Howard McGhee and Allan Colin, to name a few. "Her first Jazz CD (her 3rd as a bandleader) "Standards" was in the top 20 on the National JazzWeek charts & again on the Grammy ballot in 9 categories, including Best Instrumental Soloist & Best Arrangement with Vocals. Following up her previous success with the Jazz format, she then recorded her 4th CD: "Little Big Horn in 2015. It contained more classics including a magnificent rendition of The Beatles "Yesterday" & her much acclaimed version of the iconic Lee Morgan tune: "Sidewinder. "Little Big Horn was also on the Grammy ballot in 10 categories including Best Improvised Jazz Solo & Best Arranger. Her 2nd CD: "Land On My Feet" was also a contender on the 55th annual Grammy ballot in 5 categories including Best Pop Song for a Duo or a Group with her original tune: "Choose Love". Plus the title track was chosen for the Supercuts "Rock The Cut" campaign. Her Debut CD: "La Dolce Vita" includes the haunting ballad : "Can Our Tears Put Out the fire?", winner of an Honorable Mention in the Billboard World song contest. It was commissioned in the wake of September 11th. "La Dolce Vita" also recieved 2 more billboard awards for her original tunes: "I Believe in You" & "Behind Those Eyes". She is the recipient of four (4) AscaPlus awards for songwriting, The Music Liberty initiative of NY award, "The Best Of" award from Soul Patrol plus letters of commendations from various festivals & many more accolades too numerous to mention. Ginetta is an alumna of the famed music school North Texas State University, and has decades of experiance on the road & in the studio. Her recordings as a "sideman" exceed count & her distinctive sound can be heard covering a variety of styles from Compa, Salsa, R & B & Jazz to Pop, horn sectionals, Singer-songwriter, Indie artist & more!" Links: Website, Reverbnation, Facebook, YouTube and DC Bebop page.
---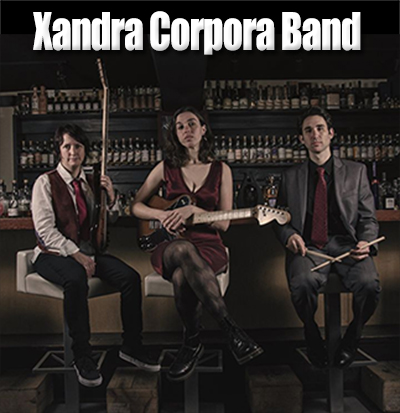 Xandra Corpora Band Xandra was born and raised in California, grewing up in the Owens Valley. Xandra's memory of music involve riding with her father "into town with "BB King's Greatest Hits" playing on the tape deck. Or Ella Fitzgerald. Or John Lee Hooker. Or Mozart." Her mother "fancied Simon & Garfunkel and Madonna." Her early music experiences influenced the development of her musical tastes, which she says are "all over the map in terms of love and influence." A late bloomer,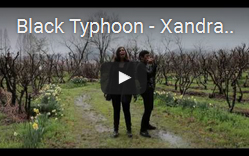 she began playing guitar around "21 or so," singing and touring with a few bands. Then she stopped and reassesed what she wanted to do and seeking change and the adventure of a different existence, Xandra moved to Japan. Based in Nagoya-shi, Aichi, Japan, the band members are Xandra Corpora - vocals & guitar, Lesley Bartlett - bass, and Adam Demby - drums. The Xandra Corpora Band "has beome one of Nagoya's most loved acts. Songwriter and guitarist Xandra corpora, having established herself firmly in the music scene of San Francisco, moved to Japan to 'experience life outide of America.' It was here that she found herself back into music..." excerpt from NAGMAG (2016). In June of 2016, XCB won the Hard Rock Cafe's "Hard Rock Rising" competition in Osaka. The bands latest CD, Soul Fires (2016) is available on iTunes. Links: Website, Reverbnation, Facebook, Calendar and DC Bebop page.
---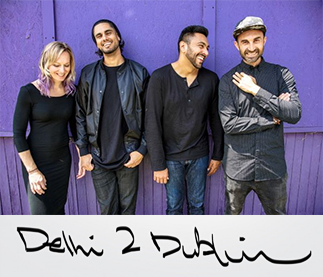 delhi2dublin Tarun Nayar: tabla, electronics, backing vox; Sara Fitzpatrick: fiddle, vox; Sanjay Seran: lead vox, dhol; Ravi Binning: dhol, tabla; Andrew Kim: sitar, guitar are delhi2dublin. They performed for the first time at a concert at the Vancouver Celtic Festival in 2006. They opened the Canada Day celebrations on Parliament Hill in Ottawa on July 1, 2007. Since 2008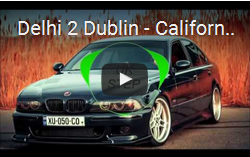 delhi 2 dublin has kept a busy schedule, touring large cities such as Vancouver, Toronto, Ottawa, Montreal, and also very-small communities that host music festivals, such as Lumby BC, Nakusp BC, Salmo BC, and Quincy CA. In August of 2009 they began touring venues around the world. The group has released eleven albums, their first, self-titled, in 2007, In 2008 they released their second album, Delhi 2 Dublin Remixed, which consisted of remixes of songs from their first delhi 2 dublin album. In 2010, they released "Planet Electric," "Planet Electrified" in 2011 and most recently, "Turn Up The Stereo" 2012. "Their music video "Apples" was also screened at Deejay Ra's music video night in Toronto at the FILMI festival, North America's longest running South Asian film festival." Look for Delhi 2 Dublin performing at a venue near you. Links: , Website, Reverbnation, YouTube Channel and DC Bebop page.
---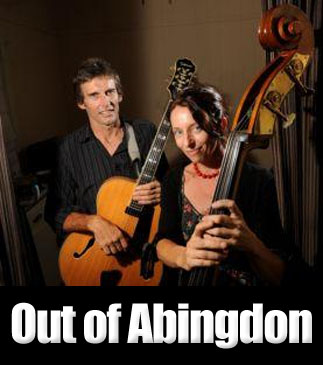 Out of Abingdon"Warwick Hargreaves - Guitar / Vocals.. &.. Tina Fullerton - Double Bass / Vocals.... are a Duo with a passion for Jazz, Blues, beautiful Ballads and all things that Groove! Their captivating style includes interpreting & blending old favourites with new & original material, the resulting sound is refreshing, their musical rapport, passion & feel is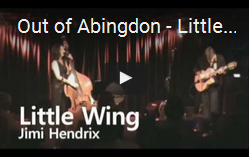 infectious. Out of Abingdon independently released their long awaited debut CD 'Journeys' in July 2011 after building a solid following playing hundreds of live shows over 3 years. A tour to the UK followed, performances in London and the Edinburgh Fringe Festival were highly acclaimed and invitations to return were extended by all venues and audiences for whom they played. 'Journeys' has been receiving great reviews and radio airplay Australia wide through community radio stations and worldwide through an increasingly international audience. Out of Abingdon's reputation continues to grow as a captivating live music experience and unique voice in Australian music." In 2014, Warwick and Tina released their latest album, "Small Steps" on iTunes. Out of Abingdon can be heard performing regularly in and around Brisbane at clubs, restaurants, cafes, public events, festivals, private and corporate functions. "Be sure to catch on to the bewitching sound, when Out of Abingdon drift your way. Links: Reverbnation, Website, YouTube, Facebook and DC Bebop page.
---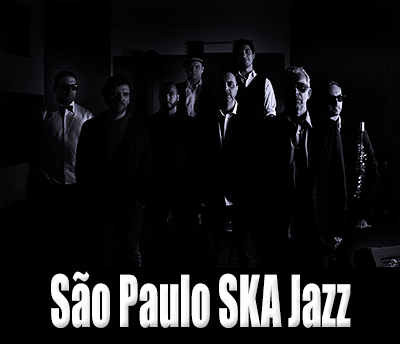 São Paulo Ska Jazz Founded by musician and composer Marcelo Calderazzo. The band is Marcelo Calderazzo (acoustic and electric bass), Renato Guizelini (guitar, mandolin and guitar), Ramon Montagner (drums), Sidney Ferraz (piano and keyboards), Manu Falleiros (baritone sax, tenor and high), Marcelo Pereira (baritone sax, tenor and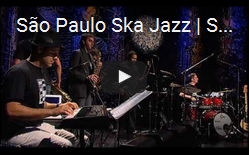 flute), Gabriel Stampfli (trumpet) and André "Porão" Gomes (trombone). "South America's ska scene started developing in the mid-1980s. South American ska bands typically play traditional ska rhythms blended with strong influences from Latin music and rock en Español. São Paulo Ska Jazz ebmraced the musical style to entertain the people and to pay respect to Jamaican rhythm. To these rhythms, the band adds the sophistication of jazz to create their own unique sound. Links: Reverbnation, Website (BR), YouTube, Facebook and DC Bebop page.