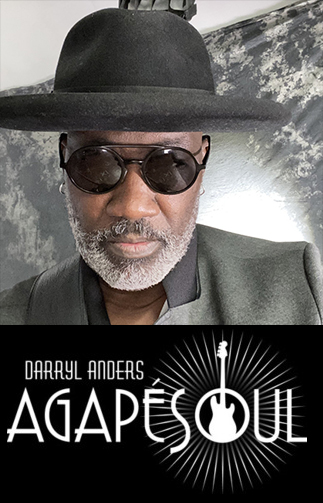 Darryl Anders~AgapeSoul is a "Modern Soul band" based in the San Francisco Bay Area. "Led by bassist/producer Darryl Anders, the band delivers a musical experience that is all about Love, Soul... and undeniably funky grooves, destined to stand the test of time." Before becoming a bandleader, Darryl earned his reputation by performing as a bass "sideman," and over the years, has performed with Tower of Power, Narada Michael Walden, Zigaboo Modeliste, Booker T. Jones, Joyce Cooling, Bonnie Hayes, Ledisi and many others. AgapeSoul is Darryl Anders (bass/vocals), Indra Jones (vocals), Zoe Ellis (vocals), Aaron Green (drums), Lynette Williams (keys), Cam Perridge (guitar), Vince Lars (sax), and special guest Martin Luther (vocals). "Believe in Love" is AgapeSoul's debut album wth seven original songs and two covers. "Agape means unconditional love, and Soul represents the style of music, as well as the place within us where music lives." Says Anders, "This album embodies the spirit of live music; the kind of music you can only get from a group of musicians working together. When you see this band live, you can feel that it's all about the music-real people playing real music and relating to listeners, both as individuals and as members of a larger audience. We want to communicate positive energy that's uplifting at the core. We want people to leave with a better attitude than they came with. We want people to believe in love." Darryl Anders ~ AgapeSoul, can be seen and heard performing in venues in and around the San Francisco Bay area. ~ ( with excerpts from web bio)
---
AgapeSoul on Reverbnation
PRESS QUOTES:
In a time of "Microwave" music, Darryl Anders~AgapeSoul delivers a hearty home cooked meal. "Believe In Love" encompasses all of what Black Music has to offer, and then some.
DJ Malachi / Luv Luv Radio
---
"Some classic music with a soulful jazz funk vibe, a must play"
James Lewis / WTCC FM "Reflections Radio"
---
"Grown up soul music for 2012. Darryl Anders AgapeSoul "Believe in Love" album comes straight from the heart to massage your mind! Love Soul? Listen to the AgapeSoul album and you will believe!!
Colin Dimond / Starpoint Radio UK
---
"Believe In Love is a masterful work of true genius. You owe it to yourself to acquire this essential example of contemporary soul music. With production, instrumentation and vocals of the highest order, this incredible album puts the SOUL firmly back in soul music! Essential and then some...yes, every home should have one! "
Paul Goldsmith / Select Soul Radio UK
---
"From the funky 'Believe In Love' to the great cover of 'If I Ever Lose This Heaven' plus my favorite 'Tell Me Where It Hurts' these songs will give great pleasure to anyone who appreciates quality musicianship alongside Soulful vocals and thought provoking lyrics.
Gary Lee / UK Soul Chart
---
What a great job on the CD and putting the band together. Everything about this unit works. The songs and grooves are very well put together and the production is excellent! You should be very proud of the project and yourself for bringing real music back to the front where it belongs. Larry Braggs / Lead singer Tower of Power
---
"AgapeSoul is the most unique blend of musical talent I have heard in a while. Their pure sound is refreshing to listen to, and I am proud to have them on my station!"
Promise Mangum / GAWG Radio
---
REVIEWS:
Darryl Anders and AgapeSoul "Believe in Love"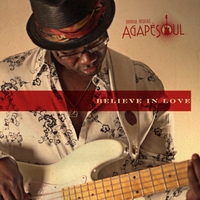 Bassist Darryl Anders has released his first full length album with his band AgapeSoul entitled Believe In Love. Glued together by Anders' rich, fat, and funky tone, the album offers seven original compositions as well as covers of Stevie Wonder's "Sir Duke" and Quincy Jones's "If I Ever Lose This Heaven," all delivered with an incredible, jazz-influenced soul vibe. Anders, who has laid down the low end for Tower of Power, Zigaboo Modeliste and Booker T. Jones, assembled the Bay Area band to lift people's spirits. - (excerpt) ~ Kevin Johnson - Notreble.com
---
Darryl Anders and AgapeSoul wants you to BELIEVE IN LOVE!!!
"This album from Darryl Anders AgapeSoul is so beautiful and amazing. It's so full of jazz, soul, and funk simultaneously. If you guys are looking for a great jazz, soul, and funk album, then you really need to check out Darryl Anders AgapeSoul's album "Believe in Love." You won't be disappointed." - (excerpt) ~ SONGS IN THE KIKI OF SOUL
---
VIDEOS:
AgapeSoul "Believe In Love"
---
AgapeSoul
---
Back to the Top - Back to the Music page