MUSIC - Saxophonist Rocco Ventrella
---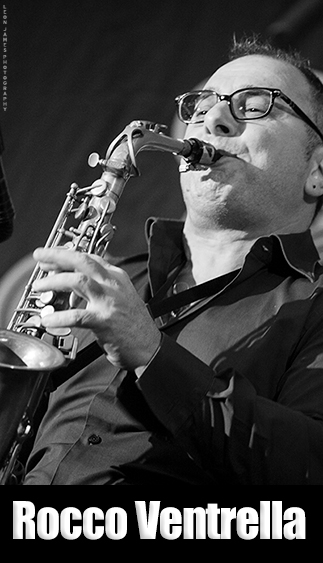 Rocco Ventrella was born in Bari, Italy and began playing saxophone at age of twelve. Rocco has performed in famous venues worldwide, performing with many well known and celebrated music artists. Over the last few years, he has maintained his musical edge while releasing numerous albums and EP's - "Reflections" 2021, "Colors" 2019, "Keep In Touch" 2018 and singles - "A New World" 2021, "Feeling The Breeze" 2021, "On The Road" 2020, "Magic In Your Eyes" 2019, "Summer Nights" 2019, "Precious of Life" 2018, and "Snap Your Fingers" 2017.

"Rocco Ventrella has been nominated on Jazztrax.com for 'Artist Of The Year 2015' and invited to perform at Catalina Jazztrax Festival. Ventrella received a Grammy Awards Pre-Nomination for Contemporary Jazz Best Album 2007 'Give Me The Groove' cd. In 2005, Ventrella recorded, arranged and produced the 'Tribute To Grover Washington, Jr.' CD in memory of the late, great saxophone player. This remarkable recording originally contained just five tracks: 'Winelight', 'Let It Flow', 'Make Me a Memory', 'Mr. Grover' (original by Ventrella) and 'Come Morning'. However, it was 'Winelight' that made Rocco a household name on Smooth Jazz stations across the Internet. 'Winelight' track was selected by Jimi King(Sky.fm) as one of 'The best of 2005,' along with the other 14 tracks.

Ventrella continued to create new recordings featuring his own compositions, including the soulful and haunting 'I Receive Your Love". The "Tribute To Grover" and 'I Receive Your Love' CDs brought Ventrella to the attention of American producer Bruce Nazarian (he played the synclavier on the 'Giving you the best that I got' Anita Baker's CD, Millie Scott, The Automatix), and an international alliance was born. Ventrella's "Give Me The Groove" CD, produced by Bruce Nazarian and recorded with the collaboration of his friend pianist Renato Falaschi scored Top 20 smooth jazz radio stations with 5 tracks of the CD: Soulful Strut, Winelight, Alleria, On The Night and Give Me The Groove. Ventrella also received positive reviews from Dave Koz, George Duke, Everette Harp, Marion Meadows, Chris Standring and more. Also 'Soulful Strut' track placed #1 in Jimi King's prestigious 2006 year-end countdown.

'Sweet Temptation' new single released in March 2012 and placed #46 on Top 100 of 2012 Groove Jazz Music.com. In January 2013 released "Sweet Temptation" whole CD featuring a nice and interesting version of 'Summertime' (G.Gershwin)featuring Everette Harp on saxophone. Also Paul Brown and Nils on guitars and Gerry Brown and Sergio Bellotti on drums are other featured artists. Rocco Ventrella was born in Bari, Italy and began playing saxophone at the age of twelve. Rocco Ventrella appeared in selected jazz festivals include the 'James Brown Festival' in Georgia, the '1° Annual Smooth Jazz Festival' in Austria, the 'The Cube Smooth Jazz Festival' plus with Brian Culbertson in Austria, the 'Augsburg Smooth Jazz Festival' plus with Gerald Albright, Paul Brown, Jessy J. in Germany, the 'Mallorca Smooth Jazz Festival 2013' plus with Rick Braun. Rocco shared stages with most respected artists such as Peter White, Marion Meadows, Candy Dulfer, Renato Falaschi, Mindi Abair, Jessy J., Brian Culbertson, Nick Colionne, Jackiem Joyner, Nils, Paul Brown, Gerald Albright, Otto Williams, Jonathan Fritzen, Eric Darius, Brian Simpson, Rick Braun, Marc Antoine, Michael Lington, Dave Koz and more."
~ Bio extract - Legere.com
---
SOUNDCLOUD:
Rocco Ventrella - Sweet Temptation (2012)
Rocco Ventrella - Another Time (2015)
---
REVIEWS:
Rocco Ventrella - Another Time (2015)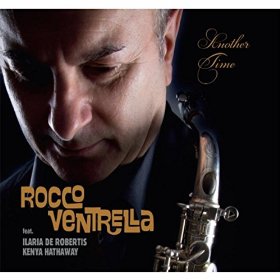 " Now well known as saxophonist by numerous appearances on hundreds of events Rocco shows with Another Time (2015) what is possible and that the hero is ready for the next achievement. With Greg Manning as producer Rocco has put his album in good hands. Among the plethora of participating musicians are good names like Andre Berry and Hussain Jiffry (bass), Michele Violante (rhythm guitar), Gordon Campbell and Eric Valentine (drums), Adam Hawley, Terry Wollman and Darrell Crooks (guitar), and many more. The funky Swagger sets a high standard of pure entertainment with blasting horns. Dave Koz and Richard Elliot couldn't do it better. She's Ready delivers all ingredients for a successful tune with captivating melody, groove and dreamy harmonies. Rocco draws on the full of his experience.
~ thesmoothjazzride.com
---
Rocco Ventrella - Give Me The Groove (2007)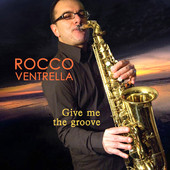 "Rocco Ventrella hails from Bari, Italy. From 1983 until 2005 Ventrella played in the Big Band "J.S.O." of Bari where he appeared with an impressive list of artists such as: Lee Konitz, Eddie "Lockjaw" Davis, Benny Bailey, Chet Baker, Paolo Fresu, Enrico Rava, Tullio De Piscopo, Ernie Wilkins, Art Farmer, Maurizio Giammarco, Gianni Basso, Lee Konitz, Tony Scott, Dizzy Gillespie, G. Gaslini, D. Goykovic, Bob Mintzer and others. His first solo project was Tribute To Grover Washington, Jr. (2005) containing three tracks: Winelight, Let It Flow and Make Me A Memory. In addition, Ventrella has some new recordings featuring his own compositions, including the soulful and haunting I Receive Your Love. The surprising success of this album especially the positive reaction of critics encouraged Rocco to record Give Me The Groove (2007)."
~ HBH - smooth-jazz.de
---
VIDEOS:
Rocco Ventrella - Winelight
---
Rocco Ventrella - "Stay Close To Me"
---
Rocco Ventrella - "Alleria"
---
Back to the Top - Back to the Music page