MUSIC - Maya Hatch - Singer, Songwriter
---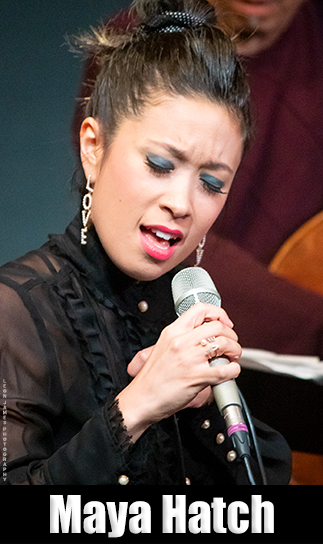 Maya was born in Olympia, Washington, surrounded by music from the day she was born. She began singing at the age of eight and over the years has fulfilled a life long passion to become a professional singer.

While growing up, She and her family lived in Tokyo for several years after she graduated elementary school. Upon returning to the U.S., Maya attended Roosevelt High School in Seattle, which is known for its prestigious vocal jazz ensemble. As a member of the ensemble, she performed and traveled the nation to compete in jazz festivals winning both ensemble and soloist awards. Namely, the "Outstanding Musician" award at Elliot Bay Jazz Festival (Seattle) in 2004, the "Outstanding Musicianship" award at Reno International Jazz Festival (Reno) in 2003 and 2004 and Second Place in the Alto Vocal Soloist Competition at Lionel Hampton Jazz Festival (Idaho) in 2004.

After graduation, Maya was awarded a scholarship from The New School in New York City to attend a 5 year dual-degree program at The New School for Jazz and Contemporary Music and Eugene Lang College, The New School for Liberal Arts. After studying under the direction of jazz giants such as Chico Hamilton, Junior Mance, Jane Ira Bloom, & Rachel Z, Maya graduated in May of 2009 with a BFA in Jazz Performance and a BA in Education Studies.

Upon graduating college, Maya toured Japan twice (first in November of 2009 and then again in February of 2010). She was offered and accepted an offer to star regularly as a singer on "Ponkikki," a popular and beloved children's television show which has aired on Japanese television since 1973. Maya relocated from New York City to Tokyo in April of 2010, appearing on BS Fuji TV's children's show newly named "Be-Ponkikki" for a year (from April 2010 until March 2011). While in Tokyo, Maya has been featured on a number of Japanese mainstream commercials, one featuring Hollywood actress Odette Annable. The song Maya sang (and wrote lyrics for) entitled "Grow Your Beauty" received such widespread praise that a full version of the song was recorded for inclusion in "Jazz Now," a compilation album released by EMI Music Japan on December 21, 2011. Maya has been featured on many mainstream commercials.

She has performed with a host of musicians over the years, as front and backing singer on numerous stages and many albums. Maya has performed with UnMe, Suga Shikao, on the Cheer Dan Movie Soundtrack, with Room56, Hiroko Otsuka, Exile Atsushi several tours, with the C.U.G. Jazz Orchestra, DJ53+84, Ayumi Unno, Taku Takahashi, N.O.B a.k.a. COCOSPIN, Kazuhiro Sunaga, Satoshi Yoshida, Inhyeok Yeo, Kan Sano, on the Kids meet Jazz album, with , Hiroko Otsuka, Shanti, JAZZ NOW, Caramel Jazz, No Regular Play and Guy Gerber.

Maya has released two albums. In 2008, she released her debut album "My Foolish Heart," recorded at Avatar Studios in NYC, she is accompanied by an outstanding young jazz trio: Gerald Clayton on piano, Ben Williams on bass, and Quincy Davis on drums. Maya's second album, "Li'l Darlin'" was released in 2012. She was accompanied (again) by Gerald Clayton (piano) & Ben Williams (bass), along with her New School alumni Jamire Williams (drums) & Keyon Harrold (trumpet). Also on the album, is New School alum/pianist/composer Warren Fields' providing, "contemporary yet sophisticated arrangements of classic jazz standards." Maya features her own original music and lyrics. In 2016, Maya released a single with Japanese rapper Sphere of Influence entitled "Time is of the Essence" which was featured on the soundtrack of the TOHO hit movie "NOBUNAGA CONCERTO." Maya's singing, rapping, and original lyrics can also be heard on 5 songs from TOHO film "Let's Go, Jets!" / "Chia-Dan (Cheer Dance)." Her most recent single "Fly Away" was co-written with R&B singer-songwriter and living legend Babyface.

Maya can be heard performing with jazz giants such as Ron Carter and Richard Bona, hip-hop icons such as ZEEBRA, and Japanese pop stars such as EXILE ATSUSHI and Shikao Suga, Maya demonstrates her wide musical ability to seamlessly cross genres and win the hearts of her listeners with her unique and sincere voice. Check her calendar for performances near you.
---
SOUNDCLOUD
---
REVIEWS:
JAZU: Jazz from Japan. Review. Maya Hatch. Li'l Darlin'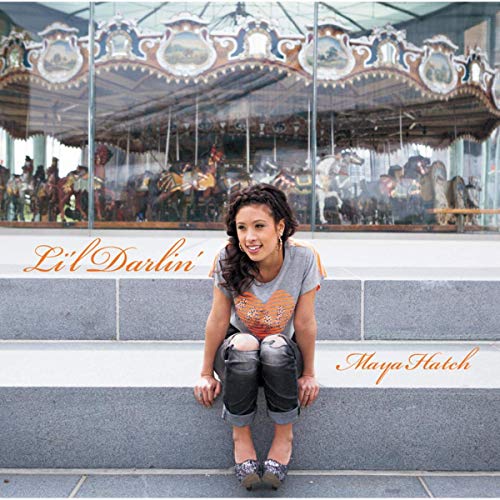 "More than one century ago, the meeting between two far away and very different cultures as African and Western, generated on American soil something musically new and revolutionary like Blues, which subsequently evolved into Jazz. On a smaller-scale, the life of singer Maya Hatch is one of those cases that can be related to this crucial event in music history. Born in Seattle from an American father, with mixed European origins, and a Japanese mother, Maya Hatch developed something unexpected like a deep sensibility for black American rooted music. "
---

Little Darlin' (2012)
"I met Japanese-American singer Maya Hatch at last year's Tokyo Jazz Festival where she did a quick guest spot with Australian soul-jazz trio Cookin' On Three Burners. Her album 'Lil' Darlin' came out in 2012 and will certainly appeal to fans who like their standard tunes done in different way. Maya brings a lot of soul, funk and hip-hop style into this album and her live shows. She's based in Japan now so gigs regularly around town, go check her out."
---
VIDEOS:
MAYA HATCH BAND "Giant Steps"
---
MAYA HATCH BAND "Have You Ever Had A Feeling?"
---
Maya Hatch - Someday My Prince Will Come
---
Back to the Top - Back to the Music page