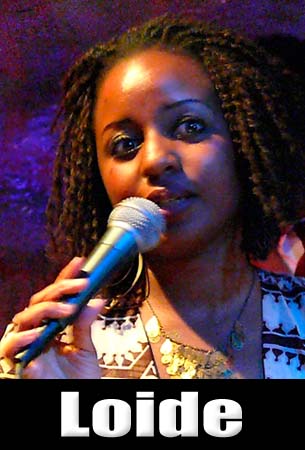 Born in France, raised in Cali. Loide has been singing since Kindergarten. She did "musicals and choirs through elementary and High School. She sang in the church and trained in Classical from High School through her second year of College. One day in high school she heard Nancy Wilson singing "Guess who I saw today" and the moment defined part of her journey into singing Jazz. She would identify herself as a "Jazz Vocalist", but she notes in an interview in " African Loft", that Jazz "does not encompass what I do musically or where I'd like to go with the music. I still love and adore Jazz, and implement it into the sounds and layers of where I'm evolving musically, but I'm reaching closer to home now. Home being the melodies and rhythms out of Lusophone Africa, particularly Mozambique and Guinea Bissau". In 2009, Loide eleased her first CD titled " Loide, Live at Bohemian Caverns". Her latest, "An eclective mix of African soul, contemporary jazz, gospel and rhythm and blues. Music for everybody!" released May 2014 is entitled "In Time", and can be purchased on CD Baby.
---
INTERVIEW:
PEP Talk Season 1, pepisode2 with Loide Jorge
---
Introducing Loide -
Guinea Bissau - Mozambiquan Artist Jazzes Up The Rhythms of Lusaphone Africa What do you get when you mix the sounds of Mozambique, Guinea Bissau and Jazz together: the sounds of Loide, A United States based artist. Loide began writing her own lyrics at grade school and has grown from there to become one of the favorites in Jazz houses in the Maryland - DC area. Loide opens up about her background, her love for jazz and her home countries."
~ Pamela Stitch - AfricanLoft.com
---
CD:
"LOIDE, Live at the Bohemian Caverns" (2009)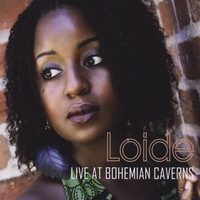 a musical and cultural journey that can be enjoyed by everyone, it's jazzy, it's raw, and she reflects this new era of the "Afropolitian" representing for those of us that embrace the complexities of our cultures. Loide finds a way to intertwine the contemporary jazz ranges of Nancy Wilson with the soul of Cesaria Evora, as she eases back and forth from English to her native tongue, Portuguese offering with each track a unique sound and perspective." ~ Liner notes...
COMMENTS on CD Baby

"LOVED IT!!! Loide shows a distinct characteristic of an artist who is bringing something genuine and truly enjoyable to today's industry...
~ Ariele

"Musically Refreshing Album" Her sound is somewhat of a fusion of afro-reggae-portugese jazz and is very refreshing....
~ Kenny "Sultry" Loide, Live at the Bohemian Caverns" is medicinal to the bone...
~ Alexandra Siclait "Great CD" Loide, I love this CD because it offers you a little bit of everything. Its soulful, her voice is beautiful, and the language is sexy. This is a CD that will remain in rotation! Its a must have.
~ Cree
---
VIDEOS:
LOIDE - live at the zipper theater NYC
---
Loide - Fallin' (Soundtracks at Red Kiva)
---
Back to the Top - Back to the Music page