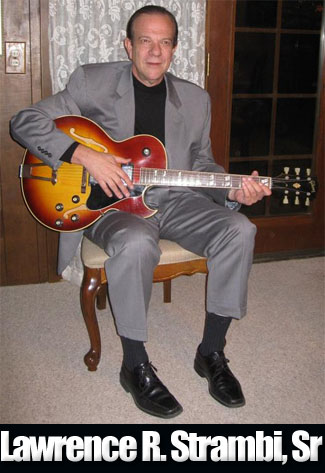 Larry grew up listening to Big Band/Swing era music. He remembers hearing the music of musicians like Glen Miller; Artie Shaw; Duke Ellington and Stan Kenton. Also the Italian crooners, Frank Sinatra, Dino, Al Martino and Jerry Valle. This was the music he was constantly surrounded by when he was nine years old. Subsequently, this is the music that most influenced him. He says his parents were responsible for his initial interest in music. When he was seven years old, his mother gave both he and his sisters an ultimatum - "PLAY AN INSTRUMENT OR ELSE!" Lawrence first instrument was the guitar, but he did not stick with it. "Got tired of it after a year". He started playing the piano. "Got tired of it after a year". At the age 9 in 1966 he returned to his first choice, the guitar, and has played ever since. Larry is trained in classical guitar and Jazz guitar. He plays primarily jazz these days, but also plays classic rock. He has written songs in both genres and has been playing rock and jazz for decades. He has a degree in music education, graduated 1995 Magna Cum Laude from CSU Fresno. Currently, he can be heard playing with American Heritage Jazz Association in the Fresno area. In the 70s a rock group by the name of "Primal Alliance" performed some of his rock tunes. Jeff Bloyd-guitar; Larry Strambi-guitar; Jeff Hull-bass; Alan Porton-keyboards; Chris Christianson-drums; Burl Walter-drums. Larry says that no other musicians or personalities of note played any of his tunes until the past year and a half and only in the genre of Jazz.
---
Q&A:
DCB: What musicians were you first influenced by?
LRS: Two different kinds of musicians. First- "The Professional Recording Artists". As I mentioned previously, our home was always filled with "good music". It's hard to measure what fine recording artists do for the development of a young musicians mind, but these mentioned above are quite profound in the material that I have been writing. Also, this is about the time that I became aware of such guitar artists as Chet Atkins, Barney Kessle, Joe Pass etc..... Second-"The Professional Teachers". When I was young, from about 9-12yrs, I had a series of teachers that taught me "every lick they could" but little about reading music. It wasn't until high school that I really learned how to read guitar music from my 1st classical teacher Mr. John Urutia. Hear in my high school years I grew exponentially in that ability because of my band director and now longtime friend Mr, Burl Walter, Jr. DCB: When did you first develop an interest in writing music?
LRS: From the age of 9 all through my high school years and beyond, I became more of a "rock" lover than a "jazz" lover. It was during those years that I cut my teeth on writing music. Nothing was ever published, but it was sure a lot of fun!! When I was 18, I decided to go into the family farming business and didn't write for well over a decade. In 1990, farming being what it is, I decided to go back to school to get a professional teaching degree in order add another income source for my family. Many good creative ideas came from that year and surprisingly enough, almost all of it from Jazz! From this year and the years to come, saw many different ideas from classical to jazz and even in rock. DCB: What other musicians have played your music and what groups have you performed in?
LRS: To this writing, only local talent-including all that I have posted on my myspace web site-have played my tunes. Again, only local talent from large group jazz to trios in both rock and jazz. Some of there names include: A.J. "Bob" Jackson-trumpet; Pete Scaffidi-bass; Kevin Cearley-trumpet; Fritz Carney-bass; Les Nunes-T. bone; Adon Infante-T. Bone; Ed Hull-T. Bone; Ron Catalano-sax; Steve Dailey-sax; Lloyd Ellis-trumpet; Rick Tuttrup-piano; and Joe Lizama-drums(Joe is the drummer for Johnny Mathis). The group that I hired to play the Big Band arrangements on my MySpace page is: "The Joe Lenigan-Little/Big Band" Bob Bergthold and Debi Ruud performed the singing. All of this talent is from the Central Valley area of California-centering around Fresno.
---
VIDEO:
Larry Strambi - Jigsaw! (2009)
---
Back to the Top - Back to the Music page