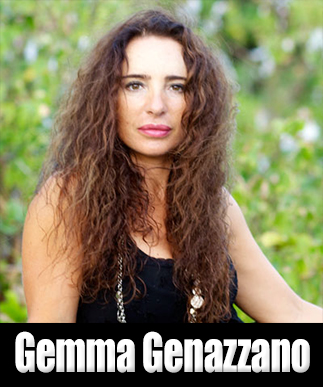 Gemma is from Barcelona. "She is the daughter of late Italian actor, Oswaldo Genazzano and the granddaughter of Italian actress Gemma Genazzano, who worked with the legendary Federico Fellini." While growing up, Gemma was trained in the classics, but developed an attraction to both jazz and gospel music. She studied piano at the Liceu Conservatory, where she was challenged to discover new sounds and ways to express herself through her music. Over time, her attraction to Jazz and Soul music won out, and "Gemma left her classical studies and began singing and performing at clubs and festivals throughout Spain." She was awarded a scholarship to the Berklee College of Music in Boston, Massachusetts. While attending Berklee, she participated in and won numerous music composition awards. After graduating, she moved to New York City, and reconnected with musician Marlon Saunders, who she had met while at Berklee. She and Marlon collaborated with guitarist/songwriter Greg Dayton, to create "a unique sound" for her. In the role of executive producer, Marlon co-write and created tracks that later become "Si Me Quieres/If You Love Me." Gemma's musical charisma has captivated audiences from New York to Barcelona, and around the world. Her popularity is a contributed to her "irresistible voice, Spanish lyrics, exotic melodies, and sensual soul rhythms." In her musical travels, Gemma has graced the stages of jazz music festivals in Europe, New York's Blue Note Jazz Club and Madison Square Garden. In 2009 Gemma released her first album "Si Me Quieres/If You Love Me," and created "an entirely new crossover genre of music … Jazzy Latin Soul."
---
REVIEWS:
Take Me Away

Sexy latin/soul artist Gemma Genazzano has an irresistible effect on the ear. This is indeed the case when you hit play and journey through Si Me Quieres/If You Love Me, the highly anticipated CD from Gemma Genazzano. This beautiful woman beckons the listener to journey with her through songs of love, sensuality, and romance. Her seductive vocals float with ease over DJ Eddie Baez's grooves.
~ Deep Vibes Radio
---
Soul Tracks:
"If you easily dig the adult contemporary slow jams of Sade and Prince's latest protege, Bria Valente, you may find a resting place in Gemma Genazzano's sensual bedroom jazz. Her erotic vocals, mostly seductive cooing and breathy whispers, filter on a breeze through the bulk of Si Me Quieres (If You Love Me). On this ten-track production, Genazzano lyrically alternates between Spanish verses and English choruses.
~ SoulTracks "
---
VIDEOS:
Gemma Genazzano - "Si Me Quieres/If You Love Me"
---
Gemma Genazzano & Joe Scott Smooth Soul
---
Gemma Genazzano - Gemma Genazzano, "Take Me Away"
---
Back to the Top - Back to the Music page