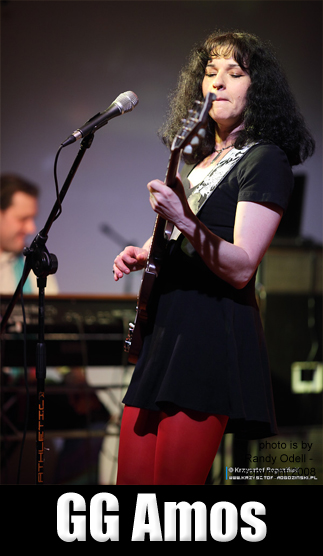 Born and raised in Sacramento, California, GG is described as "A riveting blues, soul and funky jazz guitarist and vocalist with a distinctive, expressive style" It has been noted that her main influences for her guitar style comes from such greats as Guitar Shorty, Carlos Santana, Johnny "Guitar" Watson, Magic Sam and Kenny Burrell. GG's singing style has been influenced by many, but she attributes Louis Armstrong, more than any other singer, with influencing here musical expression, timing and phrasing. GG is known for being both an outstanding performer and songwriter. To augment her talents, she surrounds herself with some of California's best musicians to produce a high energy musical experience for their audiences.
---
GG Amos at The Saloon in San Francisco
---
Over the years, GG has performed with such legends as John Lee Hooker, Guitar Shorty, Jimmy McCracklin, Lowell Fulson, Johnnie Heartsman, Karen Lawrence, Duffy Bishop, the great KokoTaylor, Sista Monica, Elvin Bishop and Tower of Power vocalist Lenny Williams to name a few. GG is working on recording new songs for release of a full CD. Some of the tracks to be included in the album can be heard on her Reverbnation page. Her track, "West Coast" has been release as an EP, and can be purchased online through CD Baby. Look for GG and "The Delta Wires" at festivals and clubs in and outside the San Francisco area. GG Amos - Lead Guitar / Vocals (Gibson SG Custom); Taki Komori - Keyboards (Yamaha S90 and Hammond B3 or XKII organ); Rick Taylor - Drums; Ron Hull - 2nd Guitar (Fender Strat and Birdfish); Artis Joyce (AJ) - Bass; Randy Odell - Drums; Ahaguna G. Sun - Drums; Aaron Thurman - Tenor Sax; Bernie Torres - Tenor Sax.
---
ARTICLES:
"GG Amos is an electrifying blues, soul and funky jazz guitarist and singer with a distinctive, expressive style. Her guitar influences include Carlos Santana, Johnny 'Guitar' Watson, Magic Sam, Kenny Burrell and Pat Metheny. As a vocalist, her influences have been many but says she learned more about expression, timing and phrasing from the great Louis Armstrong than any other singer. GG's original songs are her main focus these days, along with an emphasis on soulful communication with audiences. She has also earned a reputation as a top notch entertainer." ~ Sacramento News & Review
---
"Known for "tearing up" roadhouses all over California, GG Amos is a powerful guitarist and singer whose influences range from the like of Louis Armstrong, Carlos Santana and Johnny "Guitar" Watson, to Kenny Burrell and Pat Metheny. Her soulful, high-energy performances and guitar playing has earned her a reputation as a rising star in the blues scene. Over the years Amos has performed with such legends as John Lee Hooker, Jimmy McCracklin, Guitar Shorty, Elvin Bishop and Koko Taylor." ~ Tahoe Daily Tribune
---
Q&A: (2005)
DCB: When did you begin learning to play an instrument and which one was it?
GG:I started performing at age 5, singing, that is...and first started learning guitar at age 10. DCB: When did you begin writing songs and do you perform any of your earlier creations currently?
GG: I started writing in the mid '80s, but didn't really get good at it, in my opinion, 'til the '90s. I like my song-writing much more these days. I do perform a couple of the early tunes, but focus more and more on the recent ones. I feel they're much richer in lyrical content and musicality. As my life experience grows. DCB: What attracted you to the Blues?
GG: The raw emotion and depth, as well as the deceptively simple form of it. I still feel that it's the hardest music to master. I certainly haven't. :-) DCB: Who was the first great Blues artist you met and performed with and is there something you might share that was memorable in a meeting with one or more of the Blues greats you've known over the years?
GG: I met and performed with Jimmy McCracklin and Lowell Fulson within 2 years of playing the music.. I think it was the late '80s. I was still kinda green, but they both were gracious and encouraging to me. In the mid '90s I met and backed up Guitar Shorty with whom I'm still great friends. He has been a real mentor to me. And just before he died, I had the chance to perform two big concerts with John Lee Hooker. He featured me on guitar only.. he really dug it. By then I had been seriously honing my blues lead playing for 16 years. I will never forget hearing Hook sing my name on the phone to me..just riffing in that way he had.. the way he would repeat the same word or phrase over and over. That was magical. DCB: You mentioned that you are a teacher of music. How long have you been teaching and what prompted you to begin. Are you teaching young students or adults and what type of music?
GG:I've been teaching for 5 years.. I teach guitar.. beginning & intermediate mostly. All styles, emphasizing fundamentals. I have kids from 9 through high school age as well as adults from 30 to 65. It's a good bread and butter gig.. and I find it rewarding in alot of ways. I learn alot by teaching. DCB: I know that you have released some new music. When might we expect the new CD to be released and do you have a title for it? Notably, who performs with you on the new music?
GG:I'm trying to finish some tracking and mixing on 4 new songs, but I will need a financial backer to do it. Any takers? The new tunes are 'West Coast" (a rough mix of which is posted on my MySpace); "Dangerous Days"; "Man That U R" and "Come Down w/the Blues". Taki Komori is featured heavily on "West Coast" on Hammond B-3 Organ. He also wrote the music and I wrote the lyrics. Both the music and lyrics are mine for the other 3 tunes. Taki also plays Piano, and Wurlitzer on the other tracks. The other musicians on these sessions are Ron Hull on 2nd guitar, Artis "A.J." Joyce on bass and Ahaguna G. Sun on drums. All positively stellar, veteran musicians. They all contributed just beautiful voicings, lines and grooves. Cannot wait to get these out... (please send $) ;-) I have many other songs written and would like to record these as soon as possible. I've had an idea of a CD title for awhile now... "Content Under Pressure" .. named after a tune I wrote several years ago. Definitely describes me.. lol.
---
VIDEOS:
GG Amos at IBC event 8/21/11, 2 songs
---
GG Amos - West Coast
---
Back to the Top - Back to the Music page