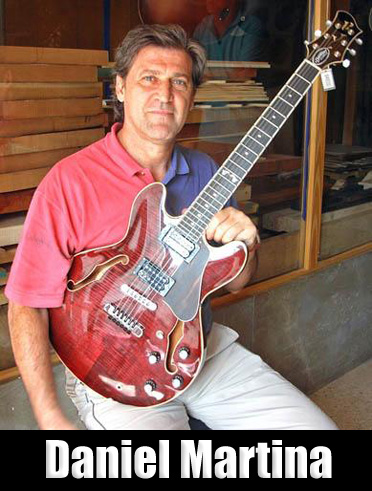 From Rosario, Argentina, Daniel began studying music theory and Argentinean folk guitar with a local music teacher at the age of 9. Daniel says, "I don´t remember his name but his surname was Valdés Alva and I composed a song from my 'Tute' CD called 'Canción para Valdés Alva'."

Between the age of 9 and 18 Daniel performed with a local trio (guitar, bass and drums) playing "clean rock" music. He played guitar and sang! He says he also began listening to jazz and developing an appreciation of it from the artists he heard..

He says he was influenced by "Many artists (players, composers and producers)", but says "I think the first musicians to influence me were Pat Metheny and George Benson, and later through them Wes Montgomery".

"The first songs heard that peaked my interest in being a jazz musician could be 'San Lorenzo' and 'Phase Dance' from Pat Metheny Group".

Over the years, through improvisation, "I've listened and learned from a number of musicians like Wes Montgomery, Pat Metheny, Pat Martino, George Benson, Chuck Loeb, Earl Klugh, Larry Carlton, L. Almeida, Robben Ford, Miles Davis, Joe Diorio, Jim Hall , Oscar Alemán, Luis Salinas and others; the list goes on, and I continue to listen to them today of course..."

"Daniel attended the Nacional University of Rosario (UNR) School of Music where he studied under Santiago G. Castelli (teacher of harmony and jazz improvisation) and he studied with jazz guitarist and composer Amando Alonso in Buenos Aires. He is self-taught in the Berklee College of Music method."

He has taken part in clinics taught by a number of renowned musicians. He has participated in clinics held by Pat Metheny, Chuck Wayne, George Benson, Scott Henderson, Joe Diorio, Jim Hall and Robben Ford; to name a few.

Daniel has performed on stage with many Argentinean artists. He has played as "sideman" to "Gato" Barbieri among others. His recordings "Propinas" and "Tute" are available on Broadjam.com.

Daniels will be releasing his new album, "Luna Rosarina", which features Jeff Lorber, Jota Morelli (Al Jarreau´s drummer) and Lewis Pragasam (Bob James Asian band drummer) on some tracks.
---
VIDEOS:
Martina & Cia - Luna Rosarina
---
Daniel Martina - Bimjo
---
Back to the Top - Back to the Music page