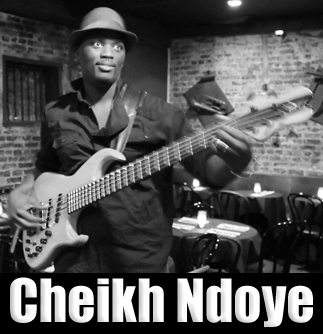 Cheikh is an accomplished musical artist whose music is a rich fusion of jazz and world music influences stemming from his West African heritage combined with his love for classic and contemporary American jazz. Originally from Senegal, Cheikh's fascination with the diverse, rich sounds and rhythms of the local music scene started in his prime age. Early in his life Cheikh played the piano, and was attracted to many jazz greats. His love for Jazz put him on a historical path of investigation into this genre, again at quite an early age. After listening to Weather Report's 8:30 album, he was so captivated by Jaco Pastorius melodic and harmonic developments that he immediately fell in love with the bass guitar. He has played and recorded with great artists such as Russell Ferrante, Dave Weckl, Eric Marienthal, Karen Briggs, Lao Tizer, Dean Brown, Mike Stern, Leni Stern, Frederic Yonnet, and Randy Brecker a number of who appear on his first CD, an album entitled " a Child's Tale".
~ Bio Extract
---
Cheikh on Reverbnation
---
REVIEWS:
Sons of Africa: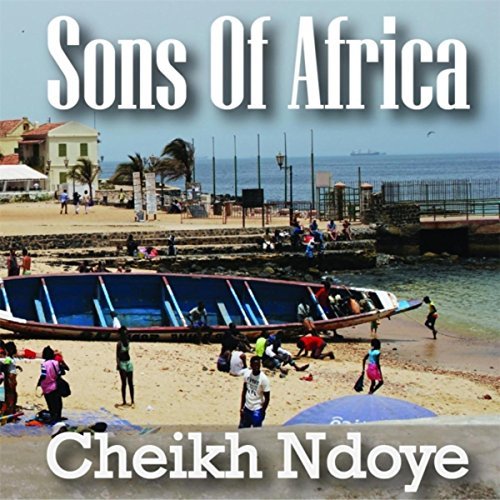 "'Sons of Africa,' the long awaited sophomore album of Senegalese musical artist Cheikh Ndoye has finally arrived! This new opus explores many sounds of the African continent including northern African Gnawa and Senegalese Sabar drums among others. This tribute to his homeland follows Cheikh's first critically acclaimed album, "A Child's Tale," which introduced him to fusion fans, not only here in the U.S. but around the world."
~ Valery Amador - bassmusicianmagazine.com (January 2018)
---
Bass Musician Magazine:
the face of bass, featuring Cheikh Ndoye... "Cheikh Ndoye broke on the scene not that long ago with his debut CD A Childs Tale. It featured a pretty amazing lineup including Russell Ferrente from the Yellowjackets and Dave Weckl and Eric Marienthall from the Chick Corea band just to name a few, and Cheikh most certainly held his own along with sporting some great compositional chops. "
~ Editor Jake Kot - Bass Musician Magazine (September 2011)
---
DCist:
Preview: Cheikh Ndoye @ Blues Alley "Among electric bassists, those hailing from West Africa are among the most enjoyable to watch and hear. The very nature of that region's music gives the instrument room to breath and allows for lines that are almost as intricate as the melodies they support. The bass is not used only to provide a rhythmic and harmonic foundation, it sings. "
~ Sriram Gopal in Arts and Events - DCist (March 2011)
---
Bass Musician Magazine:
Watch out for this young bassist. "He's just breaking onto the scene with his first solo CD featuring such luminaries as Russell Ferrante and Eric Marienthall, and fitting in like a glove with these jazz icons. Known as a "Richard Bona protégé", (quite a statement to uphold) he shows on this first effort to have tremendous potential in quite a few directions. Being an accomplished composer as well as a player, he represents yet another generation of young lions to be reckoned with. With a surprisingly defined maturity to his playing, coupled with his great sense of melody, Cheikh will become a familiar voice on the scene sooner than later."
~ Editor, Jake Kot - Bass Musician Magazine
---
Jazz Review.com:
Cheikh Ndoye's debut CD " is distinctive if just for the number of "name" artists who agreed to work with the young and amazingly technically proficient bassist. With Randy Brecker, Russell Ferrante and Eric Marienthal, among others, on hand to share their talents you know Ndoye must have a garnered a great deal of respect among his fellow jazz musicians. Originally from Senegal, West Africa, Ndoye has been in the United States for about ten years. Self-taught as a youngster, he has become known as a Richard Bona protege for the work Ndoye has done in studying with the master bassist."
~ Thomas R. Erdmann - Jazz Review.com
---
Jazz.com
Cheikh Ndoye "has lived in the U.S. for about 10 years since leaving his native Senegal, where as a teenager he was inspired to take up the electric bass upon hearing Jaco Pastorius. He subsequently received encouragement and guidance from two heavyweights of the instrument, Richard Bona and Jimmy Haslip. A Child's Tale is Ndoye's debut release, an eclectic mix of Bob James's covers, more African-rooted originals, and fusion/contemporary hybrids. "
~ Scott Albin - Jazz.com
---
VIDEOS:
Cheikh Ndoye ( Jolie) featuring Woz Kaly
---
Festival Jazz De Saint Louis Senegal 'Cheikh Ndoye Bass Solo"
---
Cheikh Ndoye "A Child's Tale" Live at the Blue Room Productions
---
Cheikh Ndoye "Linguere" Live at the Blue Room Productions
---
Back to the Top - Back to the Music page