MUSIC - Pianist Benito Gonzalez
---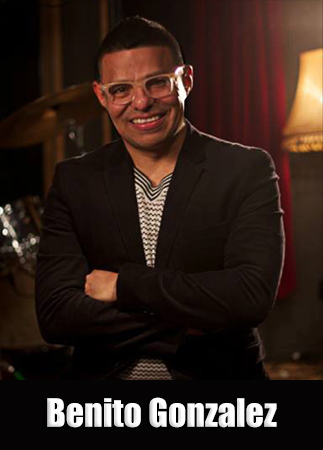 From Maracaibo, Venezuela, Benito is described as "an exciting composer and performing virtuoso". If you have the pleasure of hearing and witnessing a performance by Benito, then you will recognize him for the keyboard powerhouse that he is. His virtuosity won him the "Great American Jazz Piano Competition" in 2005.

"The fusion of world rhythms and straight-ahead jazz make this passionate performer an audience favorite all over the world. Benito Gonzalez is being recognized as an exciting pianist and composer for his well-received debut album, "Starting Point" (Christian McBride, Antonio Sanchez, Rene McLean, Ron Blake) and as winner of the 2005 Great American Jazz Piano Competition. Presently, Benito is creating a very personal body of work for his sophomore album as a leader that will feature him as an improviser. After two years touring with international jazz artist, Kenny Garrett, he added numerous festivals and international jazz club dates to his credit. Benito has shared the stage with Curtis Fuller, Pharaoh Sanders, Bobby Hutcherson, Christian McBride, Ignacio Berroa, Roy Hargrove, Rene McLean, Steve Turre, Hamiet Bluiett, Antonio Sanchez, T.K. Blue, Nicholas Payton and Jackie Mclean. His multi-cultural talents have led to frequent recording dates; from American jazz masters to West African musicians to Latin bands. He has also served as musical director for several Venezuelan recording artists." Excerpt from AllAboutJazz.com
---
ARTICLES:
The New York Jazz Record Reviews
the Benito Gonzalez Trio [2022](excerpt)


"For lovers of hard-driving, percussive piano with repetitive rhythms and tonalities, Benito Gonzalez is your man—one who even plays with the innards mic'd to emphasize the hammering of strings. At The Django (Jan. 18th), Gonzalez dove into a set of long-form pieces with surges of reiterated, modally-based notes dominating. This devotion to bold, forceful statements, with AfroLatin patterns, is traceable to the drum as a first musical experience in his Venezuelan childhood; the path eventually led him to a profound love of McCoy Tyner." ~ thedjangonyc.com
---
VIDEO PROMO:
Benito Gonzalez | "Sing to the World" Promo |
Rainy Days Records
---
REVIEWS:
Sing To The World [2021] (excerpt)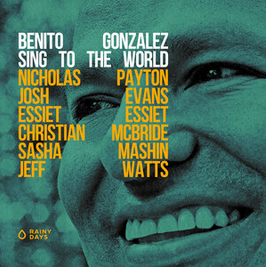 "Unbridled rhythmic fury fueled by a rich harmonic underbelly is the essence of Sing To The World. Pianist Benito Gonzalez has once again assembled a vibrant cast that flourishes on ten original creations. Inventive and energetic, the ensemble gels in the moment and establishes interplay with rich and intelligent conversation. The depth and articulation comes as no surprise, with reference to his previous works as a leader and the seven years Gonzalez spent as a member of Kenny Garrett's band. Powerhouse bassist Christian McBride aligned with alternately Jeff Tain Watts and Sasha Mashin to anchor and veraciously drive a rhythm section which was both the core and the springboard for Gonzalez, as well as trumpeter Nicholas Payton. Together they built a foundation of Afro-Latin sounds that echoed the ancestral spirits and authentic African dance beats. Playing modern jazz vibes over and within these torrid and variant beats created a fresh and sophisticated fusion sound of its own. "

---
Passion Reverence Transcendence [2018] (excerpt)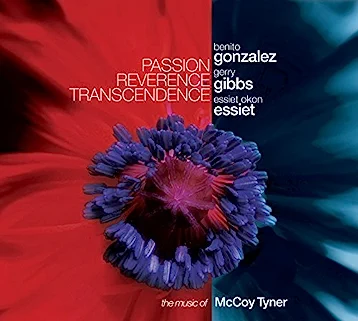 "In the grand, giving spirit of the master, pianist Benito Gonzalez, drummer Gerry Gibbs and bassist Essiet Okon Essiet hold absolutely nothing back and pull no punches on their exhilarating tribute to McCoy Tyner, Passion Reverence Transcendence. With each tune taped in a single take, the trio explodes with a bold and proclamatory rush. "Fly with the Wind" (originally written by Tyner for trio and strings in 1976) sets the bar high and never looks back. It's a feverish give and take as Gonzalez aggressively reveals the melodic nuances with punchy, crackling clarity, leading Gibbs and Essiet who are, without any exaggeration, literally a locomotive steaming down the tracks, from one sonic leap to the next." "

---
VIDEOS:
Benito Gonzalez - "Smile" Live
---
Mr JC (Benito Gonzalez Trio Dizzy's 2020)
---
Benito Gonzalez Trio (Flatbush Ave) "Live" in Connecticut.
---
Back to the Top - Back to the Music page