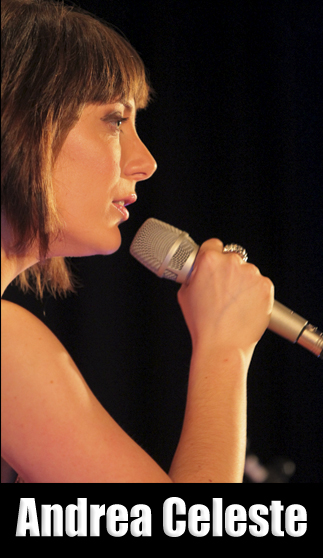 Andrea was born in Pontedera, Italy. She began studying classical singing and piano at an early age, and performed publicly for the first time when she was 11 years old. From the beginning of her singing career at age 11, she received invitations to perform with "national and international Gospel projects and singers such as the St. Jacob's Gospel Choir, the Joyful Angels, and the American singer Cheryl Porter. In 2002 Andrea won a scholarship for the International Gospel Seminar in Castelbrando where she shared the stage with Mario Biondi and Cheryl Porter." Andrea has been described as a "a tireless professional", and is noted for her dedication and commitment to "improve her vocal technique". To this end, she "attended numerous workshops with Maestros such as: Terron Brooks, Ashley Davis, Huntley Brown, Michael and Regina Winans. She was also very busy in the recording studios, lending her voice to various gospel, R&B, soul e jazz projects, and participating in mainstream events such as the Milano Gospel Festival for 3 years in succession."
---
Soundcloud:
---
CD's:
Se stasera sono qui (2013)
Arranging-Orchestrating For The Album "Se Stasera Sono Qui" By Andrea Celeste Published today the new album by the extraordinary singer Andrea Celeste, a collection of songs written by the greatest traditional authors from Genova (Italy). For the occasion I arranged and orchestrated a song, written by Vittorio De Scalzi, one of the main italian authors, who wrotes music for the main italian artists ever (De Andre',Mina, Renato Zero, ecc), really a great honour for me ! I invite you to follow Andrea Celeste in her concerts and her albums, she is always great! ~ Fabrizio Pigliucci - fabriziopigliucci.com.
Someting Amazing (2012)
In May of 2012, she released "Something Amazing". Regarding "Something Amazing", Andrea writes, "Maybe you'll be a little surprised by the sound of this album and that's the point: I didn't want to release an album with the same sound of My Reflection, so we went a little bit far beyond the "jazz combo" and we blended the amazing World percussions of Marco Fadda with the Jazz-Gospel touch of the greatest Dado Moroni and the groovy yet smooth bass lines of Lucas Bellotti (you'll hear acoustic guitars too, but don't tell anybody!)… The result is simply a sound that's unique and I'm crazy about it! My new original songs are the synthesis of the last three years spent touring, singing, recording and always searching for something… My emotions and feelings are free and I am ready to release them…"
Enter Eyes (2009)
In 2009 Andrea released " Enter Eyes" with the internationally acclaimed jazz pianist Andrea Pozza.
My Reflection (2007)
In July 2007, Andrea started work on her fist solo album, "My Reflection", which was released in 2008. Her work on the album was described as "a delicious jazz, dressed in velvet and embellished by the voice of this splendid artist and her innate capacity to balance, with rare elegance, mellow tones and extraordinary power." Upon its release, " My Reflection" achieved critical acclaim around the world. Her work "has been compared to such artists as Anita Baker, Diana Krall and Eva Cassidy." Since its original release, "The Power Of Our Love" was chosen as the opening track on a CD compilation album "Jazz Around Midnight" released worldwide by High Note Records. The entire CD was re-released for distribution in Taiwan, China, Hong Kong and Macao, and in June 2009 "My Reflection" was also published in Korea by the Label Enbluu (WorkSpace). Andrea has performed at important "events such as Trussardi's fashion show in Turin, Matteo Brancaleoni's concert at the Blue Note in Milan and many private concerts, jazz festivals, and in clubs and theatres throughout Europe. She has performed at the Monte Carlo Jazz Festival with the Alessandro Collina Trio alongside important stars such as Herbie Hancock, Marcus Miller, Raul Midon and many others."


~ Bio Extract
---
JazzReview.com:
My Reflection (2008)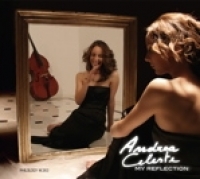 ""My Reflection", the debut album from the young and enormously talented singer and songwriter Andrea Celeste. The 21 year-old singer, whose voice is deep and mature, signs most of the tracks on the album before entrusting it then to such exceptional musicians as Gianluca Tagliazucchi (piano), Dino Cerruti (double bass) and Rodolfo Cervetto (drums). Produced by Roberto "Robbo" Vigo and edited by the prestigious Philology jazz label. "

---
VIDEOS:
Andrea Celeste Quartet - "Se Stasera Sono Qui"
---
Andrea Celeste - "Born To Be Alive"
---
Back to the Top - Back to the Music page