ARTS - Jenne Glover
Artist, Painter and Creator of Abstract Collages
---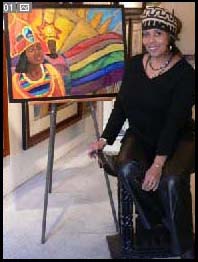 The roots of art in Washington DC go deep. Artist Jenne Glover is a native Washingtonian and is well known throughout the artist community. Her art works are in the collections of many, including the James E. Lewis Museum at Morgan State University, Colorado College, and Tri-Continental Industries, Inc. Over the past twenty years, she has shown in numerous solo, group, and juried exhibitions in Colorado, Georgia, Maryland, Virginia, and Washington, D.C.



I have known Jenne personally for many years. I own some of her first works and their power continues to radiate from the canvas and fabric. I visited the Swathmore Estates in Rockville to view an art exhibit. The art work, done in many types of media, was fantastic. As I walked about I saw an image that reminded me of an earlier work by Jenne. This particular piece was not done by her, but I felt certain I would find works by her. I obtained a program and 'lo and behold" she had five pieces on display. A few of her paintings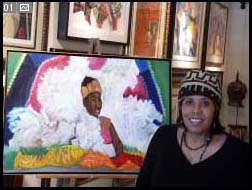 are featured in this article with Jenne.

Jenne uses brilliant colors with strong compositions to create her "from the heart" art.

Her oil paintings, textile montage wall hangings, and mixed media art work range from figurative subjects to abstract collages.



She has received many awards for her outstanding work including the Artist Showcase Award given by Manhattan Arts International and an Individual Artist Fellowship from the D.C. Commission on the Arts and Humanities.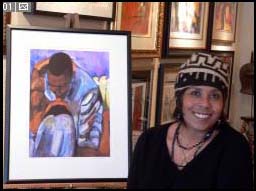 Jenne is featured in The Beginner's Guide to Collecting Fine Art African American Style by Ana M. Allen and the video Contemporary Afro-American Visual Artists produced by the University of Virginia-Bayly Museum.

Jenne has a Master of Science degree in Management from the University of Maryland University College and a Bachelor of Arts from the University of the District of Columbia.

Link to Jenne's website: