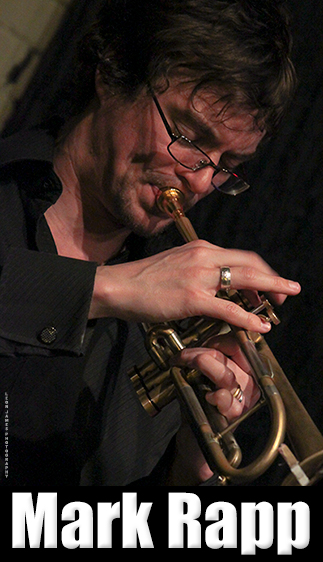 Mark is originally from South Carolina, he began playing trumpet in the sixth grade. It was an off-on endeavor but he stuck with it. His musical prowess in high school earned him a music scholarship to attended Lenoir-Rhyne College in Hickory, North Carolina but he left after a few months. He returned to college at Winthrop University in South Carolina where he received his degree. After graduating he moved to New Orleans to study music with Ellis Marsalis while earning a Masters in Jazz from the University of New Orleans. Mark moved to New York to cast his fate to the musical winds there. It was difficult times in the beginning but his music carried him through.

His "reputation has grown to the extent that many of today's top artists want him in their bands. Included in this list are rockers like Darius Rucker, Hootie & The Blowfish, Edwin McCain and Sister Hazel. From the jazz side artists Rapp has worked with include Walter Blanding Jr., Don Braden, Gerald Clayton, Wess Anderson, Wycliffe Gordon, Seamus Blake, John Ellis and Rodney Green, among others. With such a pedigree it's no surprise Rapp received a standing ovation following his performance at the 2008 Newport Jazz Festival appearance. Other recent performances include the JVC Newport Jazz, Jazztime Festival (Croatia), Sonoma Wine & Song Festival and the WC Handy Jazz festivals, as well as club appearances at New York locales like the Blue Note, and Dizzy's Coca-Cola Room to Yoshi's in San Francisco." - Quotes are excerpts from Dr. Thomas Erdmann's book "How Jazz Trumpeters Understand Their Music: Twenty-Seven Interviews" published by Edwin Mellen Press, Fall 2009

Mark's musical skills has shown him to be one of the "new breed of young trumpeters coming down the road. The resultant music they create melds and brings together the radio music of their youth with the history of their horn to find fresh ways to approach and fashion a style of playing more oriented toward groove without losing modern approaches to upper chordal harmonic structures so prevalent in the jazz music of the late 20th century." Mark is seen to be "one of the best examples of the direction being taken by this new breed". - Bio Mark Rapp website


Currently, Mark dually resides in Geneva, Switzerland and New York, NY and is constantly performing in support of his critically acclaimed debut record Token Tales. Mark and Don Braden (Braden-Rapp) have released their new CD: The Music of Billy Strayhorn titled "The Strayhorn Project" recorded with Gerald Clayton and Sachal Vasandani.
---
Q&A:
DCB: Your bio indicates that you first attended Lenoir-Rhyne College on a music scholarship but did not stay. You are a fantastic trumpeter so your leaving was not a question of your ability or talent. Are you able to share the reason for your decision to break away? Was it about creative differences? Or it was not the time or the place for you to follow your musical goals?
MR: Lenoir-Rhyne did not work out because of philosophical differences. I was a young man and the college had very particular beliefs and ideas I could not get on board with at the time. It was an awkward period between high school and college. I think your summary question wraps it up, it was not the time or place for me.

DCB: Each musicians path is a unique journey and the easy path is not always the one chosen. What eventually attracted you to Winthrop University in South Carolina? There are by chance, but important meetings in life. Your meeting Wynton Marsalis appears to have moved you down another of your musical paths. What are your thoughts on this, if you would like to share them? When and how did you meet Wynton?
MR: Fortunately, it worked out because at Winthrop University, I found my first and main trumpet teacher, Dr. Ian Pearson. He's fantastic and gave me a real solid base for addressing the trumpet. Without him, I definitely would not be a trumpet player today because I would not have learned those fundamentals of trumpet technique and would have burned out long ago. Wynton was my first trumpet god. Meeting him had a profound effect on me and he still does. His work ethic and ability to produce so much so fast is out of this world. He does more in one day than I can achieve in a few weeks. He's a machine. He can go on next to no sleep months and months and still have the energy to practice, compose, rehearse, tour, do interviews, etc. It's amazing and a continual inspiration.

DCB: I read an article that said that your "Regular performances at the Carnegie Club and the Rockwood Music Hall in New York have brought him to the notice of people such as saxophonist Branford Marsalis, who has performed with the young trumpet phenom." This raises a couple of questions. First, you know Wynton and studied with Branford's father so "brought to the notice of" Branford makes no sense because (my guess would be) you knew him from New Orleans - even if only in passing. So when and how did you meet Branford? Just to clarify it.
MR: I studied with Ellis Marsalis at the university of New Orleans and had numerous meetings with Wynton, but never a specific lesson with him. One time I tried to have a lesson with him, but I honestly chickened out. I got up to his place, played a note and than wormed my way out of there. ha ha. I did not meet Branford until the Hootie and the Blowfish Monday After the Masters Golf Charity concert where I sat-in with Edwin McCain, Darius Rucker and then Branford came on. That was our first meeting and playing situation. That sentence in the bio was not thoroughly written well. It was through my regular gig at the Carnegie Club that I developed my sound and compositions, etc which ultimately set me up to have a festival gig where we hosted Branford as our special guest. By then, Bran and I had played with Darius Rucker and Edwin McCain for a few years at that same golf tournament.

DCB: The bio also indicates a dual residence in New York and Geneva. How did you come to settle down in Switzerland? For me, Geneva raises thoughts of Classical music rather than Jazz. Since I've never been to Geneva and may never make it, what is the Jazz scene like there?
MR: I now live in Geneva, Switzerland. My wife has a job with the European Council which is why we are here. It's cool over here -definitely no NY, but it's cool. There are some amazing players and some that are not so amazing. They do have regular jam sessions 2x a week which is great and the vibe is welcoming and fun unlike NY where the jam sessions are cut-throat and you are required to play difficult tunes. All and all it's cool. But it takes a long time to settle in and find your way again. It's not easy moving across the ocean and being surrounded by French - a language I never learned.

DCB: I read the intro on bradenrapp.com, and can use some of the intro paragraph but it does not mention what one might expect from listening. By that, how are you and Don going to approach the music? Are you going to play straight and true interpretations or are you going to breath new life into the songs through both Don and you applying your stylistic and unique skills?
MR: Right on! Thank you man! Yes, Don and I approached this by writing contemporary arrangements of Strayhorn tunes. They groove and have a much different vibe. We reharmonized, re-rythmized, and re-worked the tunes to make it our own. It's a killer project man! It's finally available on iTunes and Amazon.com. I have the links on the bradenrapp.com web site.
---
Mark Rapp - Good Eats (2011) "Legendary saxophonist Lou Donaldson doesn't subscribe to a one-size-fits-all approach in his own music making. His oeuvre, which spans more than half a century, touches on bop, hard bop, soul-jazz, and funk, with each setting allowing for a different aspect of his musical personality to shine. In crafting a tribute to Donaldson, trumpeter Mark Rapp honors this diversity and organic amalgam of music by touching on various styles, as he works his way through Donaldson's catalog."
~ DAN BILAWSKY - allaboutjazz.com
---
The Song Project - Mark Rapp and Derek Lee Bronston
The Applum (AP), is a digital album that hearkens back to the vinyl era but with all the accolades and elegance of the digital age. -

"Art of the Song, vol. 1 contains unique arrangements of popular songs by bands as diverse as Radiohead, AC/DC and Tears for Fears, as well as four original compositions. The genre in a broader sense, can be called jazz and is a blend of improvisation, singer/songwriter, rock, ambient sound and even includes a taste of New Orleans. Trumpeter Mark Rapp says, 'The tracks are filled with great melodies. From jazz to rock to country to whatever, it's honest, soulful expression that is our goal.' Guitarist Derek Lee adds, 'We explore the art of the song both written and improvised.'" - from the web Applum notes....


Mark Rapp and Derek Lee Bronston take THE SONG PROJECT to Petra's Piano Bar & Cabaret in Charlotte, North Carolina. Mark and Derek are accompanied on drums by Adam Snow and special guest drummer Ocie Davis - Images - Leon James Photography
---
Braden-Rapp: The Strayhorn Project
A Tribute to the Music of Billy Strayhorn -
"from the liner notes....
This pairing of veteran saxophonist-flutist Don Braden and promising young trumpeter Mark Rapp is an inspired coupling. It is successful not only due to their considerable skills and by the enormity of the book Billy Strayhorn left here for us to learn, but also by the wisdom of their discerning manager Gail Boyd. It's not often that a stable of artists comes together in such an easeful manner that artistically exceeds any sense of crass commercial considerations, but this proves to be an exceptional idea. "Our project is unique because unlike most performances of Strayhorn's music, we made particular efforts to give the tunes creative, unusual yet contemporary treatments," insists Don Braden. From the jump that goal is achieved as their novel approach to "Rain Check" kicks off the date with New Orleans second line echoes. This sense of old wine/new bottles was confirmed in communications with Braden, who insists that "We have re-harmonized, re-rhythmized, and even re-melodized some of his great classics, bending and shaping them with elements from throughout the jazz tradition. We also present textural elements that aren't typical, such as the groove and vibe on "Isfahan," which is robust and dramatic, "or the use of the alto flute in relatively rare solo mode" on "Daydream", Braden asserts. "Isfahan" is further enlivened by a bit of polyphony between Braden and Rapp. For his arrangement of "A Flower is a Lovesome Thing" Braden borrows gently from Herbie Hancock's "Butterfly."