MUSIC - Joe "Killer Joe" Falero - Percussionist, Composer, Producer & DJ
---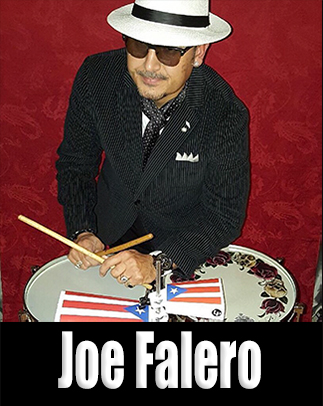 Joe was born in Santurce, Puerto Rico. He is known for his showmanship, great technique and spectacular solos. Over years of performing in the DC area, Joe has gained recognition as a band leader who strives to perform with the goal of exceeding all previous performances. This brings an almost electric energy to each time the band plays. Joe strives to get the best out of his fellow musicians, and in doing so, he is always providing an original musical experience for everyone who comes to his live performances. Joe Falero & DC Latin Jazz All Stars is a band that reflects Joe's desire and ability to blend different styles of Latin music like Mambo, Salsa, Cha-Cha, Rumba and Bolero. Salsa in English and more. Joe Falero & DC Latin Jazz All Stars have won two Stuck on Salsa Awards, and they released a new CD, !Latin Flavor!. At this time, Joe is believed to be the only Bandleader/DJ in Washington DC metro area. Joe is also known as (AKA) "DJ Killer Joe Falero", and is a master DJ in Salsa, Merengue, Bachata, Regueton, and also in Oldies and Goodies, the great music from the 60's, 70's & 80's.
---
INTERVIEW:
Interview by DC Live Music...

Joe Falero - Interview from DC Live Music on Vimeo.
---
REVIEWS: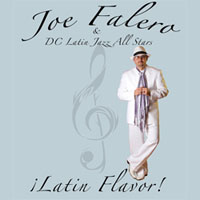 Latin Flavor - Joe Falero & DC Latin Jazz All Stars (2009)
Joe Falero, veteran percussionist in the DC metropolitan area has just released his first cd "Latin Flavor". His group, Joe Falero & DC Latin Jazz All Stars, lives up to their name. The cd is refreshing because it takes standard jazz tunes and plays them in a Latin jazz format. But the magic lies in the fact that these numbers are not for listening only, these are hot tracks for dancers." Geiner R. Bruno Aka DJ Bruno "El Unico"
---
"Packing a heavy groove with a light touch DCLJAS' CD !Latin Flavor! continues a tradition of Latin-jazz from the Nation's Capitol that reflects DC itself: intelligent and funky!" Jim Byers, host, WPFW 89.3 FM's "Latin Flavor/Classic Edition"
---
What a winner! !LATIN FLAVOR!, the new release by Joe Falero & DC Latin Jazz All Stars hits the mark... Eileen Torres, Salsa Historian and Promoter
---
VIDEOS:
Joe Falero & DC Latin Jazz All Stars - Latin Flavor!
---
Joe Falero & DC Latin Jazz All Stars - Tribute to Mongo

---
Back to the Top - Back to the Music page