MUSIC - Arch Thompson - Flutologist
(C Flute, alto flute and piccolo)

---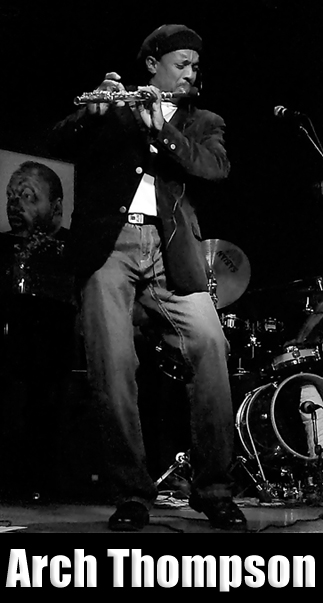 I sat down with Contemporary Latin Jazz Flutologist, Arch Thompson and talked with him about his music and his life as a Jazz Musician. Arch comes from a family of musicians. At a young age he was exposed to all types of music. Everyone in his family was encouraged to listen to and play music.

Arch began his music career at the age of twelve. He said he first wanted to play trumpet when in elementary school but that never came about. At his first opportunity to become a member of a band, he wanted to play the flute but there was only one in the school band and it was in the hands of an upper classman. Arch's first instrument was the trombone. He was not pleased with the instrument but it got him into the music. While the trombone is a worthy instrument, it did not feel right in his hands and is not his first choice of a wind instrument. While playing in the school band, Arch traded in the trombone for a Saxophone, but he kept his eye on the flute. At some point several flute instruments came into the possession of the music teacher. Arch asked if he could borrow one to practice with. The teacher allowed him to do so.

When he began practicing with the flute, he would play along with a friend named "Reggie". He did this until he began taking flute lessons with the L.A. Philharmonic Youth Organization through his school . During this time he began to see music as a spiritual calling for him, but he had never actually performed in front of an audience.
After his mother died he withdrew himself from negative influences in his life. The true turning point for him was his flute solo at her funeral. He said he did not know if he had the courage to stand up and play the solo. He promised himself that he would pursue the playing of the flute as his life mission if he did and he has kept this promise.
While 16 years old, he said his father would take him to clubs where he would sit in with the band. He said he remembered standing online with other musicians waiting to have a turn on stage. His father was his spokesperson at the clubs for his music and the club "Jam Sessions" were his inspiration.
In Los Angeles, on any given day, one might go to Griffith Park to hear the sound of the drums. This was a group of musicians that would gather and beat out the rhythms. As part of his learning flute, Arch would go to park and play behind the drums. He did this on a regular basis. He said one day, some people who had been listening to him said "Hey! Listen to this guy!", speaking of Arch playing. He was accepted into the group and learned to play the drum as well as the flute. Arch became a "percussion flute player" and will sometimes also play a percussion instrument during his performances.

After graduating, Arch attended City College in L.A. where he said he came in contact with better musicians. Through these contacts he began doing a lot of performing. It was also around this time that he heard the music of John Coltrane. He said that through Coltrane, he began to see music as an even greater spiritual experience. He said Coltrane's "Love Supreme" raised his consciousness and he began playing his own "music within". He adopted a spiritual life - both within and outside the music and began dedicating more time to it.
Arch left City College to join the Army, but not as a musician. Once in though, he auditioned for the Army Band and was accepted. He was assigned to the band under an "on the job" program to learn to play with them. What he discovered was that he did not like the type of music he was required to play. While with the Army Band, he had the opportunity to play with a salsa band, this chance encounter introduced him to a number of Latin artists and awakened an interest in Latin music.
After the Army, he returned to City College, but was possessed of a desire to learn to play Latin music. He talked about the music with someone he knew while at school on a regular basis and was finally told he should stop asking and go there. Arch decided that he needed to immerse himself in the culture of the music to learn it and the only way to do that would be to go to the Caribbean. Once committed, he bought a plane ticket to Puerto Rico. Beyond buying the plane ticket, Arch did not plan the trip, he just went. After arriving in San Juan, he wound up broke with no place to live. He began playing his flute on the street to made enough money to secure a place. He was in Puerto Rico for five months living and playing the music in venues on the island.
Arch left Puerto Rico for New York City. He had always wanted to go there to live and learn more about music and play his flute. He related an earlier excursion in which he took his flute on a bus from L.A. to New York. He arrived and was overwhelmed by the place. He stayed three days then took the bus back to L.A. He said he had always looked on that experience as one of his failings, but he realizes he was "not ready". On this trip to New York from Puerto Rico he had the good fortune to meet a lady on the plane "Sister Iris", who took him in for a year.
After arriving in New York, Arch said he saw musicians playing in the subway. He found this intriguing. He was not working and thought it would be an opportunity to practice and make a living so he swallowed his pride and began playing his flute in the subway. He said after he started, he began to meet other musicians. He would hang out at the Blue Note and would take part in Jam Sessions. While a dangerous way to live, he said "the Street was good" to him. It showed him "if you really love something then you live it". He was in "the City" for 12 years.
---
Q&A:
DCB: Did you ever tour or play in an orchestra?
AT: No. As a flute player, you limit yourself. Unless you have your own band, you will find yourself out of work. While at City College I played with one for an Easter Sunrise service at Vickery Baptist Church and they paid us. Other than that one occasion, I did not play in an orchestra but did play in small combos.
DCB: While in New York, what kinds of groups did you play with?
AT: I began sitting in with Cuban musicians like Potato, Chocolate and others. It should be noted that Potato and Chocolate were well known Latin musicians in the city. I played with "Los Africanos", which was an African Caribbean style of jazz band. It was a big experience. I performed with Stefon Harris and Alex Blake and Bob Cunningham as well. For a while I played with a dance company. I did an Alvin Ailey gig on Broadway. I can say I went from the "subway to Broadway" while in New York.
DCB: All things considered, if you had the opportunity to play another style of music, what would it be and why?
AT: Gospel. Starting with Coltrane's "A Love Supreme", I feel that I have been evolving into a more spiritual person. The way I see it, spirituals exalt the higher self - the Love Supreme. Playing or singing gospels are about God. The lyrics are clean and non-derogatory, which appeals to me.
DCB: What is your favorite music to play?
AT: I'm receptive to most types of music. I play Classical, R&B and straight ahead jazz, but my favorite is "Afro-Cuban". For me, music is about the "beats and rhythm". I was moved enough by the Latin rhythms to go to Puerto Rico to both live and learn the music. It is a part of me.
DCB: What are your thoughts about today's musicians?
AT: There was a time when musicians would meet and rehearse. Today most performances are just "Jam Sessions". Musicians don't have time to rehearse. Their most important thought is how and when they will get paid. This is not a bad thing because we have to pay the rent, but I think the art suffers some from this. I sense a loss of originality because of this. There was a time when you could differentiate between Coleman Hawkins and Stanley Turrentine. Now so many sound the same.
DCB: What have you taken away from your experiences over the years?
AT: Living on "the street" was my most difficult experience. I saw and experienced both the good and the bad there, but I learned good things. I learned that the ultimate thing is to endure. I apply this to both life and music.
Arch moved to the DC area to be near his kids several years ago. Since arriving, he has continued his musical evolution. He can be heard performing with his own groups, Flute Visions and Visions of Jazz. He also performs with numerous groups in the area. You can contact Arch and obtain information about future performances through his website.
Visit Arch's website to read more about his musical philosophy, his background and where he hopes to go with his music.
---
VIDEO
Arch performing with Sabroso: "Black Orpheus"

---
Arch on Reverbnation
---