New Mid-Atlantic Jazz Festival Swings D.C. Suburbs (2010)*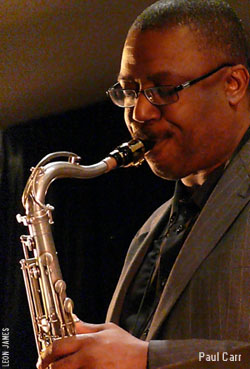 Saxophonist Paul Carr had his work cut out for him when he produced the inaugural Mid-Atlantic Jazz Festival Feb. 19-21 in Rockville, MD. Carr's challenges included the location, as suburban Washington D.C., is not exactly a jazz hub.

Carr's reputation helped matters. He has recorded three albums and directs the Jazz Academy of Music in Silver Spring, MD. His proteges include trumpet player Terell Stafford, who gigged with Carr in the early 1990s in Takoma Park, MD. His efforts also followed a previous Rockville event called the East Coast Jazz Festival, which ran from 1992 to 2006 (Singer Ronnie Wells-Elliston, who founded the festival with her husband Ron Elliston, died in March 2007).

The event took place at the Hilton Rockville Executive Meeting Center, roughly a half-hour outside Washington. As with its predecessor, the Mid-Atlantic Jazz Festival looked to establish a niche as a focal point for area high school jazz programs.

Carr reunited the lineup from his 2008 album Musically Yours during the festival's first night. The group featured Stafford, pianist Mulgrew Miller and drummer Lewis Nash**. The three musicians presented master classes the following afternoon. Later, pianist Marc Cary's group Focus performed a set that typified New York's younger musicians. The elastic arrangements drew inspiration from Miles Davis' early 1960s quintet and the John Coltrane Quartet.

The gig marked a homecoming for Cary and tenor saxophonist Antoine Roney, who as teenagers attended the nearby Duke Ellington School of the Arts. During the readings of Jackie McLean's "Appointment In Ghana" and "Minor March," Cary moved freely between piano and electric piano and concentrated more on directing the band than soloing.

After Cary's set, Bobby Watson headlined "The Word On Bird," a Charlie Parker tribute that also spotlighted fellow alto players Bruce Williams and Fred Foss. The sextet performed a largely up-tempo set that spot-lighted area musicians such as Foss and a piano trio led by bassist Amy Shook. Foss' solo turn on "Cherekee" featured his singing tone, plenty of blue notes and a quote from the 1960s pop song "Downtown." Watson's unaccompanied chorus introducing "Donna Lee" served as the highlight, showing off a technical command that puts this underrated musician and composer in elite company. ~ Eric Fine - Downbeat Magazine


* Article reprint by permission of Downbeat Magazine
** Also performing with the quintet, bassist Michael Bowie.